Punjab polls: Voters look for change in reserved seat Banga. Advantage AAP?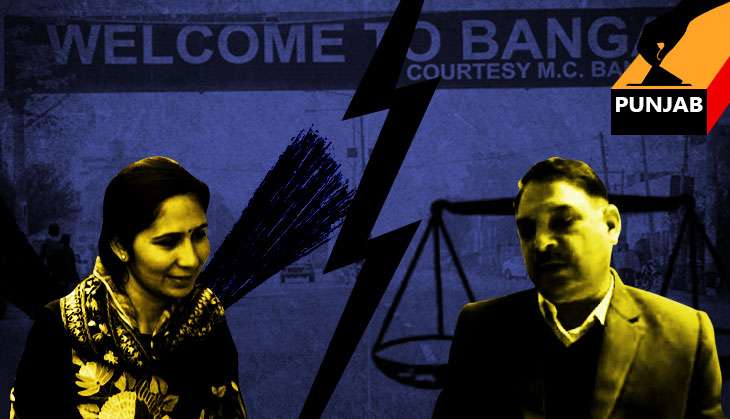 Mohan Lal is over 70 years old and lives in Khatkarkalan, the birthplace of revolutionary freedom fighter Bhagat Singh. He is angry at how parties invoke Bhagat Singh but do the opposite of what he stood for.
"Every one of them pays respect to him when there is a Mela to mark his death anniversary here. These parties have all tried to usurp his legacy but no one is even close to what he stood for. They have even made the Mela a sarkari affair with police swarming the place. They garland his bust and even the flowers dry up within the next couple of hours," Mohan Lal says.
This village is now a part of the reserved constituency of Banga and it is talking of a change in Punjab's politics. This reflects the general mood of the electorate across Punjab.
This constituency is yet another example of the Congress shooting itself in the foot by fielding a former BSP leader Satnam Singh Kainth who had also hopped onto the Akali bandwagon in the past. It has denied the ticket to its sitting MLA Tarlochan Singh Soondh who was recently in news for hurling a shoe in the state Assembly towards the treasury benches.
The net result is that Soondh has filed his nomination as an independent and the traditional Congress voters are annoyed at the party having brought in an outsider Kainth. This leaves a little chance for the party to retain this seat that is witnessing a five cornered contest.
But the person making waves here is the Aam Aadmi Party (AAP) candidate Harjot Kaur Lotia. She is the youngest candidate fielded by her party and at just the age of 26, she is giving all her opponents who are around twice her age, a run for their money.
The voters of the constituency say that she is in direct fight with Dr Sukhwinder Sukhi of the Shiromani Akali Dal (SAD). The fifth contestant in fray is BSP's Rajinder Singh Thekedar.
Despite being a Dalit dominated constituency, the BSP does not have a grip over the electorate here. "People have felt betrayed by the BSP candidates. They have always sold themselves out. They have sided with the ruling class and have failed to raise the issues of the Dalits," says Raj Pal, a contractor in Khatkarkalan village.
His views are echoed by many. They point at Satnam Kainth who was once a BSP MLA and had risen to the rank of leader of Opposition. They also point to Sukhi who was also a senior BSP leader in the past. Many feel that in the last elections the BSP had fielded its candidates to ensure the defeat of the Congress in the state, a charge that the BSP leadership has always denied.
The question now is that what is making the AAP tick over here. The first answer is that the people want a change. We have tried them all. So why not a fresh force this time," says Mohan Lal.
A small shopkeeper Sat Pal is more vocal, "I lost my leg in an accident 18 years back. Till last year I was getting a paltry pension of Rs 250 per month which was then doubled. But there is a payment backlog of several months. I wonder why they promise Atta and Dal at cheaper rates. Why not give employment to all and empower them to purchase Atta and Dal even if it is at a higher rate. I want a change with a hope that things might improve when a new force is in power."
NRIs rally for AAP
The constituency is witnessing large scale campaigning by NRIs for AAP.
"They are calling up the voters consistently asking them to vote for AAP. They point to the mismanagement and the rampant corruption pointing out that the corrupt officials do not spare even the NRIs," said a resident of Banga town.
He also pointed that Harjot had completed a door to door campaign much before the other parties had even announced their candidates.
Another factor that is being seen as a shot in the arm for AAP on this seat is that former SAD general secretary and Shiromani Gurudwara Prabandhak Committee (SGPC) member Sukhdev Singh Bhaur has recently joined the party. He had resigned from the ruling SAD in October 2015 to protest the incidents of desecration of Guru Granth Sahib throughout Punjab and the government's failure to arrest the conspirators behind it. He was the SGPC general secretary at that time.
A close confidante of tallest Akali leader and former SGPC president Gurcharan Singh Tohra, Sukhdev Singh Bhaur is hugely popular in this area.
But still, it is not a cake walk for Harjot as Sukhi is putting up a stiff fight with the Akali cadre firmly behind him. He is very popular on account of his personal rapport with the people. "The NRI campaign won't make any difference. People know that these NRIs would go back after making noise based on mere assumptions. It is those who are here who have to deliver. It is also being falsely propagated that the NRIs have come to campaign. They come every year for Lohri and subsequent marriages held in their families," said a Sukhi supporter.
The Akali workers are also confident that Sukhi's rapport built with the Dalit electorate during his BSP days will also help him. "Nobody can deny that there has been a massive infrastructure development during the SAD-BJP rule. These roads and facilities were not there. The people will vote for Akalis if they want development," said an Akali worker.