'Punish the traitors': Sena women workers break down on camera [Watch]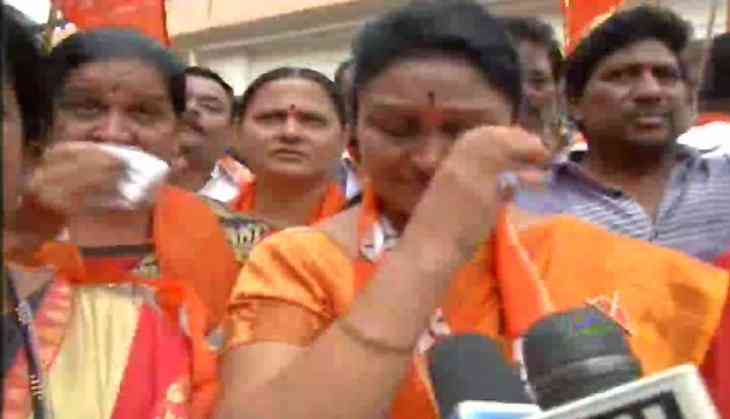 A group of women affiliated with the Shiv Sena has demanded that 'traitors' be punished as the rebellion within the ruling party posed a serious threat to the survival of the coalition government of Maharashtra.
Talking to media organisations, a woman Shiv Sena worker stated, "Voters elected these people (rebels) with some trust. Today, they have broken that trust. We condemn these traitors. These traitors should be given strong punishment."
The woman while speaking on camera wept as she attacked the Shiv Sena rebels. Another woman was also seen wiping her tears in front of the camera.
#WATCH | Maharashtra: Shiv Sena women workers in Aurangabad break down and weep as they protest against rebel leader Eknath Shinde who has led to ongoing instability in the MVA govt in the state pic.twitter.com/8tzXK5Urw6

— ANI (@ANI) June 22, 2022
Shiv Sena rebel Eknath Shinde, who was a key figure in the Udddhav Thaackeray led MVA government, is leading the rebellion against his own party chief, Chief Minister Uddhav Thackeray. The rebel leader claimed to have the support of 40 MLAs and six independent members of the assembly.
These rebel leaders had first held themselves in a hotel in Surat, which is in the BJP-ruled Gujarat. Later, they were flown to another BJP-ruled state Assam, giving credence to speculations that the BJP was orchestrating the political crisis.
The BJP and the Shiv Sena had fought the last assembly polls together in 2019 but their alliance ended over the disagreement on the power-sharing arrangement. The Shiv Sena formed an alliance with the Congress and the NCP to form the government with Thackeray being chosen as the chief minister.
Also Read: Banner against Sena rebel put outside Sanjay Raut's house: 'Your Arrogance will....' [PIC]