Photo war between BJP and SP erupts over fresh crimes, shootout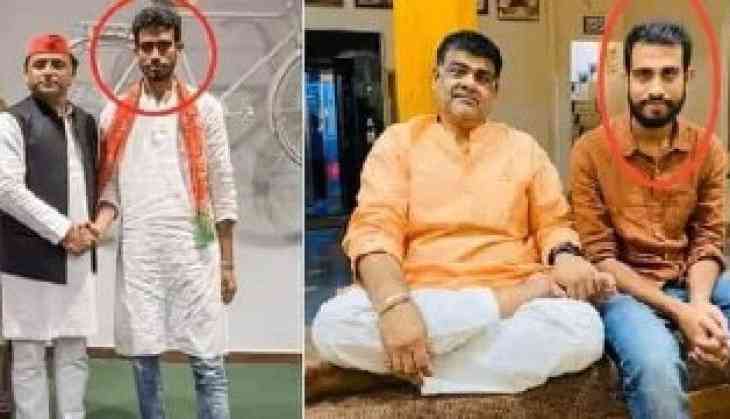 Sadaqat Khan with Akhilesh Yadav and (right) Khan is seen with BJP MLA Neelam Karwariya's husband Uday Bhan Karwariya.
Amid a fresh wave of crime and shootouts in Uttar Pradesh, a photo-war and blame game has erupted, with an image of Sadaqat, a co-accused in the murder of advocate and key witness in several cases, Umesh Pal, being widely circulated on social media.
In one of the photos shared on social media, Sadaqat is seen standing next to Samajwadi party president Akhilesh Yadav.
Responding to the viral image, Uttar Pradesh Deputy CM Brajesh Pathak said, "It goes to show the true face of the Samajwadi party. It is a party, which is always involved in incentivising and patronising criminals and mafia. The SP runs a nursery of criminals."
On the BJP allegations over the viral image, Akhilesh Yadav said, "It's the era of social media and photos of people do get viral."
Another photo has been shared on the Samajwadi party's official Twitter handle where Sadaqat is seen standing with Udhay Bhan Karwariya, husband of ex-BJP MLA from Meja, Prayagraj Neelam Karwaria.
Umesh Pal and one of his armed security escorts was shot dead in Prayagraj on February 24 while he was returning home from court.
Umesh was also a key witness in the murder of former BSP leader Raju Pal and had an old rivalry with Mafia Don Atiq Ahmad.
Former SP leader Atiq Ahmed, his wife, son and associates have been named in the FIR in connection with the murder.
(ANI)
Also Read: 'CBI inquiry into Delhi excise scam should be extended to Punjab': SAD leader Bikram Singh Majithia