#PathankotAttack opposition: Foreign policy being run with a blindfold on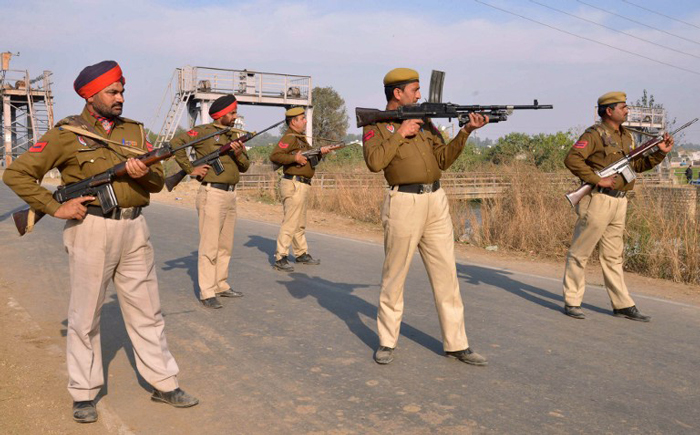 The terror attack on the Indian Air Force base in Pathankot in Punjab has proved to be ghastlier than earlier estimated.
Seven Indian soldiers lost their lives by the time the siege entered its third day today.
By afternoon, the fifth of the six militants was confirmed killed. It has yet to be confirmed if there are more militants. Reports claim that the last two of the six appeared to be better trained than the militants who carried out the 26/11 attacks in Mumbai.
Also read - #PathankotAttack: Modi has 3 choices. He needs to pick one and stick to it
Troops of the Indian Army, Air Force and the National Security Guard are still carrying out combing operations at the base.
Among analysts and political parties, the focus is rapidly shifting to the efficacy of India's current Pakistan policy. The Congress has slammed the NDA government, saying the response of the government has been less than adequate.
Why has the CCS not met, asks the Congress
Senior Congress spokesperson Ajay Maken has said that the fact that the terrorists made calls to Pakistan clearly underlines Pakistan's involvement. Why is the government not naming Pakistan, Maken asked. Instead of calling the militants Pakistan sponsored terrorists, why is the government calling them "Insaniyat ke dushman", he also questioned.
Maken also pointed that over 50 hours have passed and the Cabinet Committee on Security, whose purpose is to handle such situations, has still not met. This shows how this government functions, he noted, adding that all power has been centralised in the PMO and most of other ministers and institutions are unaware of the unfolding situation.
Also read - #PathankotAttack: The framework for talks has to change drastically: G Parthasarthy
Congress General Secretary Shakeel Ahmad said that the NDA government was not giving strong and firm signals to Pakistan. He recalled that the UPA government had sent a strong signal after the 26/11 attacks in Mumbai by saying that no talks will take place unless Pakistan stops terror activities emanating from its soil.
Govt must send a strong signal to Pakistan like the UPA did after 26/11: Shakeel Ahmad
Under the NDA, Ahmad added, ceasefire violations have also reached alarming proportions, apart from terror attacks like the ones in Gurdaspur and Pathankot. However, he stopped short of calling for suspension of the Foreign Secretary-level talks set to take place on 15 January.
Introducing deliberate ambiguity into the Congress' attack on the government, Ahmad said Pakistan must be sent a strong signal but that the Congress would not specify at this stage what steps should be taken.
No handshakes and suddenly a hug: CPI(M)
CPI(M)'s Mohd Salim says the government needs to articulate a clear-cut policy on Pakistan and terrorism. According to him, so far only flip-flops have been seen, apart from photo-ops, sideline business, personal bonhomie between leaders and exchange of gifts.
No real action has been taken that would benefit the people of the country, Salim said. Things like Prime Minister Narendra Modi's sudden stopover in Lahore might please somebody in Washington or London, but it doesn't send a strong signal to Pakistan, he added.
#PathankotAttack a defence failure, an intelligence failure & a diplomatic failure: KC Tyagi
Salim stressed on clarity and continuity in policy, also noting that "no handshakes for a long time and then suddenly a hug" doesn't send the right kind of message. He also pointed out that this was the result of taking extreme positions during election campaigns to play to the gallery.
However he was unequivocal in his support for continuation of the dialogue process between the two countries, despite the Pathankot terror attack.
At the same time, he noted that India must use various diplomatic channels and international pressure to send a signal to Pakistan that New Delhi cannot accept business as usual unless terror attacks are stopped.
Talks can't take place amid tears of widows: JD(U)
JD(U)'s KC Tyagi was scathing in his criticism, calling the Pathankot attack a defence failure, an intelligence failure as well as a diplomatic failure. "You present a dossier of Pakistan's terror linkages one day and you suddenly visit Lahore just a few days later! What the hell are you doing," Tyagi said.
Like Ajay Maken, Tyagi too lamented the fact that the CCS was yet to meet. "Will only one person called Doval handle the entire situation?" he asked, referring to National Security Advisor Ajit Doval.
#PathankotAttack: 5 terrorists killed, 7 jawans martyred, still an ongoing operation
Tyagi too expressed support for the continuation of the dialogue process - but not in the present circumstances. "We do not oppose talks, but how can they take place amid the tears of widows and the wails of children," he asked. He suggested that the talks be postponed for now and efforts be made to isolate Pakistan diplomatically.
Tyagi also criticised the government for lack of a clear strategy to counter terror. "Foreign policy is being run in a blindfolded manner," he said.
More in Catch - Pathankot Attack: Thumbs-up for Modi. There's no 'scrap the talks' chorus now
#PathankotAttack: are Badal regime and Punjab police to blame?
#Pathankot shows Pak army disapproves of peace process. Pay heed, Mr Modi