NIA summons ex-Nagaland Chief Minister T R Zeliang in 'terror funding' case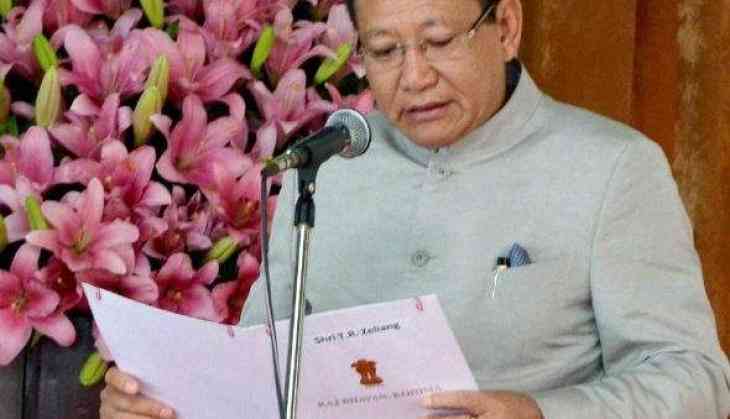 Former Nagaland Chief Minister T R Zeliang. (PTI File Photo)
The NIA has summoned former Nagaland Chief Minister T R Zeliang for questioning in connection with an alleged "tax collection and terror funding" case, an official said on Monday.
The case pertains to alleged extortion by groups such as NSCN(K), NSCN(IM) and Naga National Council from at least 14 government departments.
Zeliang has been asked to appear at the National Investigation Agency headquarters here on Tuesday with relevant documents.
Ahead of the Assembly election in the state, the NIA had summoned Zeliang's Officer on Special Duty and two of his office staff for questioning in connection with the alleged terror funding case.
Also Read: Indian cab aggregator Ola rides into Sydney
On January 18, 2017, the NIA had conducted searches in various government departments in Nagaland and seized receipts that showed payments to the tune of Rs 2 crore.
The agency had said that these seizures prima facie indicate the connivance of these government organisations in funding various underground organisations operating in Nagaland.
According to sources, these departments include the Directorate of Information Technology, Directorate of Soil and Water Conservation, Directorate of Irrigation, Directorate of Rural Development, Directorate of Urban Development, PWD, Roads and Buildings, and Directorate of Information and Public Relations.
S. Khetoshe Sumi, a senior cadre of NSCN(K), was apprehended by the Assam Rifles in Dimapur on July 31, 2016, according to the NIA.
Sumi reportedly revealed that he was the organisation's "in-charge of finance" and his key responsibility was to collect funds through illegal taxation of various government departments, the NIA said.
The NIA probe into government workers and underground funding is a sensitive subject in Nagaland.
In November 2017, massive protests rocked Kohima after seven government officials were reportedly arrested for funding underground groups, called Naga National Political Groups, through taxation.
--PTI
Also Read: Kisan Long March: 35,000 farmers reach Mumbai, to lay siege to Maharashtra legislature