New political allies? Kejriwal meets with Kamal Haasan in Chennai
S Murari
| Updated on: 21 September 2017, 18:21 IST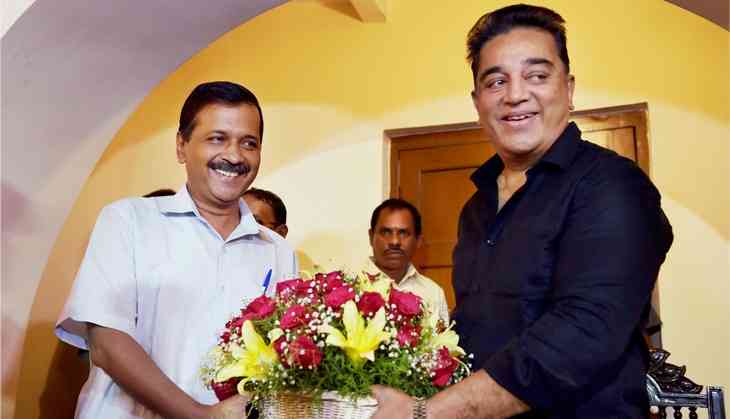 Delhi Chief Minister and Aam Aadmi Party Convenor Arvind Kejriwal had an hour-long luncheon meeting with superstar Kamal Haasan at the filmmaker's Chennai residence on Thursday, giving rise to speculation that Haasan may be looking to join politics, and possibly AAP.
Kejriwal, who was received at the airport by the actor's youngest daughter Akshara, told reporters afterwards that he is a big fan of Haasan's as at the political level he took a bold stand against communalism and corruption. "There is a political void in Tamil Nadu's Game of Thrones," he said.
Haasan also said he and Kejriwal had a common enemy - corruption - and that he felt honoured by Kejriwal's visit.
"This meeting helped me understand certain issues," Haasan said, in a reference to how Kejriwal won the New Delhi state election to become Chief Minister within a short time after floating his own party. Both told reporters that such more meetings would take place in the future.
"It is important at this point of time when we are battling against corruption that all like-minded people should come together," Kejriwal said. "We also discussed the situation in Tamil Nadu and we will continue to meet."
Haasan also met Kejriwal in New Delhi in September 2015 in connection with a film shooting. Since then, the two are said to have been in touch.
Politicking
Kejriwal is the second high-ranking politician Haasan has met with recently - last month, he met Kerala Chief Minister Pinayari Vijayan in Thiruvananthapuram.
These developments come after he took on the AIADMK government in Tamil Nadu over corruption and maladministration and said on Twitter that he would soon enter active politics.
He made it clear at that time whether he was leaning towards the red or not, "saffron is certainly not my colour".
Haasan is a self-proclaimed atheist and adherent of the patriarch of the Dravidian movement and social reformer Periyar EV Ramasamy. He has had a close rapport with DMK leader and five-time Chief Minister M Karunanidhi. He also attended the recent platinum jubilee of the DMK's mouthpiece 'Murasoli' organised by party Working President MK Stalin.
The Rajini angle
Haasan started as a child artiste. But later he and superstar Rajinikanth did many projects together in their formative years.
When Rajinikanth recently interacted with his fans and asked them to be battle-ready whenever elections were called, Kamal cautioned against it. "Don't convert your fans into votes", he advised.
But he seemingly changed his mind after recent tweets critical of the AIADMK government and his call to fans to flood a minister's mails with corruption complaints led to a vicious, personal attack on his non-conformist lifestyle.
Though Haasan and Rajini share the film industry bond, politically they are poles apart: Rajini is a believer and has had a long association with BJP leaders, dating from the time of Lal Krishna Advani .
It is unclear whether the two would float their own parties and, if so, when. Whenever they do, they will be in opposite camps. Rajini will be with the BJP while Haasan will be on the side of a possibly DMK-led secular front.
However, unstable the present regime may be, elections in Tamil Nadu are unlikely for another year or two. The question is whether the two stars have staying power.