Nasbandi not to follow notebandi: Govt rules out two-child policy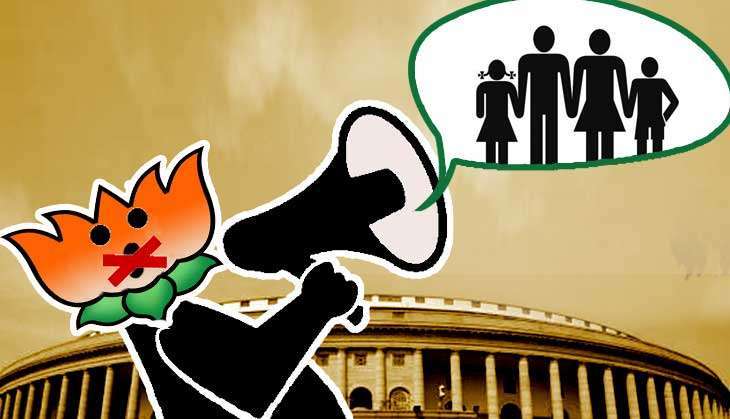 The Rashtriya Swayamsevak Sangh has always been uncomfortable with the fact that the union government doesn't impose a two-child policy. Members of the organisation have, in the past, demanded a two-child policy over fears that the Hindu population is declining while the Muslim population is growing.
However, now that those trained under its own auspices are manning the government, the organisation and people associated with it are getting a taste of reality.
The union government has categorically said that it does not intend to impose a ceiling of two children per family and firmly conveyed its support to couples' own right to decide the size of their family.
Also read - Population is a problem in India. But not the only one
Two BJP MPs, Neelam Sonker from Lalganj in Uttar Pradesh and Alok Sanjar from Bhopal, had asked the government in Lok Sabha a question on population growth. The question essentially covered three points -
(1) Is India's population likely to cross that of China by 2030?
(2) What target has been set for curbing population growth?
(3) Whether the government proposed to impose a ceiling of two children
Size of family is a couple's right
Minister of state in the ministry of health and family welfare Anupriya Patel's reply to the question is interesting on many fronts.
She admitted that the government was aware that a report had predicted that India might leave China behind in population growth by 2030. However, she also allayed concerns by quoting data from Census 2011 about the growth rate in India having substantially declined by 4%. The population increase, she explained, is only because of population momentum.
Patel also said that the government had set no target for curbing population growth and, more importantly, there was no intention whatsoever to impose a ceiling of two children.
The minister informed the MPs through the House that India was a signatory to the International Conference on Population and Development (ICPD 1994), which believes that couples have reproductive rights and they should be allowed to decide the size of their family in a voluntary manner.
Her reply didn't just end there. It also sought to break a very popular myth propagated by the right wing by informing the House that the wanted fertility rate in the country was 1.9.
Simply put, it means that Indian couples on an average do not desire to have more than two children.
Right-wing propaganda punctured
This statement can be better understood against the background of many statements made by several BJP and RSS leaders on the issue. Leading this wall of fame is union minister Giriraj Singh who had recently appealed to the government to bring about a sterilisation programme to control a "population explosion" that the country was going through.
Singh, an MP from Nawada in Bihar, had said in April this year that if India did not enforce a two-child norm across 'all religions', "daughters will not be safe and might have to be kept under the veil, like in Pakistan". "Hindu ka do beta ho aur Musalmaan ko bhi do hi beta hona chahiye... Hamaari aabadi ghat rahi hai...Jansankhya niyantran ke niyam ko badalna hoga, tabhi hamaari betiyaan surakshit rahengi", were his words.
In 2015, religion-wise data from Census 2011 was released and the right wing went into an overdrive, misinterpreting the numbers for its propaganda.
Several names associated with the RSS attempted to trigger panic about what they called a concerning decline in the population of Hindus.
Hindus declined from psychological mark of 80%...will this decline stop or lead to turning Hindus in minority?

— Prof Rakesh Sinha (@RakeshSinha01) August 25, 2015
Saying that Muslims men have many wives and they in turn bear many children is one of the oldest propaganda tools deployed by the right wing in a bid to malign Muslims and polarise Hindus against them.
It is in keeping with this campaign that a demand for strict enforcement of a two-child policy has often been raised. Ironically, proponents of this demand also advocate in the same breath that Hindu women must bear at least four children in service of the faith.
The statement from the Health Ministry punctures this propaganda by putting the facts straight, irrespective of religion. One hopes that this will also be meant for consumption within the BJP and the larger Sangh Parivar, bringing their propaganda to an end.
Edited by Aleesha Matharu
More in Catch - Giriraj Singh says India should enforce a two-child norm to keep Hindu daughters safe
China ends one-child policy. But is it years too late?