Modi tells babus to put policy over politics: 5 times he didn't do it himself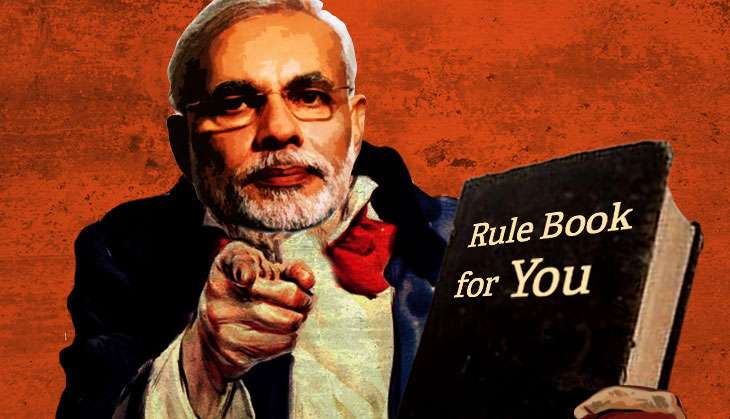 Prime Minister Narendra Modi has reminded the nation of a golden principle which, if applied in letter and spirit, can do wonders.
He told a gathering of young IAS officers that they must use their position to ensure that \'politics should not override policy\'. Modi also told the officers that \'national interest\' and the interest of the \'poorest of the poor\' should be the touchstones of their decision-making process.
The PM\'s words are spot on. The bureaucracy is regularly used by its political masters for serving political interests. These interests are sometimes aligned with national interest, while many a times, they are not. It is in such situations that bureaucrats are required to take a stand and approve only those decisions which are in keeping with the spirit of the Constitution. However, a combination of fear of mischief by politicians and personal greed make them comply, and sometimes even suggest ways in which political agenda can be furthered.
In this light, the PM\'s words should be welcomed as a potential source of encouragement for young bureaucrats to remember that it is the Constitution that they should abide by, and not political agenda.
However, it also makes for a good occasion to ask the PM: doesn\'t this principle of not allowing politics to override policy apply to his ministers as well? Many of his ministers have often made statements aligned with the BJP\'s ideology, but which are antithetical to the spirit of the Constitution, because they are divisive in nature.
In fact, it is not just his ministers. The Prime Minister himself has been guilty of this on several occasions. Here are five recent incidents, where Modi and his ministers have ignored larger national interests and allowed their party\'s politics to override it:
The purported military action that the Indian Army announced it had carried out in September was not be politicised, according to stated government policy. However, electoral posters lauding the Prime Minister, the Defence Minister and the BJP started appearing in Uttar Pradesh.
Defence Minister Manohar Parrikar even attended a public function where over-enthusiastic party men felicitated him. He then went on to make several statements over several days boasting about the 'strikes', and claiming credit for himself, the PM and, bizarrely enough, the RSS.
Soon, even the PM joined in, saying in a public speech that Indian forces are now with Israeli forces in terms of the capability to carry out such strikes. Isn't this a flagrant violation of the dictum he is passing on to young bureaucrats?
Was Union Culture Minister Mahesh Sharma implementing government policy when he invoked 'Ram Lalla' in Ayodhya, and announced that the disputed Ram Temple will be built? For that matter, Modi himself invoked Ram for political ends by repeatedly chanting 'Jai Shri Ram' at the end of his speech in Lucknow on Dussehra.
The act itself, of attending a Ramlila in Uttar Pradesh and not Delhi, which is the convention, had a political objective, and the PM cleared all doubts through his chants. Wasn't this a clear cut case of pursuit of his party's political objectives by the PM and his ministers from a government platform?
The PM never expressed grief in clear terms on the lynching of Mohammad Akhlaq, over the suspicion of mere consumption of beef. Was it not in national interest to unequivocally condemn the murder of Akhlaq and urge the police to bring the guilty to book?
Instead, Modi allowed the senior leaders of his party, and even Union ministers, to defend the alleged murderers.
When one of the accused died of illness in police custody recently, it was Mahesh Sharma again who paid a salutary visit to the accused's village, where his body was kept wrapped in the national flag!
Isn't this blatant pursuit of political objectives a dangerous violation of the PM's golden principle?
In a few days, the turmoil in Kashmir will be four months old. Over a hundred people have been killed and thousands seriously injured. The violence has stopped, but the Valley is still in the throes of a shut down. There is anger, even hatred, among a large number of Kashmiris vis-a-vis the Indian state over these excesses.
Yet, the Prime Minister has not visited the Valley even once in this entire period, even as he has made several visits to poll-bound Uttar Pradesh and Gujarat. In fact, he has travelled to Gujarat four times in three months, only because it will see Assembly polls next year, and his party needs his face to pull up its flagging fortunes there.
Isn't this bias towards one particular state and heavily against another - which is in dire need of an outreach by the Union government - a naked pursuit of politics, overriding policy?
When Maharashtra Chief Minister Devendra Fadnavis brokered truce between Raj Thackeray's MNS and filmmaker Karan Johar, he showed that the Maharashtra government did not have the spine to show the MNS its place and protect the freedom of expression by backing Johar.
Fadnavis could have told the MNS to back off, and ensured that Johar's right to make whatever film he wants and caste whoever he wants was defended. Nor was he nudged by the BJP's central leadership to do so.
Wasn't this too another case of allowing politics to override our Constitutional values?
Edited by Shreyas Sharma
More in Catch
5 mistakes BJP made in Gujarat, and why Modi's visits may not be enough
Do the Delhi government's strict enforcement of anti-booze moves carry a message for Modi?
Dear Mr Parrikar, take all the credit you want but spare us your inanities