Modi's ads cost the taxpayer Rs 1100 crore. Twice as much as Mangalyaan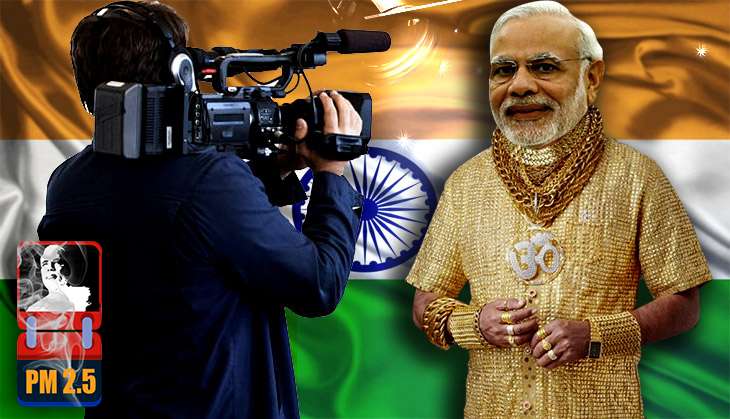 The Union government has spent over Rs 1,100 crore in two and a half years on advertisements featuring Prime Minister Narendra Modi, a Right to Information (RTI) query revealed.
This expenditure was between 1 June, 2014 and 31 August, 2016, according to information provided by the Union Information and Broadcasting Ministry in reply to an RTI application filed by activist Ramveer Singh.
The expenditure comes to about Rs 1.4 crore a day.
To put the figure in perspective, it is more than double the cost of the India's Mars-mission. Mangalyaan, hailed as the world's cheapest inter-planetary mission, which cost India just Rs 450 crore.
This expenditure is only for 'telecast/television, Internet and other electronic media' and does not include other platforms like print advertisements, hoardings, posters, booklets and calendars. The total sum will be many times higher if these costs are also factored in.
Interestingly, the Aam Aadmi Party (AAP) government in Delhi came under heavy criticism earlier this year after a similar RTI query revealed that it was spending Rs 16 lakh a day on advertising.
The AAP government also attracted a lot of flak in 2015 for earmarking a total of Rs 526 crore for the purpose, for the entire financial year. The BJP, at that time, accused AAP chief Arvind Kejriwal of 'self-glorification', saying "AAP had become a party all about publicity".
Will fail like 'India Shining': Opposition
The revelation has not gone down well with the Opposition parties, giving them more fodder for attacking the government, at when the latter is already facing heat over the demonetisation decision.
CPI(M)'s Mohammad Salim told Catch that such 'PR job' by the government machinery to promote an individual was reminiscent of the Emergency, when slogans like 'Indira is India and India is Indira' were coined.
This was an attempt by the government to win over the minds of the people so that they forget that the government has failed to deliver on its promises as it crosses the half-way mark of its tenure, he added.
However, Salim also said, this will be a futile exercise and in spite of the huge expenditure, this campaign will also fall flat like NDA 1's 'India Shining' campaign of 2003-04.
Rashtriya Janata Dal spokesperson Manoj Jha told Catch that this was proof of what his party has always maintained that this government's focus is on creating a spectacle. Jha said it should be especially looked at vis-a-vis the diminishing government expenditure on health, education and MGNREGA and proves that this government only believes in propaganda. He asserted that this amounts to almost legitimising a politics focused on narcissism.
However, there are others who do not share this view and are not critical of this expenditure. Biju Janata Dal's Bhartruhari Mahtab told Catch that this government is running several programmes in mission mode - like Swachh Bharat - and the prime minister is the leading force of all these programmes. "Keeping this in mind, I don't see anything wrong in this," he said.