Meet Dilip Ghosh, the Rambo of Bengal politics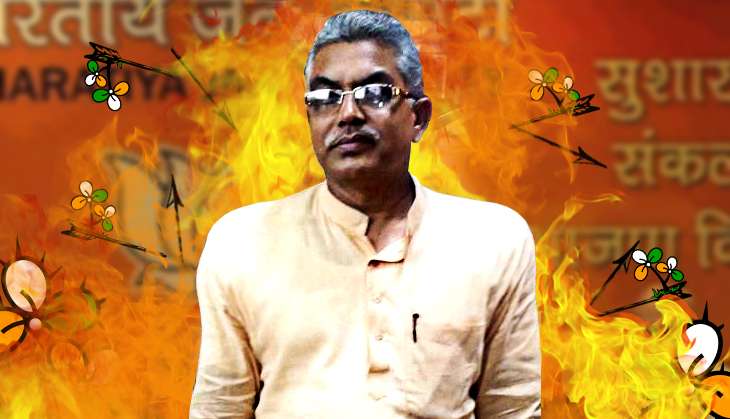 The hallmark of Bengal politics is organised goondaism. When the Communists were in power, they excelled at it. The Trinamool Congress, though, has surpassed all records. Cultural arrogance of our race has taken a backseat. These days, the race is among politicians - on who can stoop the lowest.
In this scenario, one man has emerged as \'Rambo\'. He is Dilip Ghosh, the state president of the Bharatiya Janata Party, and now a MLA from Kharagpur Sadar, West Midnapore.
Recently, Ghosh launched into a stunning tirade against Chief Minister Mamata Banerjee, saying if they (BJP) wanted, they could\'ve "dragged her by her hair and thrown her out" of Delhi when she was conducting programmes and protests against the Centre\'s demonetisation move.
In response to Ghosh\'s statement, the imam of Tipu Sultan Mosque, Noor Rehman Barkati, issued a fatwa, asking people to pelt stones at Ghosh and to throw him out of Bengal.
Here are some more gems from Ghosh which show that he is all brawn and no brain:
"If I want, 5,000 boys can be gathered in Kharagpur by tomorrow. TMC got 34,000 votes in Kharagur. If I start thrashing these 34,000 people on the road, who will stop me? If the dam of our patience is broken, we will use muscle power", Ghosh told the media on Friday while the new government was taking oath.
Though under his leadership, the state unit of BJP decided to boycott the oath taking ceremony, union ministers such as Minister of Finance Arun Jaitley, Civil Aviation Minister Ashok Gajapathi Raju and Minister of State, Urban Development Babul Supriyo graced the occasion.
"Half the people here have been trained by the RSS and are capable of breaking necks with our bare hands," he added.
"I am warning TMC, we have won only 3 seats, which is enough to settle score. I hope, you will mend your ways or else we will fix you", is another statement from the former RSS organiser from Andaman.
His reasons are simple. If TMC workers attacks BJP party workers, he will hit back with vengeance.
Significantly, post election, another state BJP leader, Roopa Ganguly, was allegedly heckled by TMC workers in Kakdwip, South 24 Parganas after she was returning after visiting a party worker, who was attacked by the TMC.
"Your parliamentarians go to Delhi. If you don't stop attacking us, we will see if your parliamentarians can return safely from Delhi or not."
Ghosh said this a week ago, when he planned a protest near Mamata Banerjee's house, against post poll TMC attacks of BJP workers. The agitation though ended within 15 minutes when cops stopped him, just after he had led his workers for a few steps only.
04
Stay Hungry, Stay Foolish
"We will lock them inside a room without food. Many years ago, we had locked CPM leaders in a room where a meeting was on in Kerala as RSS workers were being killed. We will do the same with TMC."
This was his answer to the local media when he was asked how he plans to 'treat' TMC parliamentarians. Clearly, he knows the tricks of the trade.
He also added that TMC's boundary is limited to Bengal but BJP has a nationwide presence. BJP can easily pay back TMC with 'interest'.
If you are thinking whether Ghosh has lost his mind after his new found MLA status, and BJP's phenomenal record of 3 seats in the assembly (a record), then you are wrong.
A few weeks back, he gained nationwide limelight, when he said that female students of the esteemed Jadavpur University are 'below standard', 'shameless' and 'constantly seeking company of male students'.
He later clarified that he speaks in a rural jargon, but he is not wrong.
Time will tell whether Dilip Ghosh turns out to be a Rambo fighting the behemoth brutality of TMC or just a carpet knight without a shield or a sword. But the fact is that the next five years will see many such outrageous comments from this RSS man, as the fight then may be TMC vs BJP, with the tattered Left and Congress merely staring from the sidelines.
Edited by Sahil Bhalla
More in Catch:
Exclusive: Indian at risk of bioterror as food regulator looks away
New Sunrise in IPL: Hyderabad exposes RCB Achilles' Heel
Udta Punjab censorship: politics, not expletives, behind the move
India may pay a huge price for adopting GM crops. Here's why