Mayawati and Arvind Kejriwal hit the ground in Punjab's Dalit heartland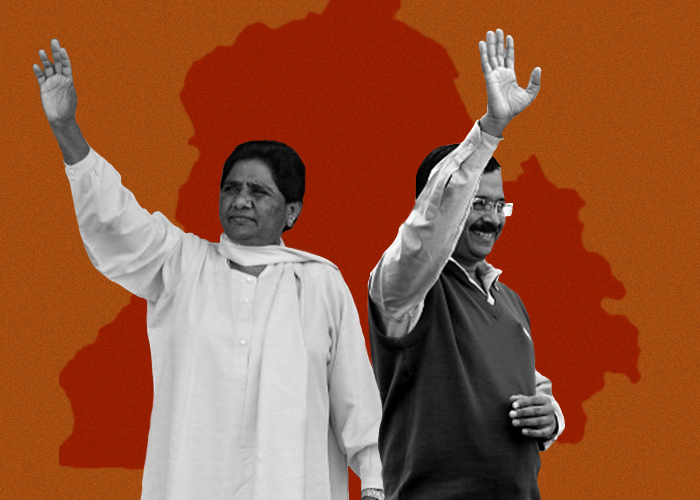 The tussle
Arvind Kejriwal & Maywati recently visited Dalit dominated Doaba region of Punjab
Dalits form 31.9% of the electorate in Punjab. Little less than half of these are in Doaba
Kejriwal & Mayawati want a Bharat Ratna for Dalit icon Kanshi Ram, who was from Punjab
More in the story
The itinerary: how the 2 leaders wooed Dalits
BSP supremo Mayawati and Aam Aadmi Party convenor Arvind Kejriwal landed in Punjab and demanded a Bharat Ratna for Dalit icon Kanshi Ram. Both leaders are vying for the crucial Dalit vote in next year's Assembly elections in Punjab, which also happens to be Kanshi Ram's home state. According to the 2011 census, Punjab has the highest percentage of Dalits at 31.9%.
They are concentrating on the state's Doaba region which has a high concentration of Dalits. According to estimates, the region accounts for 45% of the total Dalit population of Punjab.
Read- Lot of promise: how parties are trying to win over Punjab's Dalit voters
Doaba sends 23 representatives to the 117 strong state assembly. Ironically, Dalits have remained underrepresented in Punjab politics, despite their numerical strength.
While Mayawati held a rally in Nawanshahr, Kejriwal visited Kanshi Ram's village of Pirthipur Bunga in Khawaspur area of Rupnagar and then proceeded to some deras in the region that are frequented by Dalits.
Even though Kanshi Ram founded the BSP, this is the first time the party has organised such a large scale event in Punjab to mark his birth anniversary. The event is being seen as an attempt by the party to regain its base in Punjab that it has squandered away over the last 25 years.
For Kejriwal, this is his second recent visit to Punjab, where his party has emerged as a strong contender.
AAP has been raising the issue of Dalit atrocities and has managed to make inroads into the Dalit community, much to the discomfort of the ruling SAD-BJP alliance as well as the Congress.
Punjab has the highest population of Dalits at 31.9%. 45% of these are in the Doaba region
In Punjab Dalits were traditionally Congress supporters but during the last couple of elections, a large number of the reserved assembly seats were won by SAD. Now AAP is threatening to break this citadel.
The BSP is desperately trying to find its feet in Punjab after having made promising start winning 9 seats in 1992 assembly polls. It had garnered 16.32% of the votes polled. It's support has been on a steady decline since then. It won 1 seat in the next election and has failed to open its account after that.
Kejriwal's Dalit outreach
Kejriwal started his tour by demanding a Bharat Ratna for while addressing a gathering at Bunga Sahib gurudwara. He said his party would raise the issue in the parliament. The event was attended by Kanshi Ram's sister Swarn Kaur.
He chose the occasion to attack the ruling Akali-BJP alliance for being anti-Dalit. He raised the issue of Bhim Tank, the 27 year old killed at a farmhouse of liquor baron and SAD leader Shiv Lal Doda in Ramsara village of Abohar in December. The youth's limbs had been chopped off allegedly by 24 persons, most of whom were Doda's employees. During his last visit he had offered a job to a Tank family member and offered free treatment in Delhi to another youth Gurjant Singh Janta who had survived the assault.
Also read- #Punjab2017: will keeping Sehajdharis out of SGPC help the Akalis?
"It seems that communal forces like BJP have allergy towards Dr BR Ambedkar and Kanshi Ram. That is why they never showed any interest in giving due recognition to the great work they did. Babasaheb Ambedkar's social reforms before independence were carried forward by Kanshi Ram ji in the post-independence era," he said.
"Contrary to the vision of these great leaders, forces like the RSS are now advocating doing away with reservation for Dalits....We will never let their evil designs succeed. AAP will fight for the rights of Dalits," the Delhi chief minister added.
"Be it in Punjab, where a Dalit Bhim Tank was massacred by an Akali leader at Abohar, or at the national level, where another Dalit Rohit Vemula was forced to commit suicide due to circumstances created by BJP leaders, it seems that such forces are hell bent on denying social justice to Dalits," Kejriwal said.
He announced that if elected to power, AAP will constitute a Special Investigating Team (SIT) to bring the culprits in the Bhim Tank case to book. He also announced that the AAP government in Punjab would reopen all cases relating to atrocities on Dalits.
He later visited Dera Sacchkhand Ballan, main pilgrimage site of Ravidasia dalits who constitute 12% of the Dalit population in the state. He had food from langar (community kitchen) at the Dera.
Mayawati and Kejriwal have both demanded a Bharat Ratna for Dalit icon Kanshi Ram
The Dera reportedly came out of the umbrella of Sikhism in 2010 and adopted 'Amrit Bani' as the sacred text of Ravidasia religion. Prior to this, its deputy leader Ramanand was killed in Vienna in 2009, allegedly by some radical Sikhs. This had led to clashes between the Dera followers and Sikhs in the Doaba region.
He later met environmentalist Baba Balbir Singh Seechewal at Seechewal village in Jalandhar. His last stop was at Rahimpur Dera in Kapurthala district, a major shrine of the Valmiki Dalit community in Kapurthala district.
Mayawati's offensive
In her address at the mammoth BSP rally, Mayawati announced that her party would go solo in the Assembly polls. This decision would come as a dampener for the Congress as the party's face in Punjab Captain Amarinder Singh was keen on an alliance with the BSP.
Like Kejriwal, Mayawati brought up the Abohar killings as well as last year's incident in which holy books were desecrated. She held the ruling Akali Dal- BJP combine responsible for the acts.
Mayawati also announced that a four-member panel will visit every constituency to screen suitable candidates for the BSP.
Read more: AAP, Congress & SAD take Delhi politics to Punjab
Attacking her political rivals she said," Punjab has not seen any chief minister belonging to the weaker sections of the society. Those who talk of Kanshi Ram today are the ones who have opposed reservations. Such forces observe birth anniversaries of Ambedkar and Kanshi Ram purely for votes."
Punjab can expect more visits by the BSP leader after she announced her party's decision to contest the polls alone. BSP leaders say that the party is undergoing a structural overhaul in the state.
Edited by Aditya Menon
More in Catch:
A buggy, a bike, mirth & clicks: the other side of Parliament
As Jat agitation begins again, Haryana's social fabric lies in tatters
Cabinet reshuffle probable in Gujarat, PSUs may get political appointees again
Mallya case: clamour growing for wilful default to be made criminal offence