AAP, Congress & SAD take Delhi politics to Punjab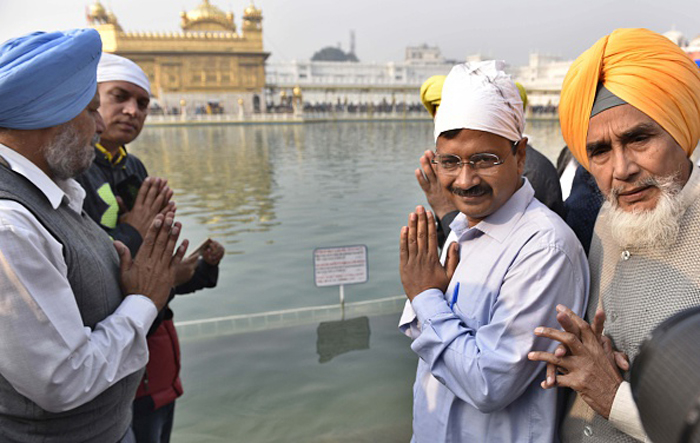 The strategy
The 2 parties are finding it difficult to take on the neophyte party
AAP is also showcasing its achievements in Delhi in its Punjab campaign
More in the story
Charges and counter-charges
Arvind Kejriwal\'s Punjab visit
Sheila Dikshit and Ajay Maken take on AAP
The Congress and the Shiromani Akali Dal are both bringing Delhi politics to Punjab in their efforts to counter the Aam Aadmi Party in the state.
Having surprisingly won 4 seats in the last Lok Sabha polls, AAP has become a major threat for these 2 parties who have dominated Punjab politics for the last several decades. Even AAP has been showcasing its achievements in Delhi over the last one year.
Also read - Sweep Stakes: AAP emerges as a serious contender in Punjab assembly polls
Observers say that since AAP is contesting Assembly polls for the first time, Congress and SAD have no choice but to target its performance in Delhi.
Also, there is very little to attack AAP on the performance of its 4 MPs, 2 of whom stand suspended by the leadership.
While the SAD leadership continues to face heavy anti-incumbency, Congress is rattled by the ground support that AAP has been getting despite not having a face in Punjab.
As a part of its strategy to contain the impact of Delhi Chief Minister Arvind Kejriwal's 5 day visit to the state, the Congress rushed in 2 senior leaders - Delhi Pradesh Congress Committee president Ajay Maken and former Delhi Chief Minister Sheila Dikshit.
Maken listed the "failures" of the Kejriwal government and cautioned the people of Punjab against getting deceived by AAP's "hollow promises".
He accused the Delhi government of squandering tax payers' money to put up "huge advertisements boasting about its so-called achievements". He said the AAP government also took credit for the achievements of the previous Congress government, which had laid the foundations for all the development work in Delhi.
Dikshit too attacked Kejriwal and his government.
"The people of Delhi are regretting making Kejriwal the CM as he says something and does something else. This government has not laid a single new brick. It has only been trying to take credit for what we did during the last 15 years," she said.
Senior Congress leaders Sheila Dikshit and Ajay Maken came to Punjab and highlighted AAP's failures
Contradicting Kejriwal's claims of representing the 'aam aadmi' Dikshit said that there was rampant unemployment everywhere and even those who are working, like safai karamcharis, aren't getting their wages. "On the other hand, Kejriwal increased the salaries for himself and his MLAs by 400%, which is unprecedented," she added.
Dikshit also attacked Kejriwal for his confrontational attitude and said that he is perpetually blaming the Lieutenant Governor, police commissioner and central government. "Even I worked within such limitations. But I never complained while making Delhi a world class city," she pointed asserted.
Akalis take on Kejriwal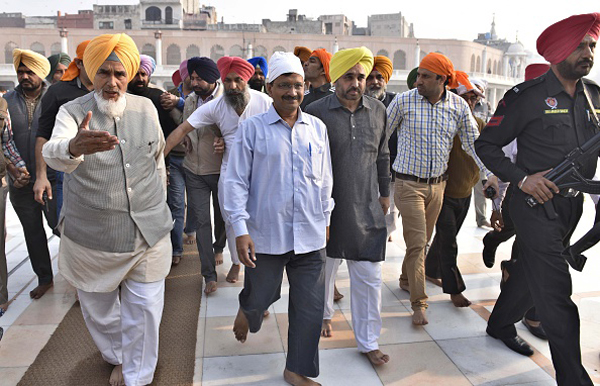 From the SAD side, Manjit Singh GK came to Punjab ahead of Kejriwal's tour. He is the president of Delhi Sikh Gurudwara Management Committee (DSGMC). He was accompanied by DSGMC general secretary Manjinder Singh Sirsa and national vice president Avtar Singh Hit.
He termed the AAP government in Delhi as inefficient and said that Kejriwal has done nothing for Sikhs in Delhi. He said that the Special Investigation Team (SIT) set up by Kejriwal to provide justice to victims of the 1984 anti-Sikh riots was a facade. "The SIT announced by him has not started working. The compensation of Rs 5 lakh was paid from a central government grant, that too 11 months after it was announced,"he said.
Apparently, he also accused Kejriwal of being friendly with Congress leader Jagdish Tytler who is an accused in the riots. Manjit Singh also alleged that over 400 persons had died of drug overuse in the night shelters run by the Delhi government, questioning Kejriwal's commitment to tackling the drug menace.
Punjab deputy chief minister Sukhbir Singh Badal termed Kejriwal's visit a 'nautanki' and accused him of spending public money to the tune of Rs 532 crore on his party's advertisements. He accused him of misinforming the public about his government's achievements in Delhi
The Akalis have been trying to portray Kejriwal as an outsider who does not understand the problems of rural Punjab.
Also read - Kejriwal in Punjab to set poll agenda; attacked, opposed at various places
AAP response
The AAP leadership is unfazed by the accusations against the Delhi government. "This only reflects their frustration. If Dikshit's claims about the development work done by the Congress are true, why was the Congress decimated in the elections?" asked AAP leader Durgesh Pathak.
Kejriwal was in Punjab for 5 days, traveling across the state, touching upon the core issues that are likely to affect the outcome in next year's elections.
He met the families of farmers who have committed suicide and also those who are under heavy debt.
He also spoke about the drug menace in Punjab, particularly in the border districts and accused the "police-politician nexus" of playing with the lives of the youth.
Kejriwal was in Punjab for 5 days. He showcased the Delhi model of governance
Significantly, he has been speaking of the Delhi model of governance.
While beginning his tour from Mauran village in Sangrur, Kejriwal said, "The centre is creating many hurdles for Delhi. Despite that, we have performed well. We saved Rs 350 crore from the cost of construction of 3 flyovers and that money is being used in healthcare. After running the government for 1 year in Delhi despite all odds, I am confident AAP will remove corruption from offices of Punjab in 2 months." he said.
The AAP chief has promised free mohalla clinics, free medicines, and better healthcare in all the government hospitals in Punjab.
"People have made up their mind to vote for AAP," said Punjab convener Sucha Singh Chhotepur as the party inducted prominent Indian basketball player and former police officer Sajjan Singh Cheema into its fold. He is a former Arjuna award winner.
More in Catch - What's making AAP click in Punjab? It's not just anger against Badals
Kejriwal's mega Maghi show leaves Congress, Akalis a worried lot