Mandir wahi banayenge: VHP wants Modi to go the ordinance way for Ram temple law
Anurag Dey
| Updated on: 27 December 2017, 20:15 IST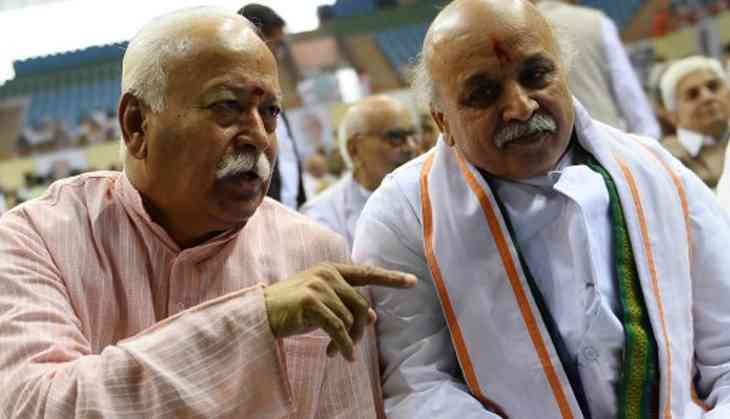 (AFP PHOTO / SAJJAD HUSSAIN)
The Vishwa Hindu Parishad (VHP), which is seeking a law to pave the way for construction of Ram temple in Ayodhya, wants the Narendra Modi government to adopt the ordinance route for the purpose.
The VHP has resolved to begin construction of the grand temple at the site of the erstwhile Babri Masjid from October 2018 and discussed the issue at length at its three-day international meeting which began in Bhubaneshwar on Wednesday.
The meeting was presided over by international president G Raghava Reddy, international working president Pravin Togadia and secretary general Champat Rai. Besides the Ram temple issue, forcible conversion and cow protection dominated the discussion on the first day.
While the matter is pending before the Supreme Court with Chief Justice Dipak Misra-led bench slated to hear civil appeals in the Ram Janmabhoomi-Babri Masjid title dispute in February, the VHP says enacting a law is imperative.
"The legislative, executive and the judiciary has to work in tandem to ensure the construction of the temple begins as envisaged. The government must ensure that a legislation is enacted for the purpose. Building the temple is the ultimate goal. If the need be, the government should adopt the ordinance route," said VHP national spokesperson Vinod Bansal.
With Narendra Modi as the prime minister and BJP's Hindutva poster-boy Adityanath as chief minister of Uttar Pradesh, the VHP says it's the opportune time to enact a law.
During its Dharma Sansad held in Karnataka's Udupi in November, the VHP had declared beginning the construction of a grand Ram temple in Ayodhya from October 2018.
The VHP also has plans to push for an anti-conversion law and a law criminalising cow slaughter.
"Forced conversion and cow slaughter are the two major issues faced by the country which can be dealt only through stringent laws. The government has to pass a law banning cow slaughter and prescribing capital punishment for the offenders. An anti-conversion law with stringent penal provisions is imperative. At the meeting, all top functionaries discussed on the two subjects. A memorandum on the provisions of the proposed laws will be prepared," Bansal said.
The VHP will also intensify its countrywide campaign of eradicating untouchability by exhorting Hindu families to make friends with SCs and STs sharing a meal with them and attending religious functions.
"For the protection of Hindus, unity is imperative which can be ensured only through eradication of untouchability and casteism. Our resolve is to ensure that our temples and homes are open to all irrespective of caste. One well, one temple and one crematorium for all Hindus, that is our resolution. People from all castes have a common water source, no Hindu is barred from entering any temple or access crematorium on the basis of caste," said VHP joint secretary general Surendra Kumar Jain.
Edited by Jhinuk Sen