Lok Sabha Election: Former Haryana CM OP Chautala backs Mayawati as PM; says 'will unite opposition for 2019 polls'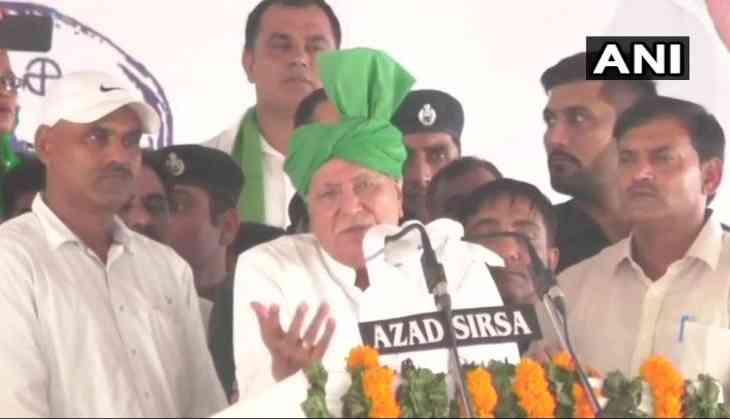 Former Haryana chief minister and INLD leader Om Prakash Chautala Sunday detailed his plans to make BSP supremo Mayawati as the next prime minister of India, if the united opposition comes to power.
He was addressing a rally in Gohana where he said, ""We will work towards uniting the Opposition so that Mayawati becomes the next prime minister."
Its is to note that both the parties, INLD and BSP have forged an alliance in Haryana for the upcoming 2019 Lok Sabha elections.
INLD President's son, Abhay Chautala, who was also present in the rally promised the farmers a complete farm loan and electricity bill waiver if they come to power. He even urged the people to support and vote for the INLD-BSP alliance in Assembly Elections scheduled for next year. "Repeat 1987 (when the INLD swept the state polls) by strengthening the hands of the INLD-BSP combine so that (Om Prakash) Chautala once again becomes the chief minister," he said.

OP Chautala, is serving a 10-year sentence pronounced by the Supreme Court in the infamous Haryana Teacher's recruitment scam and is currently out on a parole for two weeks. The rally was organized to commemorate 105th birth anniversary of senior INLD leader and his father, Devi Lal.
As the Lok Sabha polls are approaching, it is quite significant that new bonds and friendships are being made to forge an electoral alliance, whether pre-poll or post-poll but the intentions are being made very clear. A united opposition lacks a credible face which is the biggest advantage for Narendra Modi led BJP, who are always ready to project Modi as their leader and star campaigner in irrespective of any election.
Also read: Lok Sabha polls 2019: PM Modi and CM Palaniswami meet may pave way for AIADMK-BJP alliance in Tamil
Sabhi vipakshi dalon ko ikatha karke hum behen Mayawati ji ko iss desh ke pradhan mantri ke pad par baithane ka kaam karen: Om Prakash Chautala, Indian National Lok Dal (INLD) leader and former Haryana CM Haryana's Gohana yesterday pic.twitter.com/t53cC4iYkB

— ANI (@ANI) October 8, 2018