Kiran Kumar Reddy returns to Congress. But only a deal with Jagan can save it in AP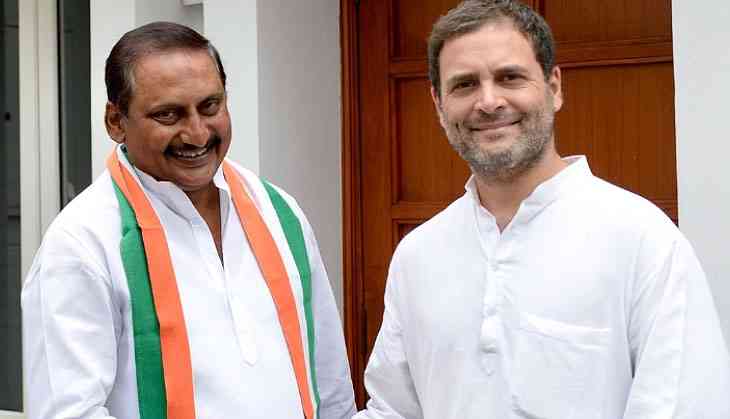 After having spent close to four years in political oblivion, former Andhra Pradesh Chief Minister N Kiran Kumar Reddy rejoined the Congress and was welcomed back into the party by party president Rahul Gandhi. Also known for being united Andhra's last chief minister, Reddy had resigned as CM and Congress member over differences with the party high command on the issue of bifurcation of the state.
After meeting the Congress president, Reddy was formally welcomed into the party by the party's General Secretary in-charge for Andhra Pradesh Oommen Chandy in presence of APCC President Raghuveera Reddy and party leader Pallam Raju. Speaking to the media, Chandy said that Reddy had expressed his desire to join the party which was welcomed by Congress president. Welcoming his return to the party, Chandy said, "His presence will definitely strengthen the Congress party".
"I am very happy that I am coming back to the Congress family. Although I resigned as chief minister, I cannot be separated from the Congress party because my father and me were MLAs for eight terms. Whatever identity me and my family have, is because of the Congress party. All this was possible because of the Congress. In the present situation, I strongly feel that the Congress party should be strengthened and Rahulji hands should be strengthened," Reddy said.
He went on to add that unless the Congress forms the government at the Center, justice will not be done to the states of Andhra Pradesh and Telangana. Raising the issue of non-implementation of the Reorganisation Act including Special Status and Special Incentive, he claimed that the central and state governments have failed and only the Congress has the will to implement it.
A four time legislator, Reddy has in the past occupied key posts including that of chief whip, Assembly speaker and chief minister. However, the UPA government's decision of bifurcating Andhra had Reddy fuming and he decided to sever all ties with the party. Thereafter, he floated Jai Samaikyandhra Party before the 2014 General Elections. However, JSP fared poorly with most of its candidates losing their deposits. In fact, JSP polled lesser votes than NOTA which further pushed Reddy into oblivion.
Since the 2014 debacle, reports suggest that Reddy had shifted base to Bengaluru. Thereafter, there were reports of Reddy joining the BJP which never materialised. Apparently, BJP was wary of TDP chief Chandrababu Naidu considering he never shared a great rapport with Reddy.
Once BJP made its intent clear to the former CM, Reddy was linked to Jana Sena. However, that too never happened because Jana Sena chief Pawan Kalyan announced that he did not want anyone from other political parties, particularly the Congress.
Since then, there have been rumours of Reddy returning to the Congress which finally materialised on Friday. Hoping to stage a revival in the state where it has ceded the political space to TDP and YSRCP, Congress has been reaching out to politicians who left the party since 2014 and Reddy was one of them.
Sources claimed that what further worked in Reddy's favour was Sonia's recalling the former chief minister's last words while discussing how to stage Congress' revival in the state. Reddy had in 2014 claimed that bifurcation would spell disaster for the party. His words turned prophetic and since then Congress has become politically irrelevant in the southern state.
Sources further claimed that Rahul had been consulting Reddy over the Congress' revival and the latter seem to have told him to train all guns at YSRCP instead of TDP. Sources revealed that Reddy suggested that it is Jaganmohan Reddy's party that had primarily eaten into the Congress' vote share and an attack on him could help in restoring the Congress' lost glory.
Bereft of a popular face in Andhra Pradesh, the Congress is hoping that Reddy's induction could help it stage a revival in the state. The Congress hopes that Reddy's status as the last chief minister of united Andhra and his stand against bifurcation could help in beefing up his image. However, political observers are of the opinion that the Congress won't gain much by Reddy's entry.
"Reddy's inclusion will not help the party in any manner. The Congress is psychologically down in the state and feels that their stalwarts joining the party will help it regroup and stage a comeback. However, Reddy doesn't have any sort of political hold in the state. In fact, he didn't even contest the 2014 general election out of fear of losing. As far as rebuilding a political party is concerned, one does not expect Reddy to help in any manner," said Dr K Benjamin, Professor and Head of the Political Science department at Osmania University.
He went to add that the Congress' voter base has gone to Jaganmohan Reddy. He has been consistently interacting with people at the grassroots, giving him an edge over the Grand Old Party.
"Instead of reaching out to these stalwarts, the Congress should reach out to Jagan for some sort of political understanding. The Congress' problem with Jagan started after the Gandhi family refused to give him family privileges that they themselves enjoy. Ironically, they sidelined Jagan saying that they do not encourage dynastic politics which is a sham in itself. If Congress is hoping to make any sort of impact, it should reach out to Jagan. Or else, it will continue to get further marginalised in the state," Benjamin added.