Karnataka Polls: 'Modi's magic will give us absolute majority'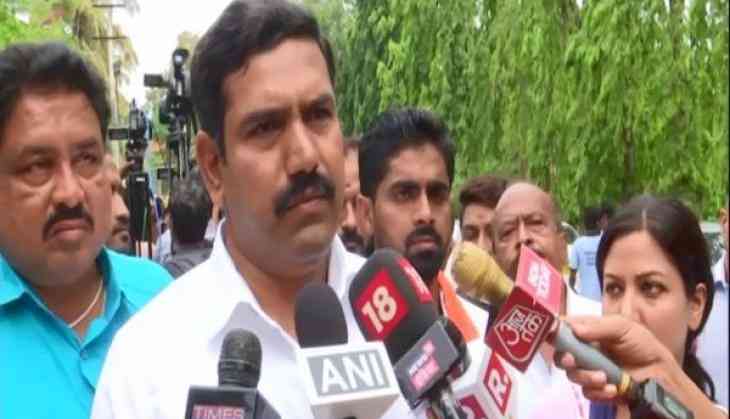 Karnataka BJP leader and former chief minister BS Yediyurappa's son B Y Vijayendra
Shivamogga (Karnataka): BJP leader and former Karnataka chief minister BS Yediyurappa's son, B Y Vijayendra on Wednesday voted in Shivamogga and expressed confidence that his party will win 135 seats in the Karnataka Assembly polls. "Modi's magic will give us the absolute majority. We will win at least 130 seats in this election. Not only the Lingayat community, but all other castes are also with BJP. Congress will lose the election very badly," said Vijayendra.
Vijayendra accompanied his father as the duo visited his family's ancestral temple at Raghavendra Swamy Mutt in Shikaripura ahead of voting.
Vijayendra is contesting from the Shikaripura constituency, which was his father's traditional seat. "This is my first election and I am happy that the party gave me the opportunity to contest. I'm blessed to contest for the Shikaripura seat. People are fed up with hung assembly and I am confident that BJP will get a majority," he said.
BS Yediyurappa was among early voters and cast his vote at Adalitha Soudha in Shivamogga. "I request all people to cast their votes as early as possible. I am 100 per cent sure they will vote in favour of the BJP. More than 75-80 per cent will support BJP. We will win 130-135 seats," the former chief minister said after casting his vote. "We will get absolute majority and will form the government, there is no doubt about it. People's responses are very good in the state and on that basis, I am telling you we are going to get a majority," he added.
The polling for the Karnataka Assembly elections began at 7 am amid tight security and will continue till 6 pm. The voting is being held for 224 assembly constituencies in Karnataka with 2,615 candidates in the fray.
The fate of the candidates will be known on May 13, the day of the counting of votes. Polling is scheduled across 58,545 polling stations including auxiliary polling stations. A total of 42,48,028 new voters have been registered to vote for the assembly elections.