Is Kailash Vijayvargiya on a warpath in a bid to stay relevant in MP?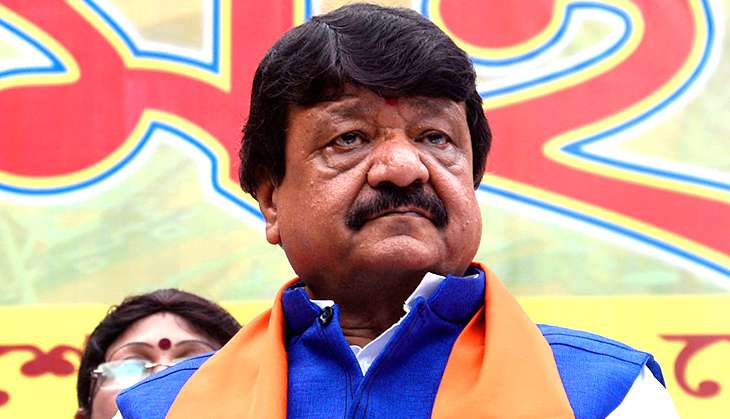 Launching a verbal war against the bureaucracy in Madhya Pradesh, BJP National General Secretary Kailash Vijayvargiya has termed babus serving in the Shivraj Singh Chouhan government as 'reinless horses.'
Speaking at an RSS function recently, Vijayvargiya accused the state bureaucracy of spreading corruption from top-to-bottom.
But even though it looks like Vijayvargiya has trained his guns on the state executives, analysts have little doubt that the true aim of this rhetoric is the chief minister.
An ongoing tussle
The power tussle between Chouhan and Vijayvargiya has been slowly unfolding for a while now. An astute Vijayvargiya often praises the chief minister on public platforms, but also never misses any opportunity to target Chouhan behind his back.
Vijayvargiya's tirade has intensified after the two-day co-ordination committee meeting of RSS that took place recently. While admiring Chauhan, he lashed out at the state bureaucracy during the meeting. According to Vijayvargiya, the officials are neck deep in corruption and are responsible for the spread of this malady to the grassroots level.
Targets galore
The controversy had barely died down when Vijayvargiya questioned the management of the ongoing Indore Metro project. In a stinging tweet written in Hindi, he stated, "We had promised residents of Indore to bring metro soon, but the pace of state government suggests that it is not the metro but a bullock cart coming to the city."
Vijayvargiya's next target was the annual global investors' summit organised by the state government. The former state industries minister alleged that foreign companies participating in the summit were troubled by the laxity of bureaucrats. This evoked a sharp response from Congress leader Digvijay Singh who asked him to explain what happened to the MoUs signed during his tenure as the minister.
Vijayvargiya chose not to reply to Digvijay Singh, perhaps because of his not-so-distinguished record as the state industries minister.
On a roll
Then about a week ago, BJP state president Nandkumar Chauhan opened a front against Vijayvargiya. Chauhan said Vijayvargiya was harming his own cause, more than damaging government's reputation. According to Chauhan, "Vijayvargiya's understanding about MP has lessened a bit since going to Delhi."
Vijayvargiya was quick to respond. In an interview to a local television channel on 12 September, he reminded Chauhan "of his dharma associated with the organisation".
"I don't cross the line and I expect him to stay within his limit too. Everybody is aware of my relations with the chief minister,'' he added.
Vijayvargiya narrated several anecdotes to bolster his claims of close ties with the Chief Minister. He recalled how, in 2007, he had stopped Damoh Lok Sabha member Prahlad Patel from mentioning CM Chouhan's wife, Sadhna Singh, in connection with the dumper case, at a press conference. Patel was then with Uma Bharati's Bhartiya Janshakti Party but has joined the BJP since then.
Vijayvargiya continued his vitriol against the bureaucracy claiming he knew "how to ride the unbridled horses".
A need to be relevant?
So why is Vijayvargiya going down this path? Many believe it is because he faces a battle of political existence in the state - which is why he has been courting the headlines these days.
Also, Vijayvargiya knows his friendship with the chief minister is not enough to survive in Bhopal's power game. Fueling the politics of rebellion might increase his relevance, which is why he occasionally likes to portray himself as a ring leader of the anti-CM coterie - even though that is far from the truth. MP Prahlad Patel, Vishwas Sarang and other leaders were equally vocal against the state government during the RSS meet.
The chief minister, on his part, appears unruffled with these wranglings. "I don't know what the other people are doing. I focus only on my task and believe in doing my job," he says.
Edited by Aleesha Matharu
Also read - Vyapam is a 'chutput' scam for BJP leader Kailash Vijayvargiya
More in Catch - Here's why BJP is confident Rawat will fail floor test in Uttarakhand
Meet the six key men behind the Uttarakhand political crisis