Jaya was not traumatised, nor was she given wrong medicine: TN govt rebuts foul play allegations
S Murari
| Updated on: 7 March 2017, 13:13 IST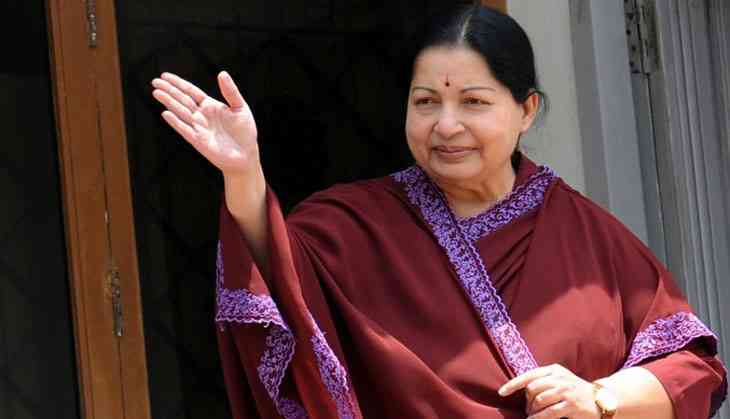 (AFP Photo/Dibyangshu Sarkar)
The Tamil Nadu Government has come out with a statement denying that late Chief Minister J Jayalalithaa was traumatised or was given the wrong medicine which led to her hospitalisation.
The statement was an obvious reference to reports, which were also given credence to by former Speaker PH Pandian, that stated that Jaya fell down after being pushed during an altercation with Sasikala over leaving a will and testament for her properties.
The statement by the state health secretary said that she was admitted to Apollo Hospitals following respiratory distress, but she was not in any kind of trauma.
The statement also asserted that she was taking medicines for diabetes and high blood pressure only which were continued after her hospitalisation.
And this announcement came on the eve of the proposed fast by former Chief Minister O Panneerselvam to press for a probe into the circumstances leading to Jaya's death.
Clearing the air?
The statement said the line of treatment given to Jayalalithaa was validated by expert doctors from the All Indian Institute of Medical Sciences (AIIMS), New Delhi, as well as intensivist specialist Dr Richard Beale.
The statement said that at the time of admission, Jaya was breathless and drowsy. She was found to be suffering from lung infection and dehydration. It was also found that she had a history of pre-existing conditions like hypothyroidism, besides diabetes, hypertension and asthmatic bronchitis, "but clearly the treatment report of Apollo Hospital, as well as that of AIIMS do not (sic) mention any evidence of trauma or any other event as alleged by certain political leaders".
Apparently referring to insinuations that Sasikala, under whose care Jaya was for several years, systematically 'poisoned' her by giving wrong drugs, the statement said – "Certain insinuations have been made that administration of wrong drugs over a period of time prior to hospitalisation had led to health complications for the late Hon Chief Minister".
The statement clarified: "In this context, the medical reports indicate that except for corticosteroids administered for atopic dermatitis, the late Hon'ble Chief Minister was only taking oral hypoglycemic and antihypertensive drugs to control pre-existing diabetes mellitus and hypertension."
It claimed that Jaya responded initially to multi-disciplinary care and even interacted with officials on issues such as the Cauvery. However, her condition deteriorated later. The statement cited the reports of AIIMS doctors in October and later in December last year to show that there was an improvement in her condition, to begin with.
Asserting that the best medical care was given to Jayalalithaa, the government cited AIIMS doctors' reports which "have consistently concurred with the line of treatment being provided by Apollo Hospitals. The report had specifically commended the "meticulous medical management imparted by the treating team".
Unfortunately, Jaya suffered a massive cardiac arrest on the evening of 4 December 2016, while the intensivist from Apollo Hospital was in her room. The statement said that there were attempts made to resuscitate her by providing "Extra Corporeal Membrane Oxygenation (ECMO) support".
However, it was clinically concluded that there was no heart function and there was also no neurological improvement denoting the futility of the life support she was on.
The situation was conveyed to senior Ministers O Pannerselvam, Dr Vijayabhaskar and M Thambidurai, besides Sasikala and the Chief Secretary and the Health Secretary. And they all agreed to the withdrawal of life support and Jaya died at 11:30 PM on 5 December, the report concluded.
Edited by Jhinuk Sen