Is Amar Singh trying to oust Akhilesh and bring back Mulayam?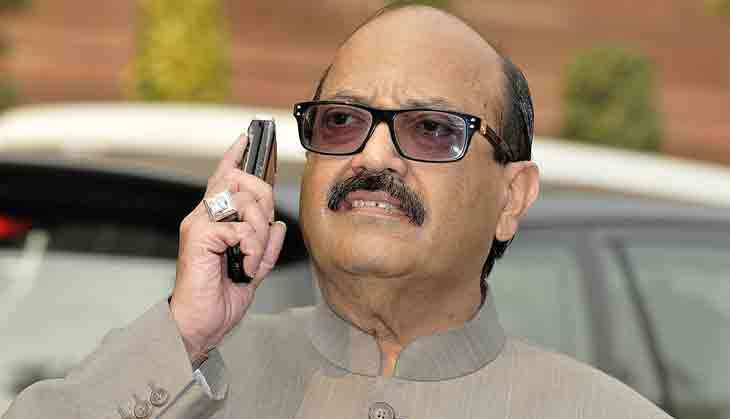 Trouble seems to brewing inside the Samajwadi Party in Uttar Pradesh. The state has a beleaguered chief minister in Akhilesh Yadav whose longevity in office is under threat from his kin.
With Amar Singh also turning hostile on the pretext that Akhilesh "does not take his phone calls", and that senior ministers like Shivpal Yadav and Balram Yadav "were being humiliated in the party", Amar Singh also pointed out that he was made to sit behind Naresh Agarwal and Ramgopal Yadav in the Rajya Sabha.
With this list of 'wrongs' from Amar Singh's end - battle lines have been drawn in the Samajwadi Party (SP).
PWD minister Shivpal was instrumental in getting Amar Singh back in the party from which he and Jaya Prada were thrown out in 2010.
With Shivpal's help and a little push from a lady IAS officer close to Mulayam, Amar Singh was able to overcome the opposition from the SP chief's other brother, Ramgopal, general secretary and leader of the party in the Rajya Sabha and the powerful parliamentary affairs minister Mohd Azam Khan.
To win over Shivpal, Amar Singh did what he excels at - hosted a wedding reception for his son in Delhi to showcase his abilities at networking.
One can look at the present developments with a sense of déjà vu - Amar Singh who came to be blamed for causing friction in the Ambani and Amitabh Bachchan's families is now fishing in the troubled waters of Mulayam's parivaar.
Where it all began
Incidentally, it all began after Amar Singh rejoined the party.
Known as a fixer during his initial days in politics, networking and forming cliques are Amar Singh's only surviving principles.
For those traits, he has been described as a rootless political wonder.
So it was no surprise that when after his expulsion Amar Singh floated Rashtriya Lok Manch and fielded 360 candidates in 2012 UP Assembly Polls, his outfit suffered a rout, failing to win even a single seat.
In 2014 he joined the Rashtriya Lok Dal and contested from Fatehpur Sikri parliamentary seat but lost.
His political resurrection lay in taking the easy route via Rajya Sabha. Bypassing Ramgopal, Azam and Jaya Bachchan, he worked on Shivpal for ensuring his entry into the Upper House.
After resigning from the party in 2010, Amar Singh had especially picked on Ramgopal for not treating him as a leader of the party.
"Ramgopal does not consider me to be the leader of the party. In a letter he had described me as an associate of Mr Mulayam Singh Yadav," Singh had told the media.
Launching a scathing attack on Mulayam, Amar Singh had described the SP chief as 'puchkaaru' (one who cajoles) and an opportunist who enjoyed the dhak-dhak girl Madhuri Dixit's dance at Saifai with his three generations, even as children of riot-hit families in Muzaffarnagar braved the winter chill in the open.
New tactic
But in his latest political machination, Amar Singh has described himself as 'Mulayamwadi' and not 'Samajwadi'.
During his earlier association with the SP when Mulayam Singh Yadav was CM, Amar Singh had also antagonised Azam Khan and Sahara's Subrata Roy.
What is significant about Amar Singh voicing Shivpal's angst and also mentioning Balram Yadav, is that it stands as a clear indication that a conspiracy is at work to oust the young chief minister.
Balram Yadav is the cabinet minister whom Akhilesh had dropped for playing intermediary in the merger of mafia don Mukhtar Ansari's Qaumi Ekta Dal with the SP.
Whether the pressure tactic is aimed at bringing back Mulayam as chief minister or Shivpal, is yet to be seen.
Family drama
When Shivpal recently threatened to resign because officers were not listening to him and ignoring his orders, Mulayam had jumped to his younger brother's defence, describing him as the only minister who was doing some good work.
He had warned Akhilesh and Ramgopal that if Shivpal resigned, the situation would go out of hand.
Also read:It's uncle Shivpal vs nephew Akhilesh: Yadav family drama continues
Amar Singh's resignation alone may not shake up the Samajwadi Party, but if he and Shivpal together force Mulayam's hand, Akhilesh could find himself in a spot.
Edited by Jhinuk Sen
Also read: The 9 lives of Amar Singh: Why has Mulayam taken him back into SP?
Also read: Amar Singh Essar tape: were JPC members bribed to save Reliance?
Also read: Will Amar Singh rejoin the Samajwadi Party? The mystery continues