How Amarinder's populist measures in Punjab pose a challenge to BJP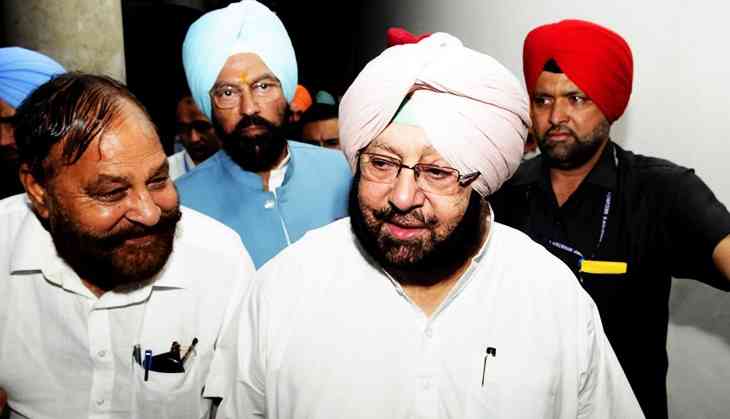 (Keshav Singh/Hindustan Times/Getty Images)
Showing political acumen, tact and aggressiveness, Punjab Chief Minister Captain Amarinder Singh recently managed to corner the Opposition in Punjab as well as throw a challenge to the ruling National Democratic Alliance (NDA) government at the Centre.
The CM achieved this by coming out with a series of populist announcements on the floor of the state Assembly that the opposition Shiromani Akali Dal-Bharatiya Janata Party (SAD-BJP) combine and the Aam Aadmi Party (AAP) would find difficult to oppose.
A 'surgical strike'
Amarinder executed all this during the last two days of Punjab's Budget session in a 'surgical' manner. He crafted the assault by first releasing a White Paper on the financial mess that his government has inherited from the decade-long rule of SAD-BJP.
The paper mentions that Punjab's growth rate has been below the national average since 2007-08, except for in 2013-14. The state is far behind the likes of Bihar, Gujarat, Maharashtra, Madhya Pradesh and Tamil Nadu. It puts Punjab in the category of the slowest-growing states in the country.
It also mentions how the outstanding debt has risen to Rs 2,08,060.96 crore and that interest payment consumes a major part of the revenue.
The government was countered by the Akalis, who brought out a "Genuine Super White Paper' with the aim of projecting the true picture of the state's fiscal position and also to dispel the canards being spread to undermine the good work done by the SAD-BJP government led by Parkash Singh Badal".
A populist cluster bomb
Next, Amarinder dropped an agricultural bomb on the BJP at the national level, announcing a total waiver of entire crop loans up to Rs 2 lakh for small and marginal farmers (who hold up to five acres), along with a flat Rs 2 lakh relief for all other marginal farmers. This has left the opposition picking holes in his announcement.
"This is not a political statement but a policy that has been announced on the floor of the house," says Punjab Congress chief Sunil Jakhar.
This was again followed by a slew of announcements that are now working like a cluster bomb.
The first is the decision to enact a new Lokpal legislation with the powers to initiate action on complaints against the Chief Minister, ministers and the bureaucracy at all levels.
Next, he announced that all loans up to Rs 50,000 given to the Scheduled Castes (SC) and the economically weaker sections by the State Schedule Caste Corporation and the State Backward Classes Corporation would be waived off in a phased manner. This decision, Jakhar says, will help farm labourers reeling under debt to some extent.
Amarinder has also reiterated his commitment to fill all vacant posts of SCs in the government in a time-bound manner.
Uplifting women
Having already announced an increased women reservation to 50% in Panchayati Raj Institutions (PRIs) and Urban Local Bodies (ULBs), Amarinder also committed to reserve 33% jobs for women and girls in government departments.
He followed that up by announcing that all girl students would get free education in all government schools and colleges right from nursery to PhD.
The maiden state budget
Amarinder's announcements set the prelude for the maiden state budget announced by his finance minister Manpreet Badal on 20 June.
Decrying the decline in healthcare systems under the previous regime, Amarinder announced his government's decision to establish wellness mohalla and ward clinics across the state - a concept which people connected with healthcare system approve of in a big way. Across north India, the Delhi government under Arvind Kejriwal started the concept of mohalla clinics and it has caught the fancy of the people, particularly committed doctors working in the government set up in states like Punjab, Haryana and Himachal Pradesh.
Amarinder also told the state assembly that his government has initiated the process of providing health insurance to all the citizens.
Real estate sector
While presenting the budget, Manpreet made an announcement that could give a big boost to the dwindling real estate sector in Punjab.
He announced a reduction of duty in transfer of ownership of plots and houses from 2.5% to 2%. More important, stamp duty on registration of property in urban areas is being slashed by a massive 3% from the existing 9% to 6%. This has been coupled with the establishment of new residential and industrial estates at Hoshiarpur, Jalandhar, Amritsar and Ludhiana among others.
The state of education
Education was another sector that was focused on. All students of government schools are to get free textbooks and a provision to introduce pre-primary classes (nursery & LKG) in government schools from the next academic session was announced. The government is also going to provide free internet to 13,000 primary schools and all 48 government colleges.
₹21 Cr will be allocated this year to ensure every Govt. Primary School in the state has furniture. Shameful this has not been done till now

— Capt.Amarinder Singh (@capt_amarinder) June 21, 2017
As a part of the government initiatives to improve education, Amarinder said textbooks would be put online to enable students and parents to download them free of cost. Digitisation of school records is already in progress, he said.
English as the medium of instruction will be offered as an option in government schools. On a pilot basis, English medium will be started in at least two primary, middle, higher and senior secondary schools in each educational block from July onwards.
In a unique initiative, the government also proposes to launch a programme 'Padho Punjab, Padhao Punjab' where young NRI graduates and people from across India would be invited to do a year of volunteer work in Punjab's schools.
A direct challenge
If implemented properly, these announcements could mark a new start for Punjab, making the state a model for others to emulate.
Politically speaking, loan waivers, relaxation in stamp duty, including thw CM under the proposed Lokpal bill and education reforms pose a direct challenge to the BJP, which is now in power in a large part of the country.
Over the last two decades, the BJP governments in various states, including Gujarat where Narendra Modi remained the chief minister for a long time, a lot of noise has been made on these issues. But the deliverance has always been questionable.
In fact, one simply needs to be reminded of the tussle Modi had with Gujarat Governor Kamla Beniwal over the appointment of Lokayukta and how he managed to get a diluted Lokayukta Bill passed in 2013.
Even in Uttarakhand, former chief minister Major General (Retired) BC Khanduri has reportedly come out with scathing remarks over how the newly elected Trivendra Singh Rawat government has not implemented the Lokayukta Act passed by his government in 2011 and introducing a new Lokayukta Bill instead.