Happy Birthday Thalaiva: Is the void left by Amma the ideal stage for Rajinikanth's entry?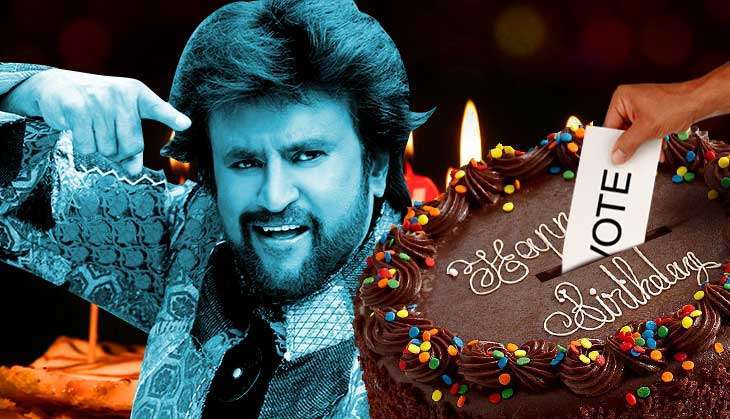 Usually 12 December is a hectic day for Anand, the 44 year-old auto driver from Coimbatore, Tamil Nadu. The man he adores and has revered all most all his life - Rajinikanth or 'Thalaiva' as he is popularly called, one of the most influential cine stars in India - turns a year older today. Come this year, Thalaiva turns 66.
Like thousands of other Rajinikanth fans in Tamil Nadu and world over, for Anand, Rajinikanth's birthday is one of the most important days in his calendar - only next to the super star's movie releases.
For Rajini's immense fan base cutting across Tamil Nadu, the day ideally means lavish public displays in the form of motorbike rallies, rides in chariot-type trucks and splashing birthday wishes on posters across the state.
But it is not all about a wanton waste of money, many fans also organise blood donation camps, visit orphanages and old-age homes to feed the inhabitants, donate note books to school children - following the line of their superstar who is known for his philanthropic work while keeping it all low profile.
However, the day goes passive this year as Rajinikanth has asked his fans to stay away from any celebration as Tamil Nadu goes through the seven-day mourning period following J Jayalalithaa's demise.
Time to step in?
But a question that has been lingering on the minds of many, especially his enthusiastic fan-base, has cropped up again this time. As Tamil Nadu has just lost a leader who had enjoyed a cult following and had found a place in the hearts of millions, is it time for Rajinikanth - the other undoubted cult figure in the state - to fill the political vacuum?
"We have a lost a great leader, at this moment we need a leader who is socially committed and can lead the state in the right direction. Only Thalaiva can do that," affirms Jagdish Kumar, a staunch Rajini fan for 20 years from Chennai.
Over the years, speculations have been rife about Rajini's political entry. In the famous 1996 state elections, Rajini dismissed the AIADMK alliance and said "If Jayalalithaa is voted back to power, even god cannot save Tamil Nadu." This was possibly one of his sharpest attacks on any political leader in the state.
The DMK-Tamil Maanila Congress swept the polls. Even as the effectiveness of the superstar's words in defeating Jayalalithaa remained as the anti-incumbancy factor and charges of corruption and high-handedness plagued her - that was probably one of Rajini's initial tryst with politics in the state.
For decades, Tamil Nadu has been ruled by DMK and AIADMK alternatively and many, especially the huge fan-base Rajini holds, have been expecting him to venture into the political play field by either joining the existing parties or by coming up with an alternative front.
On screen to off screen
In Tamil Nadu there has often been a thin line between politics and cinema.
From MG Ramachandran, the popular movie star who found AIADMK and became one of the most successful chief ministers to Jayalalithaa herself, who had a promising cine career under her belt before entering politics, and former Chief Minister K Karunanidhi, who was once an acclaimed lyricist - examples are many.
The latest entrant in this reel-life-to-real-life actor-politican transition being Vijaykanth, a larger than life hero on screen, who found DMDK in 2005. DMDK became the official opposition party in 2011.
With ample evidences from the past, especially in the case of cine-stars with relatively lower popularity making into politics, fans were not at fault when they expect Rajini to jump on to the bandwagon.
Chennai-based political commentator Sumant Raman feels that Rajini may not be as potent a game changer now as he would have been in the 1990's and 2000's.
"I am not sure if he will take the plunge now. He had multiple chances before, including offers by BJP," says Raman adding that for BJP, which has been attempting to make inroads in Tamil Nadu, Rajinikanth is still the best bet.
During the 2014 General Election, when Prime Minister Narendra Modi met Rajinikanth, it created ripples in the political circle. However, Rajini had termed it a friendly meet.
According to Raman, as Rajini's fan base cuts across political parties, a move to align with an outfit will undoubtedly affect a section of his supporters - a risk Rajini is unlikely to take.
"Unless there is a dramatic development within the DMK or the AIADMK, chances are remote for Rajini to come forward," Raman adds while cautioning that Rajini's ailing health could be a barrier even if he has ambitions.
Keeping it low-key
Apart from fighting the evil on-screen, Rajini's off-screen social involvement has been visibly low except in the case of Cauvery River water issue where he rallied with the sentiments of Tamil Nadu, avoiding claims by Kannada activists who accused Rajini of dismissing his home-state.
Rajini had announced his plans to start a 'people's movement' in 2002 to emphasise the need for inter-linking Himalayan and peninsular rivers in the country while cautioning that it is not a political move.
In 2004, he did a turnaround by throwing his weight behind AIADMK-BJP alliance for their promise on river inter-linkages in the country to solve the drinking water crisis.
Anand,the auto driver from Coimbatore who calls himself 'Rajni Ananth', feels that after MGR, the next political movement in the state will be led by Rajini. "He hasn't made his plans clear. He has his own timings. We will wait," says Anand.
Anand feels that if not politics, it is time Rajini expanded his social outreach across Tamil Nadu using his grass-root level fan clubs. Several of such fan clubs which has done many self-initiated social works in their respective localities in the past - such as building bus-waiting sheds and helping orphanages, old-age homes etc - are dormant now.
Anand, himself a member of Sulayaam Surawali Rajnikanth Fans Social Service Association, in Chettippalayam, Coimbatore, says that on Rajini's birthday he used to feed around 200 children from the orphanage about 10 years back, however such philanthropy has dwindled considerably since then.
Differences in opinion
However, not all fans are of the same opinion regarding Rajini's political entry. A representative of a Rajini fan club from Pollachy said that it is better Rajini does not become involved in political affairs.
He cited the spiritual and peaceful side of Rajini which may not go well with the political interventions.
M Madhava Prasad, professor of Cultural Studies at the English and Foreign Languages University in Hyderabad and an expert in cine-politics feels that, "The cine-political position of Rajinikanth has been substantially eroded."
The relationship between the star and the audience is unlikely to remain the same over years. It becomes lesser and lesser as the economy becomes the dominant force, explained Prasad.
"The appropriation of Rajinikanth by post-liberalised capitalist economy is not conducive to the development of cine-politics," he said.
According to Prasad, cine-political stars like MGR never had an image that they were wage-earning labourers like how normal actors are perceived.
He referred to how new-age directors like Shankar have remodelled Rajini's image to that of a global one, and have, therefore, taken him away from the grass-root image that he processed in his early career.
A senior journalist with a national daily in Chennai feels that the reason why Rajini could not make an impact now is because most of his fans are either old or middle aged, who may not be effective change makers in their locality now.
"He is a very shy person and not a 'Kabali' in real life," he said referring to Rajini's recent film Kabali where he is seen fighting for the rights of Tamil migrants in Malaysia.
He also dismissed the fact that there is a political vacuum in the state. "Sasikala is undoubtedly the leader of AIADMK and the party leaders have pledged their support to her," he concluded while adding that there is no room for Rajini to make a dramatic entry.
Even as experts predict Rajini's entry in politics as less likely, supporters like Anand and Jagdish Kumar, among thousands of others hope that one day Thalaiva will emerge out of the silver screen to become the saviour they have been looking for.
Edited by Jhinuk Sen