Gujarat polls: Why Narendra Modi's visits aren't really helping BJP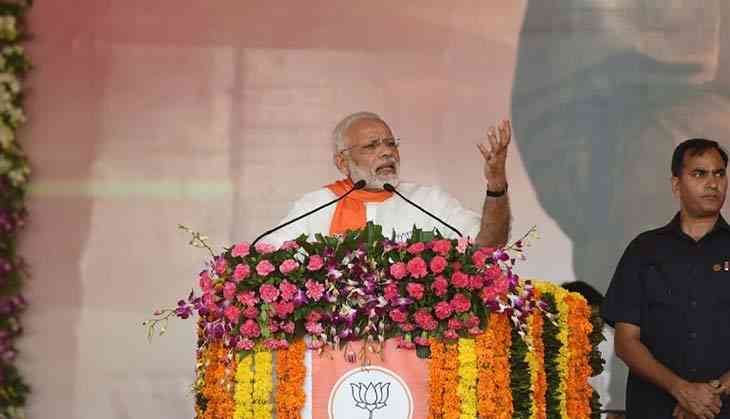 Is the popularity of Prime Minister Narendra Modi on the decline in Gujarat, a state which made him the poster-boy of Hindutva as well as the BJP? It appears so given the fact that his frequent visits driven by political compulsions are becoming more of an embarrassment for the party.
This phenomenon once again came to fore on Sunday when the Roll On -Roll Off (RoRo) ferry was inaugurated by him between Ghogha in Bhavnagar and Dahej in Bharuch district. While the ferry service was projected as first of its sorts in India, even South East Asia and of course Modi went on to claim credit for it, minutes later the social media was agog with reports of a similar service having been started between Fort Kochi and Vypeen island last year. People are also questioning Modi's claims on delays in the service becoming a reality for which he blamed the previous Congress-led UPA regimes at the Centre. Many are quoting media reports from 2010 onwards asking why Modi missed the deadlines after the project was sanctioned and price tenders were invited.
Even otherwise it is being pointed that the Ghogha-Dahej ferry service might be a latest version but ferry services have been existing in coastal and riparian India for long.
Jokes are also being circulated that now when Modi is through with his sop showering spree, elections will soon be announced for the poll bound state. "He has been making frequent trips to the state inaugurating and laying foundation stones of even those projects for which the presence of local level leaders is more than enough. You don't need a prime minister coming for them. People feel that he wants to put his stamp on every little public work that comes into public domain ahead of the polls," pointed out a senior journalist posted in Saurashtra region of the state.
Observers point out that the response to his road show in Vadodara was 'decent' but not 'stupendous' as it used to be in the past. "The crowds on Sunday were nowhere close to those that the city had witnessed when he had contested for the Lok Sabha from the city in 2014 or even the impromptu road show held by him in Navlakhi on October 23 last year. Even his face expressions were not that of a happy man. Maybe this was because of his uncomfortable ferry ride or whatever. Another thing that was visible was that the crowds had been brought from various places. It is easy to differentiate the people are from Vadodara city and those from the rural and semi-urban areas around," pointed out a political observer based in Vadodara.
He further pointed that it is for the first time that 'fear' is visible on the faces of the BJP leadership. "Another thing is that the duo of the state BJP president Jitu Vaghani and deputy chief minister Nitin Patel are unable to organise events to the satisfaction of the top leadership of the party. There are unconfirmed reports that the organisers of the Vadodara road show got an earful for the lukewarm response to Modi's roadshow on Sunday," he added.
To make matters worse for Modi and the BJP, it was the instance of a local activist Chandrikaben Solanki throwing bangles at Modi that caught the imagination of the people. Reports say that the bangles were thrown barely one foot away from Modi. She is engaged in the ongoing agitation by ASHA workers in the state on the issue of payment of minimum wages to them. This episode has brought a lot of embarrassment to Modi on social media with Dalit activist Jignesh Mevani posting about it.
As if this was not enough, there came the media briefing by Patidar leader Narendra Patel, who is a close aide of Hardik Patel, alleging that he was offered Rs 1 crore to join the BJP. He said that he had already received Rs. 10 lakh as token money.
Narendra claimed that former Hardik aide and new entrant in BJP Varun Patel arranged his meeting with Jitu Vaghani in Gandhinagar where he was lured by the BJP to join their bandwagon. Varun Patel has rejected Narendra's allegations and questioned his intentions behind conducting a press conference after receiving Rs 10 lakh.
Whatever the veracity of these charges, the issue has gone viral on social media with jokes on BJP being circulated. One of these jokes says, "Earlier you had to just a give a missed call on a phone number to join the BJP, now you are paid Rs 1 crore." Another one says, "Are there polls going on in Gujarat or an episode of Kaun Banega Crorepati?"
Even before Modi's visit on Sunday, BJP had to endure massive embarrassment during Japanese Prime Minister Shinzo Abe's visit to Gujarat. The people did not take kindly to the gala showcasing of a few venues and the anger got reflected in sarcastic jokes that continued through the festival of Navratri with even sarcastic Garbas coming into circulation.
One thing is there for sure that the old method of Modi carrying out large scale road shows and massive dramatic rallies is not working as it used to in the past. This is a cause of worry for the BJP. It remains to be seen how the party reinvents its campaign around its favourite vote catcher and poster boy.