Forget Ahmed Patel's RS bid, Cong slides to the brink of extinction in Gujarat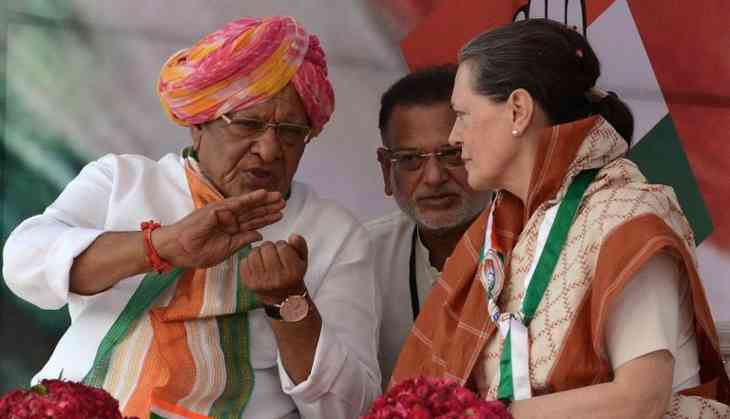 The Congress's troubles in Gujarat seem to be never-ending. Three more MLAs – Mansinh Chauhan, Channa Chaudhary and Ramsinh Parmar – resigned from the party on Friday, taking the total so far up to six.
Many more are expected to leave, after veteran leader Shankersinh Vaghela announced his resignation as Congress Legislative Party leader on 21 July.
Earlier, on Thursday, Congress Chief Whip and MLA from Siddhpur, Balwantsinh Rajput, Tejashree Patel from Viramgam, and Vijapur legislator PI Patel resigned and joined the BJP.
Soon after Rajput joined the BJP, he was named as the candidate for the third Rajya Sabha seat, along with BJP president Amit Shah and Union Minister Smriti Irani, who are expected to win with ease, given the BJP's strength in the Assembly.
Impact on Ahmed Patel's RS bid
Thakur's nomination could spell more trouble for Congress president Sonia Gandhi's political secretary Ahmed Patel, who is also contesting the Rajya Sabha polls from the state. Patel was expected to win the third seat comfortably, until Vaghela decided to raise the banner of revolt.
With these resignations, the total strength of the state Assembly has gone down to 176, and Patel would need 46 of the 51 Congress votes to make his Rajya Sabha comeback. However, reports suggests that more resignations are expected in the run up to the Rajya Sabha polls on 8 August, making things extremely difficult for Patel.
Sources claim that seven more legislators, including CK Raolji and Raghavji Patel, who are considered close to Vaghela, are expected to quit the Congress in the next few days. In fact, Patel informed the media that five more MLAs are set to resign in the coming days.
There have for long been rumors of Vaghela attempting to split Congress in the state, which became clear after 11 Congress legislators cross-voted in favour of the BJP's candidate, Ram Nath Kovind, during the Presidential polls.
The BJP's total MLA strength is 121, of which it needs 92 votes to get two of its candidates through. It needs the support of six more MLAs to ensure Rajput gets elected to the Upper House. Meanwhile, Patel would be banking on 46 Congress MLAs, two NCP legislators and a BJP rebel to ensure his victory. However, the presence of the NCP legislators at Vaghela's grand ceremony on 21 July does not bode well for Patel.
Moreover, the lone JD(U) legislator is now expected to vote for the BJP, considering how political equations have changed after Nitish Kumar took the support of the saffron party to form the government in Bihar.
In these circumstances, Patel's chances of retaining his seat have become trickier. It remains to be seen whether the wily backroom operator can work his magic one more time, as has been the case throughout his long political career.
Congress alleges MLAs being bought
Meanwhile, Congress launched a scathing attack on the BJP for attempting to try and poach its MLAs by hook or by crook.
Earlier in the day, the Leader of the Opposition in the Rajya Sabha, Ghulam Nabi Azad, alleged that the saffron party is 'stealing' MLAs through devious means.
Azad went on to claim that a party legislator was abducted by a senior Gujarat police official, who was in jail recently for a fake encounter case, to ensure he resigned from the Congress."You are poaching MLAs by using the police. You should be ashamed," Azad told the ruling combine.
His accusations led to Opposition parties raising the issue, leading to the wash out of today's proceedings. CPI(M) general secretary Sitaram Yechury also raised concerns about the accusations of MLAs being abducted to secure their support.
Later in the day, Congress's chief spokesperson Randeep Surjewala held a press conference in Ahmedabad, where he raised the issue of how a party MLA, Punabhai Gamit, was offered Rs 10 crore for switching allegiances.
"Shri Punabhai Gambit is a Scheduled Tribes Congress MLA, who had been elected a third time. He was forcibly detained and an attempt was made to give a bribe of Rs 10 crore with allurement to meet BJP president Shri Amit Shah. Similar attempts to buy the loyalty of Congress MLAs Shri Mangalbhai Gavit and Shri Ishwarbhai Patel were made by misuse of muscle power, money power and state power. Similar attempt was made on another colleague, Anand Chaudhary," alleged Surjewala.
Calling it a sinister political conspiracy, Surjewala said that democracy is being murdered in broad daylight, and sacrosanct principles of democracy are being trampled upon and auctioned. "Is it not a blatant violation of election laws and all established norms? Does such conduct not flagrantly violate the provisions of Representation of People's Act? Does it not fall within the definition of 'corrupt practices'? Is misuse of government officers, agencies, state power to influence the result of election not a criminal offence?" asked Surjewala.
He went on to demand the Election Commission of India should take note of this entire matter, proceed with legal action and register a criminal case. "We also demand that Shri Amit Shah and Shri Vijay Rupani must come forward and answer to the people of Gujarat, as also to people of the country," he added.
Unable to keep flock together
The sad state of affairs of the Congress in Gujarat yet again reflects how the grand old party has continuously failed to keep its flock together.
It's a pattern that has been repeating often – be it in Uttarakhand or Arunachal Pradesh, Manipur or Goa, or even Bihar, where it could not successfully mediate between its partners, which led to the BJP joining hands with Nitish Kumar and becoming part of the government despite losing the Assembly polls.
These instances and political failures reflect how the high command has lost touch with the aspirations of its leadership on the ground.
With the Gujarat Assembly elections only few months away, the Congress no longer looks in position to take on the BJP, which looks all set to add five more years to its 20-year long rule in the state.