First step towards grand alliance? Congress may back Yechury & Mayawati for RS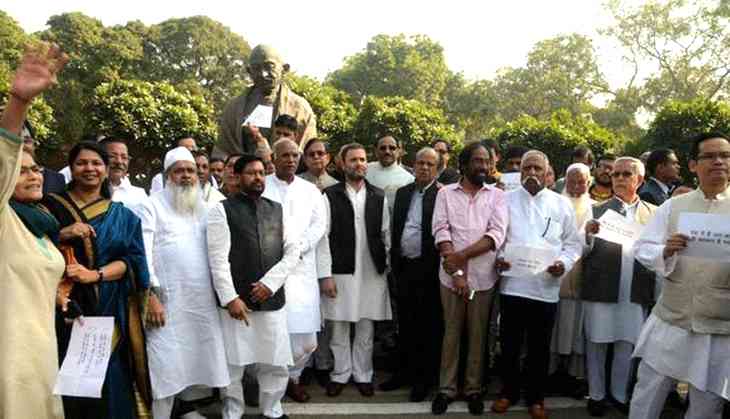 West Bengal Congress chief Adhir Ranjan Chowdhury on Monday hinted that the state unit of the state has no objections to giving up its claim for the Rajya Sabha seat and instead extend support to CPI(M) general secretary Sitaram Yechury whose terms expires in August this year. He, however, left it to the central leadership to take the final decision. In fact, sources suggest that even the Congress high command is keen on backing Yechury who is one of the finest speakers in the Upper House and well- known for taking on the BJP.
Speaking to Catch on Tuesday, Chowdhury reiterated his stand. "We were in alliance with the Left from 2004 until the nuclear deal. Even as Opposition parties, we have good floor coordination with each other," he said.
The CPI(M) has 33 seats in the West Bengal Assembly and needs nine more votes to reach the magic figure of 42 in order to get its candidate elected. Congress with 44 seats can easily support Yechury's nomination. Catch spoke to CPM leader Mohammed Salim who denied having knowledge of any such understanding and did not offer any comments.
Salim's decision to not offer any comment could be because of the reason that the party follows the two-term policy for its MPs in Rajya Sabha and giving Yechury third term would be unprecedented. So, it remains to be seen whether the party would abandon its policy to accommodate Yechury for yet another term if Congress decides to back him.
Meanwhile, similar sentiments were echoed by Congress general secretary Digvijaya Singh on former UP chief minister and BSP supremo Mayawati's re-election to the Upper House. Mayawati's term expires in April 2018 and with only 19 seats, it would be impossible for her to make any sort of comeback either in the Rajya Sabha or the Vidhan Parishad. To ensure another term to the Rajya Sabha, the BSP supremo needs 36 seats which could only be possible if Congress and Samajwadi Party decide to vote in her favour.
With 47 seats, SP can easily get one of its own to sent to the Upper House, which in all probability is going to be former UP chief minister Akhilesh Yadav, while the rest of the 11 votes can be transferred to Mayawati. If Congress with seven seats decides to vote in favour of Mayawati, she could get elected for the other term.
Earlier, in an interview with Catch, Digvijaya Singh said, "Out of all the MPs retiring from the Rajya Sabha from Uttar Pradesh, if there is anyone who must come (back) to the Rajya Sabha, it is Mayawati ji." If what Digvijaya or Chowdhury are prescribing can be adopted, it would be a precedent for the Opposition unity that most of the parties have recently been propagating about.
Chowdhury is also in favour of the Congress backing Mayawati. "Opposition unity is the need of the moment. No one can deny this fact," he told Catch.
Ever since BJP won the UP assembly elections with an overwhelming majority, leaders of various Opposition parties have been pitching for a grand alliance on the lines of Bihar to take on the Narendra Modi-led BJP.
"I don't know whether backing these candidates would set the agenda for a grand alliance but it will certainly contribute to the atmosphere of cordiality and facilitate the formation of a mahagathbandhan," claimed senior Congress leader Mani Shanker Aiyar.
"I have been advocating about a grand alliance which is now on the agenda of Mamata Banerjee, Nitish Kumar, Akhilesh Yadav, Mayawati, Farooq Abdullah, Sharad Pawar, Yechury, MK Stalin, among others. I think it would give great impetus to such a mahagathbandhan if Congress came out openly in favour of such an alliance," he added.
Sudhindra Bhadoria of the BSP welcomed such an initiative and said, "It is important for the Opposition to come together before 2019 to take on the BJP. If they are thinking on these lines then it is good for the Parliament and democracy." However, he pointed that nothing is concrete as if now and one will have to wait before the final decision is made.
Adding to this, the Opposition has begun holding talks to ensure that a consensus is reached for a common candidate for the Presidential polls as Pranab Mukherjee's terms end on 25 April. If the Opposition does manage to unite, it could set the ball rolling for the the 2019 Lok Sabha elections. Ever since the Grand Alliance trumped the BJP in Bihar, like-minded secular parties have been pitching for a similar understanding to stop the Modi juggernaut and supporting Yechury and Mayawati seems to be part of the plan.