Dilip Ghosh praises tainted ED officer, leaves Bengal BJP red-faced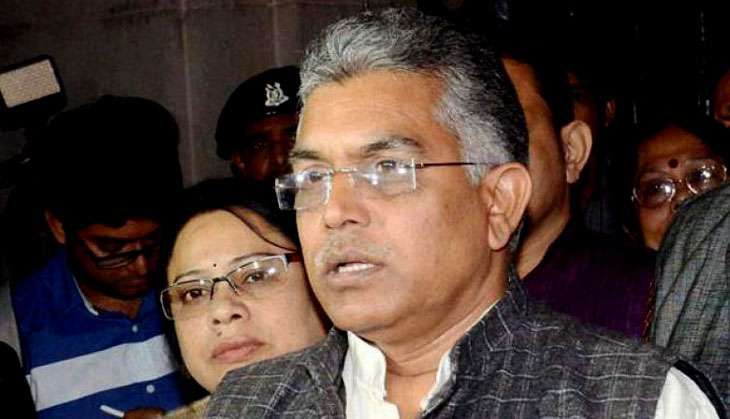 The Bengal BJP was left red-faced after its president Dilip Ghosh described an Enforcement Directorate officer suspended for his alleged involvement in a chit fund scam as "very efficient".
Manoj Kumar was suspended last week for allegedly helping launder money for some key accused in the Rose Valley chit fund scam. It was after a CCTV clip surfaced purportedly showing Kumar checking in a Delhi hotel with the estranged wife of Gautam Kundu, the main accused in the scam, that the ED ordered an investigation into his role. The ED said it would take "strict disciplinary action" against the officer "if these charges are proved true".
On Thursday, Ghosh praised Kumar saying he had helped recovered Rs 850 crore of chit fund money.
Also Read: Roopa Ganguly's Rajya Sabha nomination exposes Bengal BJP's internal feud
Sources in the Bengal BJP said the party's central leadership has asked Ghosh to "explain why he made such comments". He has also been told not to make further statements without the central leadership's permission.
The episode is threatening to widen the rift in the state BJP, which is divided between the camps led by Dilip Ghosh and Rahul Sinha. Indeed, a section of the party members loyal to Sinha condemned Ghosh's comments and sought his immediate resignation.
"We are losing our image in Bengal because of such irrational statements being made by one of our top leaders," said a leader of Sinha's camp. "This has been brought to the notice of the central leadership and we are hopeful that they will take some decision."
The leader claimed that Ghosh's comments were "in bad taste" and hurt the feelings of BJP workers. He said Ghosh could to be summoned to Delhi next month.
Rahul Sinha, national secretary of the BJP, said, "I do not know Manoj Kumar. But I want that the ED should continue their interrogation of him, and the truth should come out. The accused should be punished."
Meanwhile, Manoj Kumar had been summoned for questioning by the Kolkata police on Friday but he did not turn up.
Also Read: All's not well with Bengal BJP. And these 2 issues are to blame