Did this Ram Navami change politics in Bengal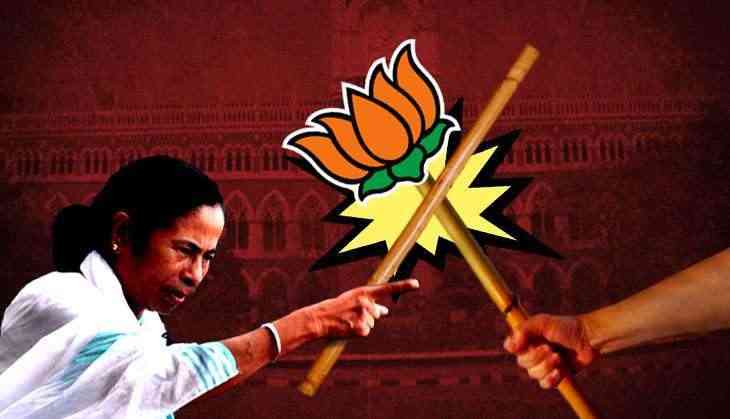 Will this year's Ram Navami turn out to be a watershed in the way politics is done in West Bengal? Or is this rampant violence a passing phase? These are questions foremost in the mind of socio-cultural analysts and political observers.
Ram Navami processions took a bloody turn Sunday with clashes between supporters of Trinamool Congress and Bharatiya Janata Party (BJP) – the political parties in power in the state and the Centre respectively – at several places throughout the state. Since then the violence has continued and has taken a communal turn.
Even Thursday television cameras captured a tense Asansol. A predominantly Hindi-speaking Hindu mass complaining their processions were pelted with stones while Muslims alleged that offensive slogans against them were raised in such processions.
Union Minister of State for Heavy Industries and Public Enterprises Babul Supriyo, who represents Asansol in Lok Sabha, now has an FIR registered against him for violating Section 144 even as the police stopped him from entering the city. He, in turn, demanded that the Mamata Banerjee government be sacked.
People of #Ranigunj are attacked, police force is outnumbered and severely injured.And Mamata Government could only muster cutting off internet connectivity for 2 days?Because goons on the streets have been downloading weapons and bombs off the internet,is it now? #SackMamataGovt

— Babul Supriyo (@SuPriyoBabul) March 29, 2018
This followed fresh violence in the Asansol-Raniganj coal belt Wednesday after which the state administration issued prohibitory orders, sent a huge contingent of police led by three senior officers, clamped down on internet services and asked local TV channels to not broadcast anythingn that could trigger violence.
The situation reached this stage as villagers in the area resisted a BJP rally Monday. In the ensuing clash 10 villagers were injured and an Indian Police Service officer lost an arm while trying to defuse a crude bomb.
In another instance, a statue of freedom fighter Maulana Abdul Kalam Azad was overthrown by a mob sporting saffron bandannas in North 24 Parganas district's Kakinara.
Before that, Sunday a man died after being caught in a clash between the police and rival Ram Navami processions. There were many more instances of violence between the two parties and weapons were reportedly brandished at several rallies.
Even as the state continued to cope with violence Chief Mamata Banerjee was seen New Delhi, meeting senior politicians from various Opposition parties Tuesday and Wednesday.
Politicians, expectedly, blamed each other. BJP State President Dilip Ghosh blamed Trinamool's "double standards" and said "While (the party's) goons tried to create disturbance in various areas, the police and administration failed to discharge their duties."
Jishnu Bose, state general secretary of BJP's mentor Rashtriya Swayamsevak Sangh (RSS), alleged the Azad statue was vandalised by Trinamool goons carrying BJP flags. He also claimed that several workers of Trinamool and Communist Party of India (Marxist) joined RSS rallies.
Trinamool's Sourav Chakraborty, member of the Legislative Assembly from Alipurduar, was spotted at an RSS Ram Navami rally Sunday. In Kakinara too, sources said, Trinamool legislator Arjun Singh was in a procession with RSS workers. He though denied that and blamed RSS for vandalising the Azad statue.
The CPM's Surjya Kanta Mishra, meanwhile, blamed parties of "wanton competitive communalism" and wondered why could the state not seek central forces if its own contingents fell short. Chief Minister Banerjee has already turned down a Central offer for the same and held back Governor Keshari Nath Tripathi from visiting the disturbed coal belt area.
As the political class traded blames, the situation has left the state's intellectuals worried. They see a trend that was set ever since winning two Lok Sabha seats in 2014 made the BJP try to garner more by consolidating Hindu votes. That Trinamool is now competing with it will only increase religious polarisation, they feel.
One question that has been on everybody's mind is why did Trinamool take out Ram Navami rallies in the first place? A Kolkata-based intellectual leaning towards Trinamool claimed the party had to do so to keep the BJP from creating communal disturbances in the state. It couldn't take a risk after the saffron party made its intention clear with last year's rallies brandishing weapons.
Veteran historian Nrisingha Prasad Bhaduri, however, felt that was pointless: "If a ruling party needs to showcase strength, it should be in the vote bank rather than giving too much attention to Ram Navami rallies. A counter rally signifies it is giving importance to another party."
In a state where caste and religion did not dominate politics, such "competitive communalism was detrimental", politica analyst Amol Mukherjee said. "This will widen religious polarisation and increase communal tension. Evern since coming to power in 2014 the BJP has tried to consolidate Hindu votes and communal clashes have increased eg, Dhulagarh and Baisrhat," said the former principal of Presidency College.
He agreed with Bhaduri that Trinamool had better not organised rallies: "The ruling party must understand it has not been elected to indulge in competitive communalism. It should rather act when law is violated. It is necessary not to give mileage to such rallies."
Theatre activist Koushik Sen pointed out that the state had a strong social fabric. The need was to introspect what's good for the society. "Such rallies showcasing arms are not only detrimental to the society but also a cause of concern for the common people," he said highlighting the death of one villager Sunday.
"Trinamool's counter-rallies only prove it would copy the BJP. That would only give an edge to the BJP help increase its base in Bengal," Imankalyan Lahiri, professor of International Relations at Jadavpur University, said.
"It's the duty of all political parties to maintain law and order. They should not indulge in wanton competitive communalism," Sohini Roy, who has taught Sociology in St Xaviers College, said. "It is dangerous for Bengal, which has never been ruled by caste or religious politics. As a symbol of its unity, Nobel laureate Rabindranath Tagore once celebrated Raksha Bandhan between Hindus and Muslims," she added.