Saffron flags & kids carrying swords: how Ram Navami was politicised in Bengal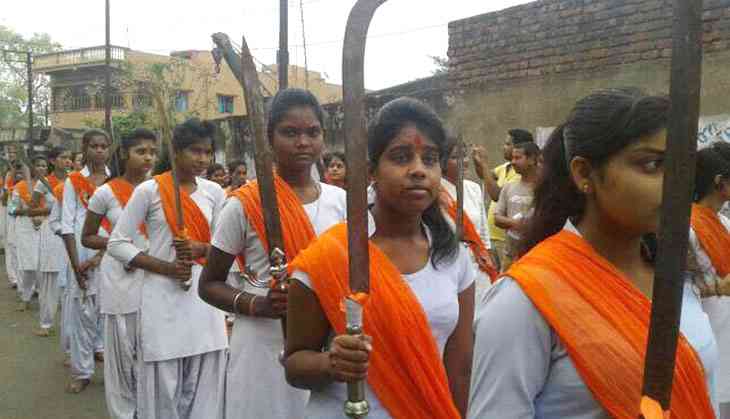 The politics over the celebration of Ram Navami continued in West Bengal, when Chief Minister Mamata Banerjee claimed on Wednesday that the Bharatiya Janata Party was trying to use the religious festival as a mere political tool to counter the All India Trinamool Congress (AITC) in the state.
The Vishva Hindu Parishad, Bajrang Dal and Durga Bahini, among other entities, had organised around 1,200 religious processions in the state.
According to local police, in the districts of West Midnapore, Asansol, Purulia, Birbhum and many others, the processions were attended by hundreds of children carrying sharp-edged weapons.
In Durgapur, several young girls carried swords in their hands.
In south Kolkata too, various outfits took out rallies. The processions were aimed at strengthening and spreading their ideological foundation of Hindutva.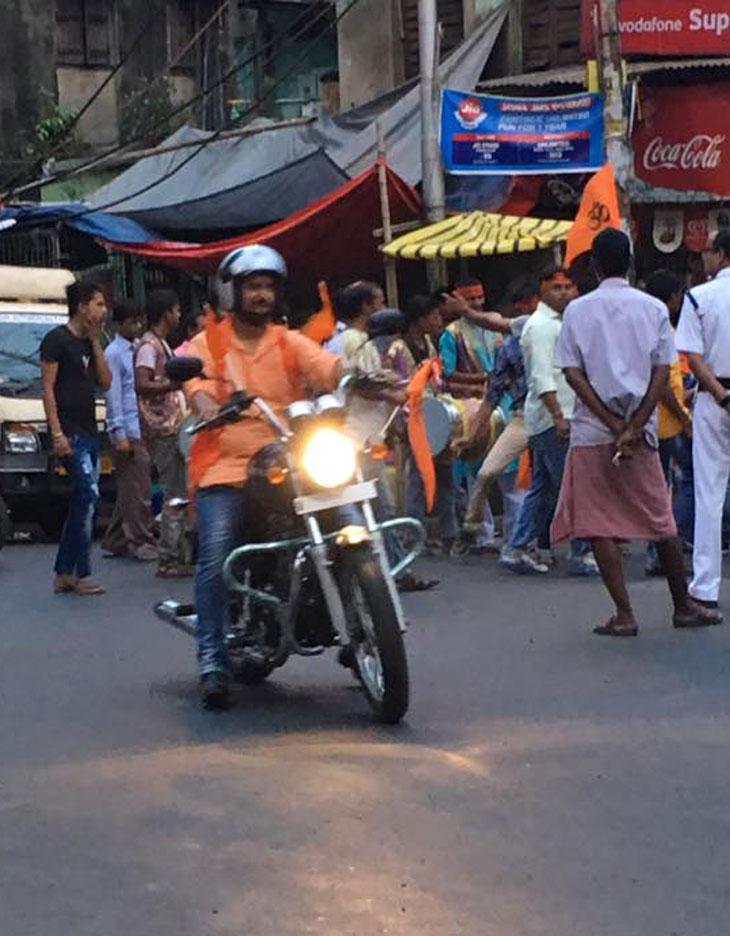 Saffron flags at a Ram Navami procession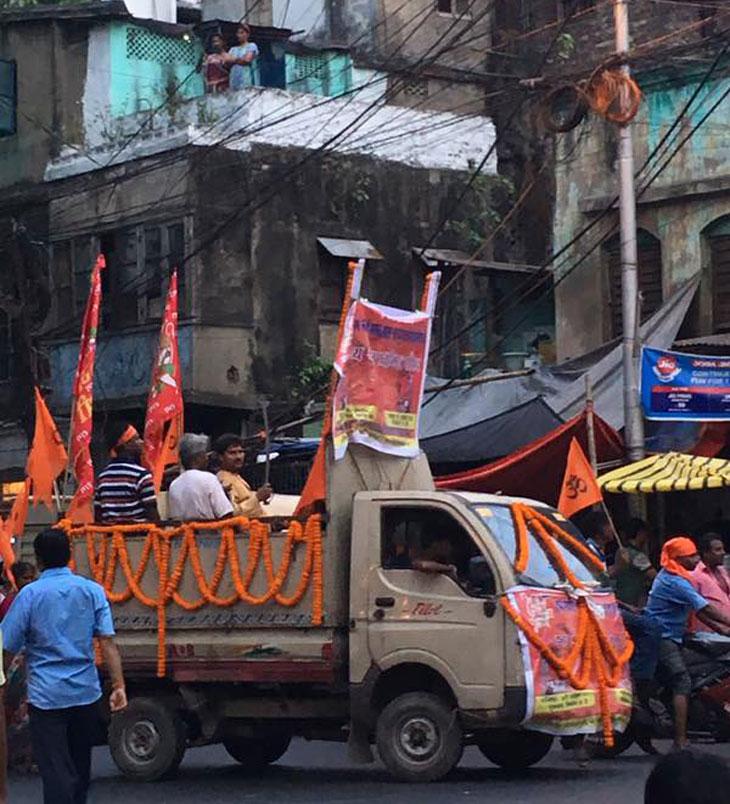 Saffron flags and a man carrying a sword during a Ram Navami procession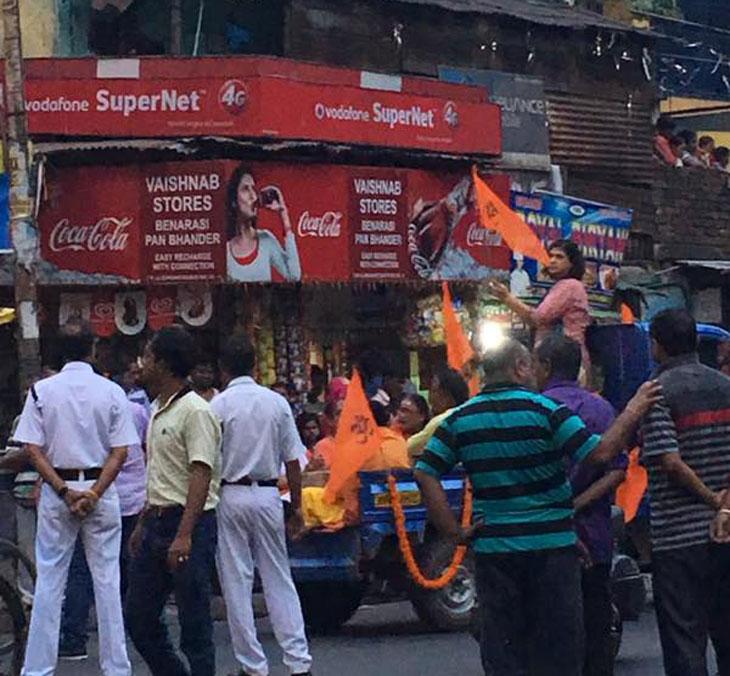 Saffron flags at a Ram Navami procession
A senior police officer at the Jadavpur police station said: "We have identified that many local BJP workers carried party flags during the procession, and were chanting 'Jai Shri Ram' and 'Jai Bajrang Bali'.
Chief Minister Banerjee, addressing a gathering at Bankura, said: "On Wednesday, they (RSS-affiliated outfits) have carried out political rallies while claiming they were religious processions. I won't tolerate anybody trying to use a political rally in the name of religion,".
However, at a Hanuman Puja procession at Garia in south Kolkata, AITC leaders too led the march with the party flag.
Allegations of religious polarisation
Banerjee said that unlike Uttar Pradesh, it was difficult for BJP leaders to polarise people on religious lines in Bengal. She said: "Why is the BJP using party symbols in a religious procession? If it wants to use its party symbols in a religious procession, it should change its party symbol."
Banerjee claimed that the BJP's rise in Bengal was thanks to its 'secret understanding' with the CPI(M), and that the parties were hand-in-glove with each other.
"Do not try to stoke religious sentiments of people. We do not believe in politics of division," she warned.
Banerjee alleged that unlike in Uttar Pradesh, where the BJP operated on the slogan of 'sabka saath, sabka vikas', in Bengal, the party was trying to polarise the public. But BJP leaders rejected this accusation.
Union Minister of State for Heavy Industries and Public Enterprises and Bengal BJP leader Babul Supriyo tweeted: "Some Hindu organisations did that during RamNavami as part of their scheduled ritual. TMC had NOW started that for Political reasons. Good".
However, AITC leader Subrata Mukherjee said: "West Bengal has celebrated Ram Navami earlier, but now Sangh outfits are trying to show their strength through this Ram Navami program. We condemn such acts of the Sangh outfits."
Senior CPI(M) leader Surjya Kanta Mishra tweeted: "Mothers and daughters never carried arms in Bengal publicly in the name of religious processions. No religion must promote it. Impermissible."
According to Mishra, if the state police had failed to control the sitiation, it should have appealed for an all-party meeting to discuss the issue. But these events could not be tolerated in the state.
However, Dilip Ghosh, state BJP president, responded: "This is the tradition of India. Ram is always depicted with weapons, so how can Ram Navami be celebrated without weapons?"
Educationists condemn politicisation
Many educationists condemned the developments, pointing out that West Bengal is a place of rich cultural heritage, and that political leaders are unnecessary creating controversy over the celebration of a religious festival.
Sunando Sanyal, an educationist, said: "In West Bengal, political leaders are trying to create unnecessary controversy over the celebration of Ram Navami. But they are not going to break the social fabric of the state by creating religious polarisation."
(This article has been updated at 7:45 pm on 6 April 2017)