Smriti Irani slams Arvind Kejriwal after Delhi CM asks women to discuss vote with men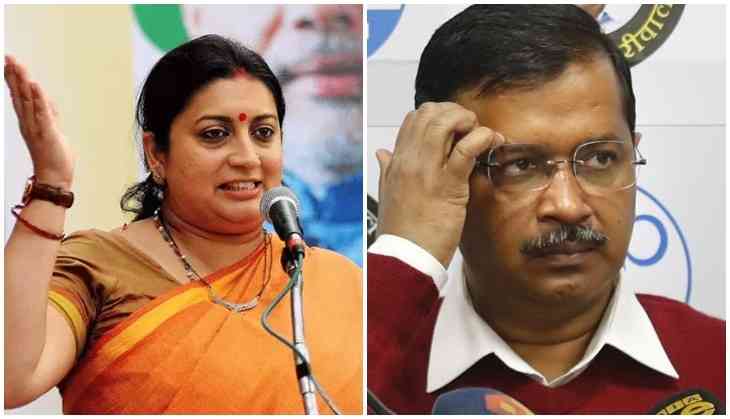 Union minister Smriti Irani on Saturday hit out at Delhi Chief Minister Arvind Kejriwal for asking women voters in Delhi to discuss with men in their families whom they should vote for in ongoing Assembly elections.
Taking to Twitter the Union Minister said: "Don't you consider women so capable that they themselves could decide who to vote for?"
Irani wrote in Hindi responding to the Delhi CM's Twitter post.
On Saturday morning Kejwiwal posted in Twitter saying: Must go to vote. Special appeal to all women - Just as you bear the responsibilities of home, so is the responsibility of the country and Delhi. All of you must go to vote and also take the men of your house. Make sure to discuss with men that whom it would be better to vote for."
Meanwhile, Delhi BJP chief Manoj Tiwari said that his party will form the government in the national capital.
Speaking to reporters Tiwari said: "I have blessings of my brother and the people of Delhi. We have been waiting for our victory here. for the past some years. My sixth sense is saying that BJP will form the government. BJP will form the government in Delhi by winning by more than 50 seats."
Worth mentioning here, 13,571 polling stations are there at 2,688 locations. Out of these, 3,141 are critical polling stations and 144 are vulnerable polling stations. Delhi is witnessing a triangular contest among the ruling AAP, which won a landslide majority in the last elections, the BJP and the Congress. In the last poll, the AAP had won 67 seats, the BJP 3. Congress didn't open its account.
Kejriwal led Aam Aadmi Party (AAP) is hoping to retain power for the second consecutive term. Similarly, the BJP is hopeful to gain a majority by cashing in on the popularity of Prime Minister Narendra Modi.
Also Read: Delhi Election 2020: My sixth sense says BJP will form govt in Delhi, says Manoj Tiwari