BJP returns Congress Reddy Bros attack with Chandramouli-Choksi taunts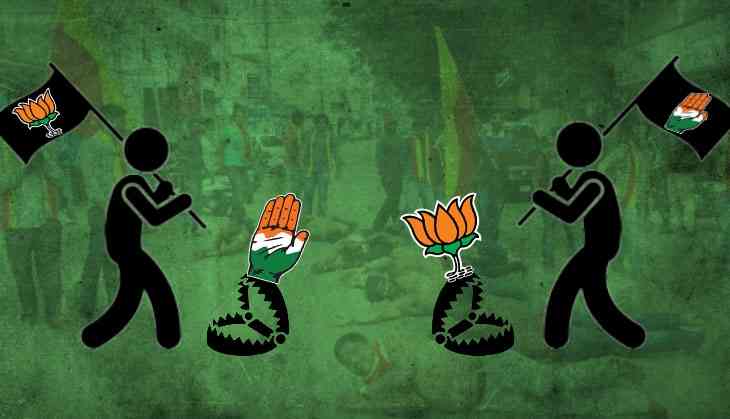 (Arya Sharma / Catch News)
After revealing their candidates for the upcoming elections to the Karnataka elections, the Indian National Congress and the Bharatiya Janata Party have turned their focus to picking faults at each others' candidates.
The BJP has already faced flak for naming G Somashekhara Reddy, brother of mining baron G Janardhana Reddy, in its second list released Monday. Somasekhara, a former state minister, was chargesheeted in 2012 by Andhra Pradesh's Anti-Corruption Bureau (ACB) in the cash-for-bail case involving his brother. Janardhana was indicted in the Bellary illegal mining scam and the related Belekeri port scam.
The BJP has also fielded B Sriramulu, a close confidant of Janardhana. It has so far announced candidates for 154 of the 224 seats for which polls will be held May 12.
Somashekhara's candidature attracted prompt criticism from the Congress:
BREAKING! Amit Shah's prophecy of Yeddyurappa Govt being the 'Most Corrupt' ever in Karnataka is coming true-

Janardhan Reddy's brother Somshekar Reddy gets BJP ticket!

Krishnaiah Setty is also a BJP candidate, who was accused with BSY in land scam.https://t.co/g24sLWOxnG

— Randeep Singh Surjewala (@rssurjewala) April 16, 2018
Sushma Swaraj ji's favourite Bellary Brothers are back in the BJP! Amit Shah is ensuring that BJP's Karnataka team is no.1 in giving tickets to the corrupt& the tainted. pic.twitter.com/3ZTbyEVLdB

— Priyanka Chaturvedi (@priyankac19) April 16, 2018
Tuesday the saffron party hit back at rival Congress over the candidature of HS Chandramouli, lawyer for absconding diamond merchant Mehul Choksi. Parliamentarian and party spokesperson GVL Narsimha Rao alleged the accused in the multi-crore Punjab National Bank fraud case, enjoyed the "patronage" of Congress President Rahul Gandhi.
"Congress' connections with Mehul Choksi keep on emerging one after the other. One incident can be a coincidence, but multiple coincidences means it is a conspiracy. There is no doubt Choksi enjoyed patronage and support of Rahul Gandhi.
"And that is why Congress had rewarded Chandramouli, who as a lawyer defended Mehul Choksi in case involving cheating in 2015," said Rao. He alleged that the police complaint involving the cheating incident was subsequently converted in a civil complaint at Congress' insistence.
Rao said Chandramouli was also legal consultant of Congress leader KJ George, a prime accused in the case of suicide of deputy superintendent of police MK Ganapathi in 2016.
"Since Chandramouli has been making efforts to save one offender after another, he has been rewarded with candidature, which makes us believe that Congress ka haath Mehul Choksi ke saath", he said.
Citing Rahul Gandhi's presence at a promotional event of Choksi-owned Gitanjali Jewels in 2013, Rao said: "It not just Rahul Gandhi alone, there is a long list of Congress' connections with Choksi. In 2013, (former Finance Minister) P Chidambaram removed the director of Allahabad Bank for denying to restructure a loan of Rs 1,550 crore to Choksi when he highlighted the lacunae in it.
"Then the premises of Abhishek Manu Singhvi in Mumbai was rented to Choksi and even his wife bought jewellery worth Rs 5 crore from unaccounted cash," he alleged.
Earlier BJP IT Cell head Amit Malviya had questioned the Congress's move to field Chandramouli instead of Brijesh Kalappa who is Karnataka CM Siddaramaiah's legal advisor.
What is so special about H S Chandramouli, lawyer of Nirav Modi's uncle Mehul Choksi, that Congress gave him a ticket from Madikere while denying one to Brijesh Kalappa, Siddaramaiah's legal advisor and party spokesperson? Rahul's friends over CM's aide? #CongressWithNirav

— Amit Malviya (@malviyamit) April 17, 2018
Kalappa expressed his anguish and disappointment in a Facebook post: "I have been denied LS 2009, 2014. R S in 2014, 16, 18 and now Assembly.
"I will swallow the ignominy of being ousted from the race by a Person who joined the Party in 2016, got a Legislative Council Ticket the same year, lost and the same person now bags the Assembly ticket for Madikeri. This begs the question- if one person were given so many opportunities by the Congress Party, why did we let a brilliant person like Jayaprakash Hegde go merely because he wanted the MLC ticket after he lost Lok Sabha elections?! I will try for Gram Panchayat next time," Kalappa had said in the post.
There also have been reports unhappy with the developments, the Congress had put on hold Chandramouli's candidature.
Congress puts Madikeri seat on hold after reports that the candidate HS Chandramouli had been Mehul Chowksi's lawyer: Sources #KarnatakaElections2018

— ANI (@ANI) April 17, 2018
The Congress subsequently dismissed the reports and in turn questioned the BJP's links with Choksi and former cricket administrator Lalit Modi.
"If being an advocate is a charge, then the BJP is liable to answer for Union minister Arun Jaitley whose daughter's legal firm was hired by Choksi.
"They should also answer for External Affairs Minister Sushma Swaraj and Rajasthan Chief Minister Vasundhara Raje for procuring travel documents to Lalit Modi. The BJP should focus on issues faced by the country rather than indulging in diversionary ploys," said Congress leader Jaiveer Shergil.