BJP MLA Rashmi Verma booked under theft charges in Bihar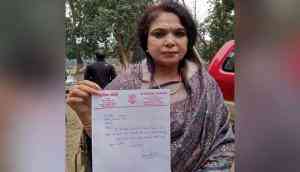 Bharatiya Janata Party (BJP) MLA Rashmi Verma has been booked on alleged theft charges in Bihar's West Champaran district, the police said on Tuesday.
The MLA from Narkatiaganj has been accused of barging into college premises and walking away with important documents, along with her supporters, officials said.
Abhay Kant Tiwari, the college principal, lodged a complaint at Shikarpur police station against 25 people, including Verma, on the basis of which a case was registered, the police said.
The complainant, Tiwari, told the police that he went to Patna to meet an advocate for a case on January 17 and the charge was given to another faculty Vivek Pathak.
"I was informed that a group of people headed by Narkatiaganj MLA Rashmi Verma entered the college premises. As they were in large numbers, Vivek Pathak escaped from the college to save his life. Verma's supporters entered every room, broke open the cupboards, and took away valuable documents," Tiwari said in his complaint Shikarpur police.
Based on his complaint, a case has been registered against MLA and other people involved. "We have received a complaint and lodged FIR (FIR number 53/27) against MLA and other people involved," Narkatiaganj Shikarpur police station officials told ANI.
MLA Rashmi Verma however refuted the allegations and said that she was unaware of any complaint against her.
"I didn't receive any FIR copy. I don't know why a police complaint was lodged against me. If anyone complains against me at the police station then it's the police's duty to ask me first and then file an FIR," Rashmi Verma said while speaking to ANI.
(ANI)
Also Read: Digvijaya says 'deepest regard for defence forces', as Jairam Ramesh trains guns on PM