BJP leader shot dead, prime accused surrenders before police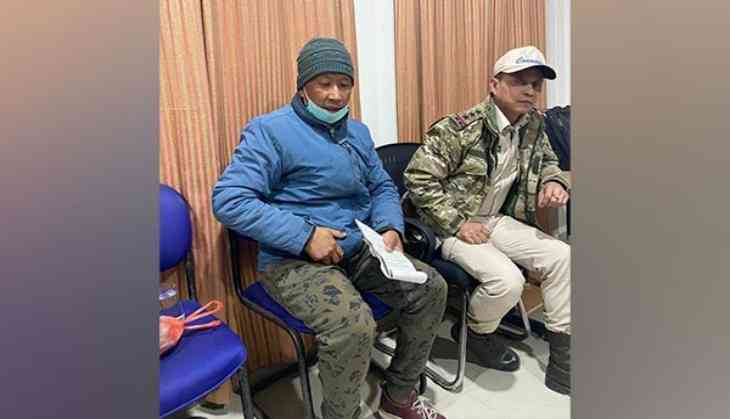 The prime accused, Ayekpam Keshorjit surrendered before the Manipur Police.
A prime accused in the gunning down of BJP leader Laishram Rameshwor Singh in Manipur has surrendered before police while another person has been arrested in this connection, officials said.
Singh, the convenor of the ex-servicemen cell of the party in the state was shot dead on Tuesday by unknown miscreants outside his residence in Thoubal Kshetri Leikai in the state on Tuesday.
Following this the prime accused Ayekpam Keshorjit surrendered, police said on Tuesday.
Keshorjit, 46, surrendered before Inspector P Achouba Meitei, Office in charge Commando Imphal West.
Rameshwor was rushed to Raj Medicity Hospital in Imphal where he was declared brought dead.
His body was later taken Jawaharlal Nehru Institute of Medical Sciences (JNIMS) Morgue for a post mortem.
According to police, 32 licensed pistols, two magazines and nine 0.32 bullets were seized from Ayekpam Keshorjit's possession. His mobile phone was also seized.
Meanwhile, Manipur Police made their first arrest in the murder case on Tuesday.
"At about 11 am on Tuesday, two unidentified men came to the Kshetri Leikai area of the Thoubal district of Manipur. The two came in a white Mahindra XUV 300 and shot the 55-year-old Laishram Rameshwor Singh in Thoubal district," said the police statement.
Upon receiving information, an immediate attempt was made to arrest the accused persons.
After a hectic chase and search, the vehicle used in the crime was seized and the driver of the vehicle identified as Naorem Ricky Pointing Singh was arrested. The arrested person belongs to Bishnupur of West Bengal and was staying at Haobam in Imphal.
(ANI)
Also Read: BBC documentary row: Delhi Police starts inquiry into complaint of stone pelting at JNU campus