BJP is against demonetisation, but only when it is done by the Congress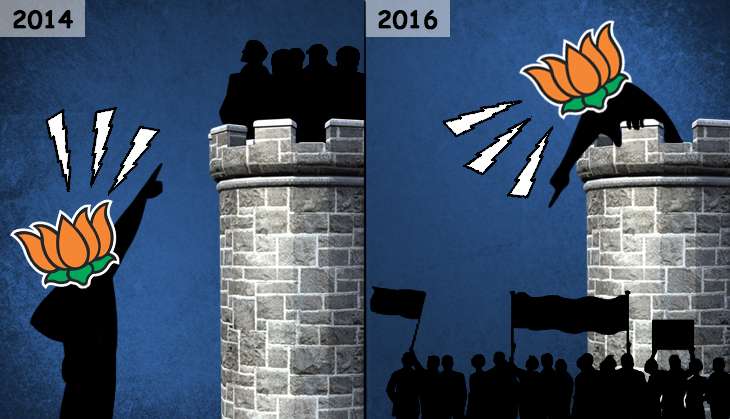 You might find it difficult to believe in these hyper-nationalist times, but it's true: The Bharatiya Janata Party actually came down hard against demonetisation not too long ago and slammed it as anti-poor.
Also read: Currency ban netas. Only people will suffer: Govindacharya
The year was 2014. The party resorted to the same arguments then that critics of the Narendra Modi government's shock demonetisation move are putting forward now. That too when withdrawal was to be implemented in a phased manner, not in four hours as in the present case.
Also read: Modi loses 3 lakh Twitter followers
This was just four months before Modi was elected PM. In January 2014, the Reserve Bank of India announced all currency notes issued before 2005 would be withdrawn completely from circulation. The then Prime Minister Manmohan Singh did not appear on television to announce the move. That was not needed because the withdrawal was to be done in a phased manner, over the next three months.
But the BJP had to play the role of a vocal opposition then and slammed the move left, right and centre. Meenakshi Lekhi, now the Lok Sabha member from New Delhi but then only a party spokesperson, said 65% Indians who did not have bank accounts and are largely illiterate, poor, old and living in remote areas, store their money in cash.
Also read: Gujarat's old bag of tricks to turn black money white
"They will fall victim to middlemen who will scare them that the notes are worthless and charge them hefty fees to convert them. They will also be ripped off by shopkeepers," she said.
Lekhi even wrote an article for the Economic Times. "The latest gimmick of finance ministry... an attempt to obfuscate the issue of black money stashed outside the country," she said.
Public memory might be short but social media more than makes up for it today. A video grab of Lekhi addressing a press meet and criticising the phased withdrawal of currency as anti-poor is already doing the rounds on Twitter.
As the associated tweet suggests, we hope that the PM and the finance minister will find some time to listen to this and contemplate.
Edited by Joyjeet Das