Currency ban won't affect netas. Only people will suffer: RSS leader Govindacharya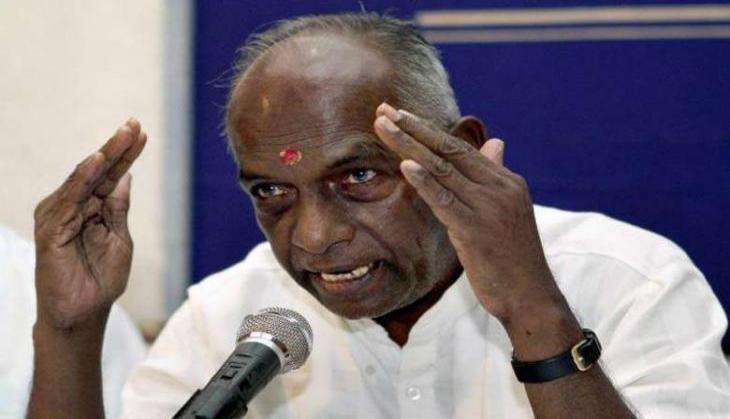 Veteran RSS leader KN Govindacharya has claimed that the demonetisation of Rs 500 and Rs 1000 currency notes announced by Prime Minister Narendra Modi would have negligible impact in bringing down the black money in the economy.
According to Govindacharya, the demonetisation scheme and introduction of high value currency notes would result in weeding out only 3% of the black money.
In a post on Facebook, the RSS leader wrote, "I was surprised and happy after the scheme to withdraw Rs 500 and Rs 1000 was announced, but after giving it a deep thought, my excitement fizzled out. These two initiatives by Modiji would take out only 3% of the black money and would not have any far reaching consequences. This would end up being yet another election jumla of the prime minister."
Govindacharya added that according to economists, black money constituted only 20% of India's GDP in 2015 which stood at 40% in 2010 and shrunk by 20% in 5 years. Citing data of the Reserve Bank of India, the veteran RSS leader said economists believe a major part of black money is used to buy gold, diamonds, property, paintings and antiques which are far safer than actual cash.
"Apart from this, black money is used to buy real estate in foreign countries and deposited in foreign banks. So, this black money has been used and demonetising Rs 500 and Rs 1000 would make no impact," he wrote.
He goes on to claim how a major part of the black money is parked with politicians, bureaucrats, big businessmen and mafia who invest it. "And if they still have some left, they would manage it easily. To say that demonetising Rs 500 and Rs 1000 notes would bring out all the hoarded money is like fooling people," he wrote on Facebook. On the contrary, he added such a move would only cause inconvenience to the common man and the investment in printing new notes would be too high.
Cow protection
The former BJP ideologue on Wednesday also criticised the prime minister for his comments that 80% gau rakshaks are fake which he said has significantly hurt the morale of cow protectors. "It would have been better if he would have not made such a statement," he said.
Govindacharya recently announced a four day program by the newly formed Bhartiya Goseva Sankalp Samiti, an umbrella body of organisations working in the field on cow protection, to mark the 50th anniversary of 7 November, 1966 anti-cow slaughter agitation in which several demonstrators had died in police firing in the national capital.
Talking to Catch, Govindacharya, on behalf of the Samiti, pitched for a complete ban on export of beef and demanded that the advisory issued by the central government to state governments on cow protectors should be withdrawn immediately.
He also mentioned how after the prime minister's statement, an RTI was filed with the Prime Minister's Office seeking details of the dossier being prepared on cow protectors. "It was then referred to the Home Ministry which in its reply mentioned that dossiers are for criminals and not gau rakshaks," Govindacharya said.
Moreover, the Samiti demanded creation of an independent cow ministry at the Centre and state level. In the next one year, the Samiti plans to create a Gausewa Sankalp Samiti in every district of the country and people would be recruited as gau sewaks and gau satyagrahis. The Samiti has also submitted a memorandum on behalf of cow protectors to the prime minister recently.