BJP has 'free incoming' for 'characterless' leaders like ND Tiwari: Sena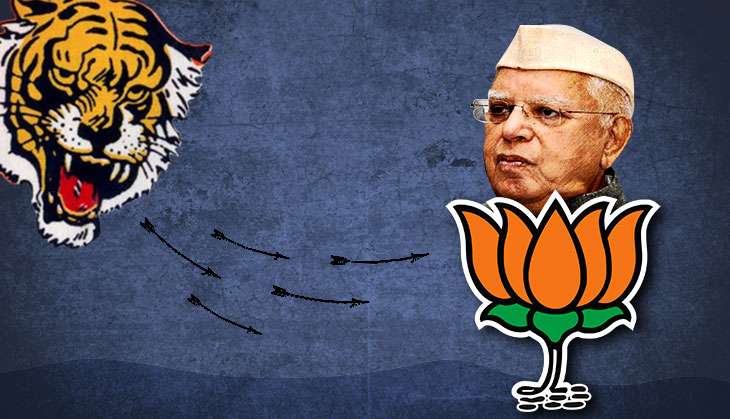 Mumbai's political battlefield is heating up ahead of the crucial civic elections due next month.
Even as the BJP and Shiv Sena are supposedly in talks regarding an alliance, Sena's mouthpiece Saamna has launched a tirade against the former.
Saamna attacks BJP
In an editorial published on 20 January, Shiv Sena has accused the BJP of following a "free incoming" policy, that is welcoming discredited leaders from other parties.
"While BJP has decided to give a red carpet welcome to all and sundry, we are worried about its future. Since it boasts of being a party with a difference, with the highest moral values, recent developments are a cause of worry. Claiming to be the most cultured party, BJP always criticised Congress, NCP, Samajwadi Party, Rashtriya Janata Dal and Trinamool Congress for having tainted leaders," the editorial says.
"They claim that only BJP can cleanse politics in the country and get rid of criminal and corrupt political leaders. But it seems that the 'cleansing' process means giving a red carpet welcome to leaders like ND Tiwari. It is claimed that Tiwari's experience will benefit the BJP. No one knows what experience they are talking about. BJP must clarify on this," the editorial says.
While criticising BJP on Tiwari's induction, the editorial reminded it that he was the "same person who vehemently supported emergency and was no less than a slave of the Gandhi family that BJP hates so much". It also reminded BJP of Tiwari's comment that he was Indira Gandhi's worshiper and of the alleged sex scandal during his tenure as Governor of Andhra Pradesh.
"BJP was at the forefront demanding Tiwari's removal as Governor when it was alleged that he misused the Raj Bhavan. But now that Tiwari has a 'Lotus' in his hand, he has suddenly become pious and clean," the editorial says.
The editorial claims that winning elections using goons and characterless people is no less a sin than amassing black money.
"People like Tiwari always need asylum with the party in power, to escape punishment for their sins. This is how it has been across the country and now it is happening in Maharashtra as well. Corrupt and criminal leaders who were in NCP till a few days back, have joined BJP. They had earlier taken shelter in NCP since it was in power. Now they have shifted loyalties towards the party in power. Several notorious leaders have joined BJP, which has destroyed its image," the editorial says.
"Since we still consider BJP as our friend, we advise it to be cautious while inducting criminal leaders and goons. May God help BJP!" it concludes.
What's at stake?
While Congress and NCP do not have much clout in the Municipal Corporation of Greater Mumbai (MCGM), it is the Shiv Sena which has most at stake.
It would be a huge blow to the Sena if it fails to maintain the tally it won in the last election and the BJP surges ahead.
Since there is uncertainty regarding an alliance between the two parties, the second rung leaders are publicly criticising each other. The senior leadership, on the other hand, is engaged in negotiations.
During the last civic elections in 2012, Shiv Sena won 75 wards, BJP 30 and the Republican Party of India - Athawale (RPI-A) won one ward. Opposition parties like Congress, NCP and MNS won 48, 18 and 28 wards respectively, while 27 went to others.
Shiv Sena has always boasted of being the number one party in Mumbai and the first choice of the common Mumbaikar. However, the situation has undergone a paradigm shift in the last three years. After the BJP's successful performance in the Lok Sabha and Assembly elections in 2014, the party is on a high and is ready to contest the MCGM elections on their own might.
The general mood in BJP is against an alliance with Shiv Sena, though the top leadership has been more conciliatory and started talks with its two and a half decade old ally.
However, the first round of talks between the Sena and BJP proved to be futile as BJP was firm on contesting 114 wards out of 227, which the Sena will never accept.
While Shiv Sena leaders are grabbing every single opportunity to criticise BJP, the latter has intensified its attack as well. BJP MP Kirit Somaiya has even said that corruption and mafia was ruling MCGM and it was high time that the richest corporation of India was released from the clutches of a single family, which was a direct attack on the Thackerays.
In this context, the Saamna editorial will only add to the tensions between the cadres of the two parties.