BJP emerges as a clear victor in UP civic polls; Congress loses Amethi seat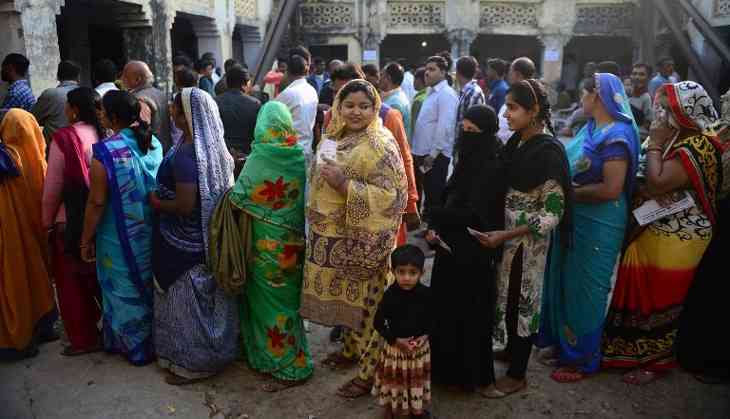 In a near clean sweep of local body elections in Uttar Pradesh, which Chief Minister Yogi Adityanath has called "historic", BJP has won a massive victory with the saffron party candidates winning or leading in 14 out of the 16 mayoral seats.
In 2012, the BJP had won 10 of the 12 mayoral posts.
The elections, which were being viewed as the new CM's first big test, saw the party win 101 of the 198 municipal councils, over 200 of the 439 nagar panchayats and over 4,000 of the 7,000 wards.
In fact, in a surprise upset, Congress came in a poor fourth in the elections and even lost in the Gandhi family bastion of Amethi. This is being seen as a result of Rahul Gandhi being busy in Gujarat, which had forced the party to leave UP unattended.
Significant wins
The BJP won Faizabad and Mathura mayor posts where the nagar palikas were upgraded to the level of municipal corporations.
Equally, if not more, significant was Bahujan Samaj Party's victory in the Muslim-dominated Aligarh and Meerut where it won mayor's posts to stop the BJP from making a clean sweep in the municipal corporation elections. The Dalit-Muslim combination worked in Mayawati's favour despite the fact that her party has seen the maximum desertions in recent times.
Despite large-scale defections, the BSP emerged as a force to reckon with. It won/was leading in 35 nagar palika and 87 nagar panchayats.
The Samajwadi Party did not do too badly in nagar palika and nagar panchayats with 36 and 79 seats respectively.
A few upsets
For the ruling party the shocker came from Gorakhpur, the constituency of Chief Minister Yogi Adityanath and Kaushambi, the constituency of Deputy Chief Minister Keshav Prasad Maurya. While in Gorakhpur Adityanath's nominee lost by 400 votes, in Kaushambi, all six BJP candidates lost the elections.
At a press conference addressed by Adityanath and BJP's state president Mahendra Nath Pandey, the Chief Minister made a special mention of Congress's defeat but Gorakhpur and Kaushambi were deliberately left out.
"We fought these elections on a positive note and on the promise of better civic amenities and I assure the people that we will fully justify their trust," the Chief Minister, who extensively campaigned for the party, said. Both Mayawati and Akhilesh Yadav did not campaign.
BJP's big win
Adityanath, who gave full credit to party's national president Amit Shah for the victory, said that these results were bound to have an impact on Gujarat elections.
After the landslide win in local body elections, Adityanath said, the party would go into the 2019 Lok Sabha elections with the target of winning all the 80 seats in UP.
That the party was going to talk about UP local body results in Gujarat was confirmed by Deputy Chief Minister Dinesh Sharma who said that the results were endorsement of BJP's economic and development policies.
In Kaushambi, the Congress saw a conspiracy by Adityanath to weaken Maurya's position. Maurya was one of the aspirants for the post of chief minister.
The elections were marred by complaints of hundreds of names missing from electoral rolls. The turnout was also low - in Lucknow, only 37% of voters showed up.
In another highlight, Lucknow is to get its first woman mayor in 100 years. In fact, out of 16 newly elected mayors, seven are women: Sanyukta Bhatia (Lucknow), Sunita Verma (Meerut), Asha Sharma (Ghaziabad), Pramila Pandey (Kanpur), Nutan Rathore (Firozabad), Abhilasha Gupta (Allahabad) and Mridula Jaiswal (Varanasi).
Mohd Furqan, who won from Aligarh, became the only Muslim to be elected mayor.
In Ayodhya, BJP's Rishikesh Upadhyay defeated his nearest rival Gulshan Bindu (SP), a transgender, by 3601 votes.
With the Congress almost thrown out of reckoning in these elections, the results have made Rahul Gandhi's task even tougher. Although a Congress party spokesman said that the outcome of local body elections will have no bearing on parliamentary polls, the BJP's control of over 4,000 wards, besides nagar palika and nagar panchayats, does not augur well for the country's oldest political party.