Big guns: Congress picks Chidambaram, Jairam, Sibal for Rajya Sabha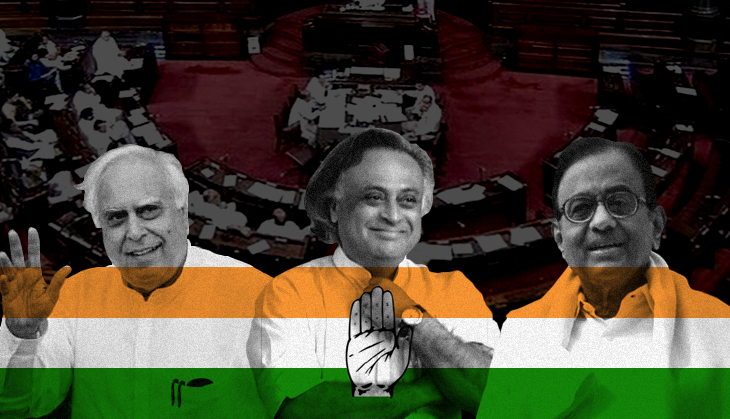 Ending weeks of speculation and hectic parleys, the Congress Saturday declared its candidates for the 11 June elections to Rajya Sabha.
Party elders P Chidambaram, Jairam Ramesh, Kapil Sibal and Ambika Soni will contest, respectively, from Maharashtra, Karnataka, Uttar Pradesh and Punjab. Oscar Fernandes was nominated from Karnataka, Pradeep Tamta from Uttarakhand, Vivek Tankha from Madhya Pradesh, and Chhaya Verma from Chhattisgarh.
Also read - Usual suspects: meet the 6 people BJP may soon send to the Rajya Sabha
One nomination from Karnataka has been left to the "wisdom of the state leadership".
For the past few weeks, Congress president Sonia Gandhi and vice president Rahul Gandhi had been constantly meeting leaders who had staked claims to these seats. After several rounds of discussions, Sonia gave her consent to the eight individuals named above.
Of these, Chidambaram's nomination came as a surprise since the Congress headquarters had been abuzz with rumours of former home minister Sushil Kumar Shinde being the frontrunner from Maharashtra.
It seems the decision was informed by the need to reinforce the firepower required to counter an aggressive BJP in the Upper House. "Chidambaram's oratory skills are far better than Shinde's and that must have played on the minds of the central leadership," said a Congress leader.
Chidambaram was also in contention to contest from Karnataka, but Chief Minister Siddaramaiah, indeed the entire, state leadership stood united in asking for a local face rather than an outsider to represent the party in Rajya Sabha. As a result, the top brass was struggling to find a state for Chidambaram. Finally, it was done at the expense of Shinde.
Notably, even Sibal's candidature was no cakewalk. It took the leadership some effort to convince Rashtriya Lok Dal leader Ajit Singh to support him. Ajit was keen on going to Rajya Sabha himself
Previously, the Congress had approached RJD chief Lalu Prasad to support Sibal's nomination. Lalu insisted on using his quota of two seats - senior lawyer Ram Jethmalani is almost certain to be one of the candidates, but confusion prevails over the other - forcing the party to look elsewhere.
Sources said Lalu wanted to nominate his wife Rabri Devi but his daughter Misa Bharti is keen to be RJD's face in Rajya Sabha. Like her brothers, Misa wants a meaty role in politics. This family "power tussle" left the Congress scrambling for other options to nominate their "favourite lawyer".
No favours
The possibility of nominating Sibal from Uttarakhand was then explored. After all, he had, along with Abhishek Manu Singhvi, bailed out the Harish Rawat government from a tricky situation after the imposition of President's Rule. The state leadership, however, vetoed the move, asking for a local to be fielded.
"Sibal didn't do us any favour by representing Harish Rawat in court, he charged a hefty fee for his legal expertise. We wanted someone from the state," said a senior Congress functionary from Uttarakhand. Keeping this sentiment in mind, the party agreed to let Rawat loyalist Pradeep Tamta be the nominee from the state.
Tamta's candidature, however, could frustrate some leaders who had been pushing for the nomination of state Congress president Kishor Upadhyay. It remains to be seen what consequences this decision would affect the party's unity.
The nominations of Ambika Soni, Jairam Ramesh and Oscar Fernandes had no one surprised. Ramesh is seen as quite capable of taking on BJP leaders, including the voluble Subramanian Swamy. In his last stint in Rajya Sabha, he had successfully cornered the Modi government on various issues - GSPC scam, Aadhar bill, Panama leaks, land ordinance bill.
Senior lawyer Vivek Tankha's nomination from Madhya Pradesh, too, was certain. Chhaya Verma's surprising given that she is set to replace Congress veteran Mohsina Kidwai, whose term expires on 30 June.
Of the 14 Congress MPs who retire between June and August, the party will be able to replace only nine. Despite the loss of five seats, the party may find solace in that it will still have a numerical advantage over the BJP - 59 seats to 52.
In the next session of the parliament, the Congress and its partners are expected to scale up their attack on the government over key pieces of legislation - a major concern for the ruling party. And Chidambaram's presence in Rajya Sabha would certainly be a shot in the arm for the Congress on that front.
In fact, Chidambaram held a press conference, where he took on Swamy for his tirade against RBI Governor Raghuram Rajan. "I am beginning to think whether this government deserves Rajan," he said, referring to the governor as "one of the best economists in the world".
Look out for fireworks in the next session of the parliament.
More in Catch - In numbers: just how useless this monsoon session at the Parliament was