Another leader leaves BSP. Is Mayawati facing a full scale rebellion?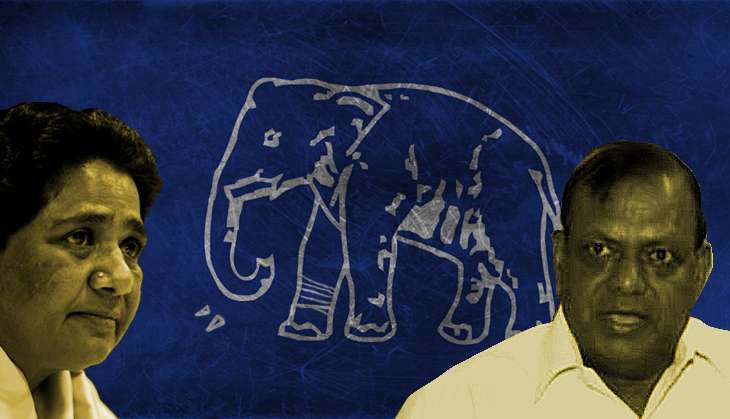 A day before former Bahujan Samaj Party's legislature party leader Swami Prasad Maurya's proposed show of strength against Mayawati, another important leader, RK Chaudhary, left the party on Thursday. He was the party's coordinator for Mirzapur.
Like others before him, the former minister also accused Mayawati of auctioning tickets for the upcoming Vidhan Sabha elections in Uttar Pradesh.
Attacking Mayawati, Chaudhary said that after the death of Kanshi Ram veteran leaders who had worked tirelessly for the party were not given their due importance.
Also read - Swami Prasad Maurya quits BSP, may join SP. But this won't harm Mayawati
Unlike Maurya, Chaudhary was not a true blue BSP soldier as he had resigned from the party once before, in 2001. He was re-inducted in 2013, ahead of 2014 Lok Sabha elections. He had contested from Mohanlalganj constituency in Lucknow but failed to win.
After breaking away from the BSP, Chaudhary had teamed up with Barkhu Ram Verma, former speaker, to float Rashtriya Swabhiman Party, which backed the Samajwadi Party. The RSP was subsequently merged with the BSP at the time of his homecoming in 2013. Chaudhary did not say anything on the revival of his party.
Chaudhary had unsuccessfully contested the assembly elections in 2004, 2007 and 2012 and the Lok Sabha election of 2009. Sources in the BSP said that he wanted to contest the Vidhan Sabha election from Mohanlalganj but Mayawati turned down his request.
Individually, Chaudhary's leaving the BSP is not of much consequence as he failed to carve a niche for himself after disassociating from the party. The development assumes significance if viewed in the context of other leaders leaving, or being asked to leave, the party. The message that goes out with each desertion is that Mayawati is losing her grip on the party and is thus on a weak wicket.
Maurya's manoeuvers
Swami Prasad Maurya, who was busy sorting out the nitty-gritty for Friday's "workers' meeting", said that he had not spoken to Chaudhary so far. This he said in response to a query if Chaudhary was going to attend Friday's meeting.
Following Chaudhary's exit there were talks of three other old-timers leaving the BSP. Those who could follow Maurya and Chaudhary's footsteps include former assembly speaker Sukhdev Rajbhar, BSP's UP unit chief Ram Achal Rajbhar and former minister Lalji Verma.
While Lalji Verma and Sukhdev Rajbhar could not be reached, an aide of Ram Achal Rajbhar who took the phone call said that it was a mischievous piece of information. Ram Achal was busy holding a meeting of party cadres.
Asked if any of these leaders would be present with him on Friday, Maurya said that with Mayawati's behaviour towards her party colleagues being what it is, more and more BSP leaders will quit the party.
Around the time Chaudhary first left the party, another senior leader Om Prakash Rajbhar also had resigned to form Suheldev Bhartiya Samaj Party in 2002, but with equally disastrous consequences.
As a splinter group, he had no claim to fame other than the SBSP's Rajbhar vote bank. The party contested the 2004, 2009 and 2014 Lok Sabha elections and the Vidhan Sabha elections of 2007, 2012 without registering a single win.
In 2007 Vidhan Sabha elections the party had fielded 97 candidates but only three of them could save their deposits. The party got a total of 491,347 votes, which worked out to 0.94 per cent of the total votes polled in the state.
In the 2012 Vidhan Sabha elections this vote share went down to 0.63 per cent and all but four of the 52 candidates lost their deposits. It also polled lesser number of votes - 477,330.
The BJP has allied with the SBSP to increase its tally in Poorvanchal. It has eight legislators from the region which sends 135 members to the Vidhan Sabha.
Others who have left the party include Kanshi Ram's loyalists Raj Bahadur, Dinanath Bhaskar and Daddu Prasad. Sonelal Patel, Jugal Kishore and Babu Singh Kushwaha also left the party because of Mayawati's "arrogant and greedy" ways. Of the latter three, Kushwaha is an accused in the multi-crore National Rural Health Mission scam.
More in Catch - Battleground UP: how Mayawati is laying the groundwork for 2017