Amid attacks on UP, Bihar migrants in Gujarat, people in Varanasi want PM Narendra Modi to leave as he is a Gujarati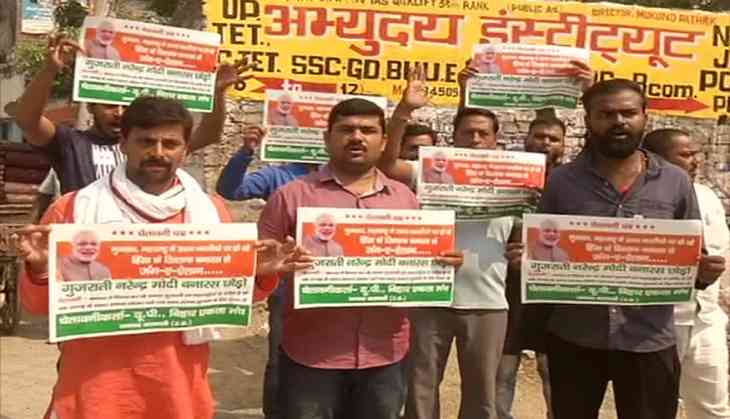 Amid the attacks on migrant workers from Uttar Pradesh and Bihar, members of the UP-Bihar Ekta Manch held a protest against the Prime Minister Narendra Modi asking him to leave Varanasi as he is a Gujarati.
They were holding a poster that says "Gujarati Narendra Modi, leave Varanasi". These posters were seen in Sigra area of Modi's Parliamentary constituency Varanasi.
"We love all our countrymen equally, no matter if he is from Maharashtra or Gujarat. But we also condemn the atrocities on North Indians in states like Maharashtra and Gujarat. We elected a Gujarati MP from Varanasi and we never spoke against anyone. We also demand action against the culprits indulging in violence against North Indians," said student leader Vishwanath Kunwar while talking to media.
He also said that they issued an advisory asking the people of Maharashtra and Gujarat to leave Varansi. Else, they may face the consequences.
"Also, we issue an advisory to the people of Maharashtra and Gujarat to leave Varanasi in a week's time, else they should be ready to face the consequences," said Kunwar.
Uttar Pradesh chief minister reportedly conveyed his concerns to his counterpart of Gujarat Vijay Rupani. Yogi after speaking to Rupani said Rupani told him that no incidents happened in the last three days and there are only rumors as they are jealous of Gujarat's development.
Over this, Congress spokesperson Anshu Awasthi reacted "I think CM Yogi is now concentrating to fight elections from Gujarat since he has been rejected by the people of his hometown Gorakhpur".
Also read: 'Nikki Haley poses a potential threat to Donald Trump,' says Washington Post after the abrupt resignation