4 cases Modi govt must look at before talking about Muslim women & triple talaq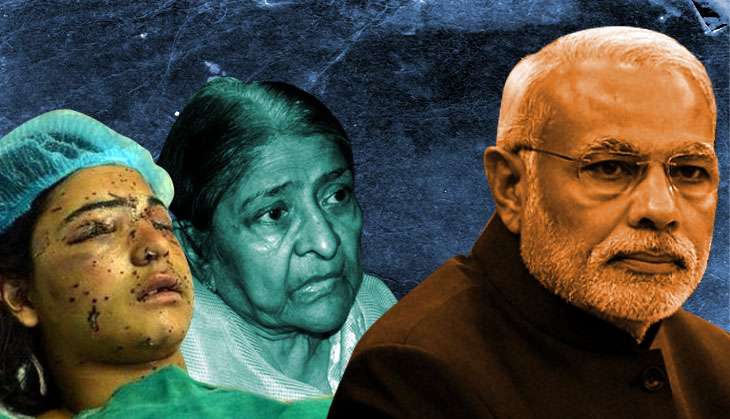 Prime Minister Narendra Modi spoke out on the triple talaaq issue on Monday, indicating his intention to push through a Uniform Civil Code in India.
Addressing a rally in Mahoba, Uttar Pradesh, PM Modi said: said, "if someone says talaaq thrice on phone, the lives of Muslim daughters can be destroyed".
Agar koi Hindu maa kay garbha mei beti ko maar dega, woh jail jaega: PM Modi pic.twitter.com/wEGCfonGvX

— ANI UP (@ANINewsUP) October 24, 2016
First things first, triple talaaq is a regressive practice. It demeans women, belittles the institution of marriage and by most accounts, it isn't even based on the Quran.
Here, PM Modi is clearly trying to use the triple talaaq issue to push for a Uniform Civil Code, an issue that has time and again been used to create a communal polarisation.
But if indeed he has developed a sudden concern for Muslim women, perhaps he or his government should speak to some of these women. And we haven't even begun talking about Ishrat Jahan.
Zakia Jafri is the wife of Ehsan Jafri, who was murdered along with 68 others at Ahmedabad's Gulbarg Society during the 2002 Gujarat riots. According to eyewitnesses, after the mob gathered outside the society, Ehsan Jafri called up Modi asking for help. Modi, then chief minister of Gujarat, is alleged to have abused Jafri and asked why he hadn't been killed as yet. Clearly, Shri Modi and his government did little to prevent this Muslim woman from becoming a widow.
The story of the women of Naroda Patiya is even more horrific. Consider these two eye-witness accounts.
"What they did to my sister-in-law's sister Kausar Bano was horrific. She was 9 months pregnant. They cut open her belly, took out her foetus with a sword and threw it into a blazing fire. Then they burnt her as well." Saira Banu, Naroda Patia (recorded at the Shah-e-Alam Camp on 27 March 27, 2002).
"The mob started chasing us with burning tyres after we were forced to leave Gangotri society. It was then that they raped many girls. We saw about 8-10 rapes. We saw them strip 16-year-old Mehrunissa. They were stripping themselves and beckoning to the girls. Then they raped them right there on the road. We saw a girl's vagina being slit open. Then they were burnt. Now there is no evidence." Kulsum Bibi, (Shah-e-Alam Camp, March 27, 2002).
These heinous crimes on Muslim women took place under Modi's watch as Gujarat chief minister. Where was this concern for Muslim women then?
More recently, on 25 August this year, two Muslim women were gangraped in Haryana's Mewat allegedly by Gau Rakshak vigilantes as a punishment for eating beef.
Two women - a 16-year-old and a 21-year-old married woman with a one year-old baby - were gangraped by four men that night. The women's uncle and aunt were murdered by the same men.
"They asked if we eat beef. We said that we don't, but they said that was why (we were being punished)," one of the victims said. One of the accused claims to be a Swayamsevak.
This incident of gangrape and double murder took place in BJP ruled Haryana. The state government at that time seemed more concerned about testing biryani samples in Mewat for beef.
14-year-old Insha Malik, a schoolgirl from Shopian in Kashmir, has been blinded after being hit by pellets fired by security forces three months ago. She wasn't protesting, she wasn't pelting stones, she wasn't a threat to the Indian state even in the remotest way. Yet the forces fired at her. Doctors say, her right eye was ruptured, left eye lacerated and there are very little chances that she will every be able to see again. According to a report filed after she was shot, "Insha's face and neck resemble a wire-mesh with dozens of holes made by pellets therein".
Till date, Modi hasn't said even a word on Insha Malik and the hundreds of other Kashmiris like her, who have been blinded over the past three months.
But then why should the Modi government care? After all, the little girl is of no political use to the BJP.
Modi's statement in Mahoba isn't driven by any sudden burst of sympathy towards Muslim women. In fact it isn't aimed at Muslims at all. It is aimed at his Hindu right wing constituency that his party wants to mobilise in Uttar Pradesh.
The views expressed here are personal and do not necessarily reflect those of the organisation.