Ehsan Jafri called Modi for help, I heard Modi abuse him: Gulberg survivor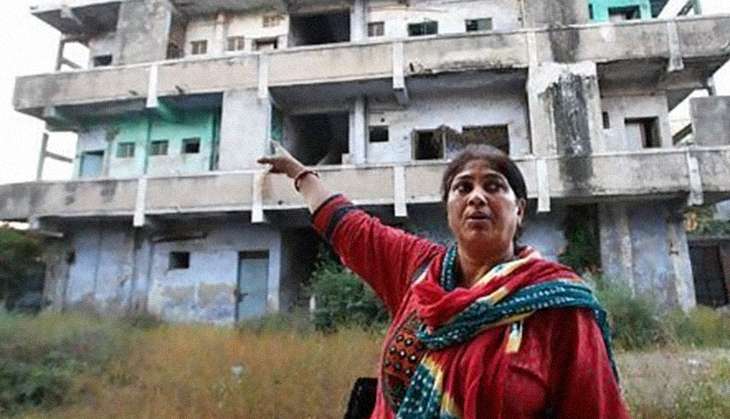 Rupabehn Mody's voice choked as she recounted the violent events of 28 February 2002 over the phone. The events, that is, of the Gulberg Society massacre which consumed her son. Azhar was reported missing, and later presumed dead, in the massacre. His is a heart-rending tale that has been widely documented, including in the critically-acclaimed film Parzania.
Though they were Parsis, Mody and her children took refuge in Congress leader Ehsan Jafri's house. And she was among those who heard Jafri make calls for help, including to then chief minister Narendra Modi.
Also read - Modi & Sangh Parivar: What potentially undid the Gulberg verdict
She alleges that Modi abused Jafri over the phone and appeared to express astonishment that the Congress leader wasn't dead already. Mody saw Jafri being dragged out by the mob and butchered. She and her daughter were among the very few people at Gulberg to survive the 4,500 strong mob. She never saw her son again, however.
She talks about the events of that day and more in this conversation with Catch.
The court has convicted 24 people and acquitted 36. How do you feel about it?
Yes, 36 people have been acquitted. I learnt about this from the media. I think we have to get together and think about this. We had given a lot of evidence against them. I don't think full justice has been done. KG Erda has not been convicted. How can that be?
Why is the acquittal of Erda more painful to you?
After the riots, when I was running from pillar to post trying to find my son, it was Erda who took me to the rioters and questioned them before me. Five of us had gone with him, including my young daughter. He had asked me to bring along a photograph of my son.
He asked them before me: "Ye laal T-shirt waale ko maara to nahi?" One of them replied in the negative, and that was that. I never got to see him again.
What happened that day, on 28 February?
My son and daughter were with me that day. The whole of our society was burning. I was holding my daughter's hand and she was holding my son's hand. Only our kitchen was not burning but then it too caught fire.
I though that being burnt to death was worse than being cut into pieces since nothing would remain of us if we were burnt. So, we decided to run out of our third storey flat and we found other people in our society who were also fleeing to safety. Everyone was running to Ehsan Jafri sahab's house. We too went to his place on the first floor. In front of me, he called Narendra Modi several times.
We had asked him to call Modi. We had even asked him to call all the gundas if he could and convince them to spare our lives.
Finally, Modi picked up the phone and used an abusive word for Jafri, and said he was surprised Jafri hadn't been killed already.
The mob, which was drawing closer all time, had started to climb over our society's fence. At this point, Ehsan Jafri decided to step out and and talk to the rioters to save us.
I saw him being dragged away by the mob. They hacked him, poured petrol over him and set him on fire. That's when we realised we had no place to go. The mob had set the whole place on fire, and we coming nearer. We couldn't breathe any more.
So, we decided to run out of Jafri's house as well. The three of us were running, holding each other's hands. There were a lot of people lying unconscious on the ground. I tripped over somebody and fell. My daughter let go of her brother's hand and turned back to help me up. That's when we lost him.
My daughter thought I had collapsed and tried to violently shake me up. As soon as I woke up, I found my face was burnt. We ran to the terrace and I saw a policeman on another terrace. He threw a stone at me.
Bottles of acid, burnt tyres, balls of flames were raining on us from all sides. We could hear people screaming and gas cylinders in the houses exploding. A little girl was lying unconscious. I wanted to help her but couldn't because my hands and feet were burnt. I couldn't move. Then lying on that terrace, I realised that my son wasn't with me. I tried to rush down again to look for him but everyone on that terrace stopped me. They didn't want the rioters to find out about us hiding on the terrace.
What was your impression of Modi then, and how do you see him now?
You know, if I have a regret it is that I did not pick up Ehsan Jafri's phone diary. That would have established who all he had been in touch with. Modi wouldn't have been able to say to the SIT that he didn't know who Jafri was. Jafri and Modi had been campaigning since around the middle of that month. Their photos were there in all Rajkot papers.
[The prosecution had pressed the police, and later the SC-appointed SIT, to divulge the Call Detail Records of Ehsan Jafri in order to establish that the Congress leader had spoken to several top officials as well as Modi several times before his death. But the SIT just said that Jafri's call records had been "destroyed".]
But we won't give up, we won't let the people who were acquitted today go scot-free. We'll get together and make plans for ahead.
More in Catch - Gulberg Society massacre: records show how top cops steered clear
Gulberg Society case: 5 lesser known facts about the 2002 massacre
24 convicted by Ahmedabad court in 2002 Gulberg Society massacre