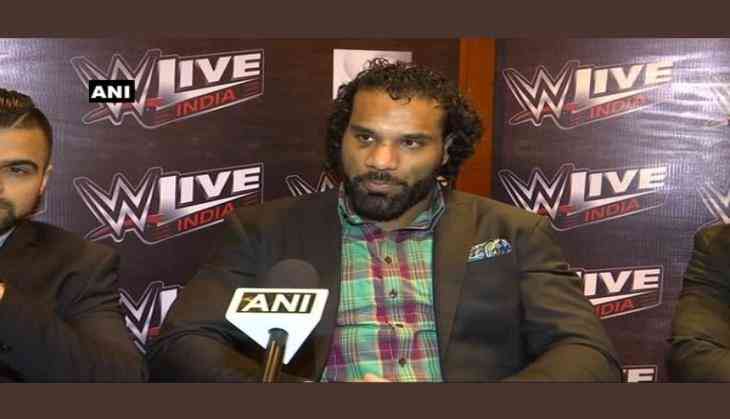 World Wrestling Entertainment (WWE) superstar Jinder Mahal, who is all set to face Triple H in the WWE Live event, said he has a game plan prepared against the American and will not fall for his traps in the biggest match of his career.
Mahal, who arrived in India on Thursday, said, "I feel fully prepared and ready. Unfortunately I had lost WWE Championship a couple of weeks ago but I learnt from that loss. Triple H is very thoughtful, cunning and methodical and I cannot fall for his traps."
He added, "I do have a game plan and I believe I can match him speed for speed, power for power, technique for technique but the difference maker is the fact that the game is here in India and I have the support of Indian audience."
The former WWE champion also trained with India's ace boxer Vijender Singh ahead of his ahead of supershow against American professional wrestler Triple H.
Talking about his preparation for the event, Mahal said he has worked hard and will aim to go down in history as one of the all time greats.
"Every day I put in 100 per cent in the gym, in the ring, outside the ring. I had won the WWE Championship and worked hard to keep it for six months, which was the longest reign in the past two years. I am looking forward to win that championship again and go down in history as one of the all time greats," the 31-year-old said.
Mahal, the Indo-Canadian wrestler signed to WWE also batted for India's future in professional wrestling and said the country will produce stars in the coming times.
India has also produced The Great Khali, who became first Indian WWE's World Heavyweight Champion in 2007.
Reflecting his view on the same, Mahal said, "Khali has inspired so many people here, hopefully I have inspired the youth in the same way. I am the first ever WWE Indian Champion and he was the first World Heavyweight Champion and we definitely know we are not the last."
Recently, Haryana's Kavita Devi, who was part of the WWE's Mae Young classic tournament, made history by becoming the first ever female wrestler from the country to be awarded a WWE developmental contract.
Talking about it, the 'Modern Day Maharaja', Mahal, said he is extremely proud of Kavita and wished the star best wishes for her future endeavours.
"I am very proud of her. What is great is how she represented our culture wearing a traditional salwar suit to prove that you can have Indian value and step in a global ring. More importantly she is inspiring our global youth, specially the women," he said.
Indian sensation Mahal will meet Triple H at the WWE Live event at the Indira Gandhi Indoor Stadium in the national capital on 9 December.
-ANI