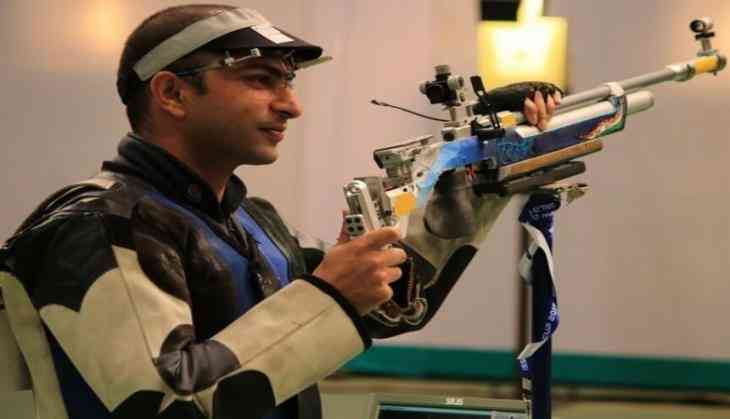 India began their 10th Asian Airgun Championships campaign on a positive note with a total of five medals and seven individual finalists across the three events held on the opening day of competitions at the Asaka Shooting Range in Wako City, Japan.
Ravi Kumar won the individual bronze medal in the men's 10m Air Rifle event while Arjun Babuta won individual silver in the corresponding junior men's event, even as India bagged three Team Silver medals in each of the three Air Rifle events held on the day.
However, it was Deepak Kumar who led the Indian charges into the finals of the men's 10m Air Rifle event, shooting 627.5 after the regulation 60 shots, to qualify fourth out of eight finalists.
Ravi Kumar with 624.6 finished sixth while former Olympic bronze-medalist Gagan Narang, making a return into the event after a break, shot 624.5 to qualify in seventh place.
In the finals, Ravi started strong along with Chinese Song Buhan, both of whom had had a splendid 2017, while Deepak after an initial flurry faded away to finish fifth on a score of 185.
From the 10th shot onwards of the 24-shot final, Song led the field along with countryman Cao Yifei in second and Ravi in third and it stayed that way till the end.
Song ended with 250.2 to win Gold, Cao with 248.6 for silver and Ravi Kumar, after making three international ISSF finals in the year without a medal, finally secured one finishing with 225.7 for bronze.
Gagan Narang was consistent throughout the final and finished fourth with 205.6. The trio also combined for the Team Silver medal with a combined total of 1876.6, ahead of Japan (1866.7) and behind China (1885.9).
Arjun Babuta in the junior men's 10m Air Rifle, an ISSF Junior World Cup bronze medalist last year, also had an excellent day, shooting consistently to win silver behind rising Chinese star Yukun Liu, a reigning junior world champion and winner of two ISSF World Cup stage medals this year in the senior category.
Arjun finished just 0.1 point behind Liu in the final, going neck to neck with him over the last four shots, but eventually getting beaten 249.8-249.7.
The other Indian in the final Tejas Krishna Prasad was eliminated in seventh position, however, the duo combined with Sunmoon Singh Brar to bag the Team Silver medal with a combined score of 1867.5.
In the women's 10m Air Rifle, Anjum Moudgil and Meghana Sajjanar made it to the finals, shooting scores of 417.5 and 415.9 to qualify in second and fourth positions respectively. Pooja Ghatkar, the third Indian in the fray, shot 413.6 to finish 11th.
Anjum thereafter missed a medal by a whisker, getting beaten in a shoot-off to determine third place, to Singapore's Tan Qian Xiu Adele. Anjum shot 207.6 in the final, while Meghana Sajjanar finished sixth shooting 163.4. Both won the Team Silver in the event along with Pooja, logging a combined total of 1247 to finish behind China.
Another rising Chinese star Shi Mengyao, who has two ISSF World Cup stage Golds this year and a Silver, won the individual event with a score of 251 from teammate Ruozhu Zao who shot 250.2. Singapore's Tan won Bronze with a score of 228.2.
The second day of the tournament has the junior women's 10m Air Rifle event lined up along with two Air Rifle Youth finals for men and women. The youth events will give out the first Asia quotas for the Youth Olympic Games, Buenos Aires 2018.
-ANI