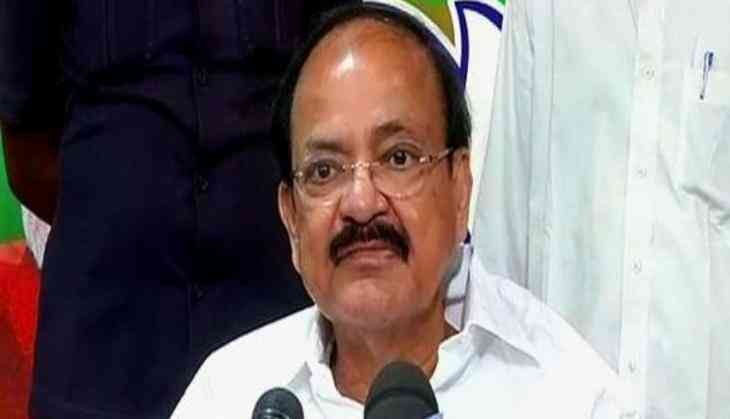 As cities across India rolled out yoga mats at various venues to mark the importance of yoga on the International Yoga Day, Union Urban Development Minister M. Venkaiah Naidu said the practice has now evolved into an international art, free of any political tinges.
Talking to the media in the national capital, Naidu said "Yoga is becoming part of people's life, it brings discipline."
Celebrating #InternationalYogaDay with the people of New Delhi, at an event organised by NDMC. Yoga is our tradition, it's our culture. pic.twitter.com/Eaqyt7JPZd

— M Venkaiah Naidu (@MVenkaiahNaidu) June 21, 2017
Addressing on the occasion of #InternationalYogaDay, a day to celebrate our age old heritage and to celebrate good health & well being. pic.twitter.com/G1osNJylH3

— M Venkaiah Naidu (@MVenkaiahNaidu) June 21, 2017
Meanwhile, talking on the occasion, Minister of State in the Prime Minister's Office (PMO) Jitendra Singh said Yoga is not just for its physical benefits but a means to spiritual upliftment in making life more disciplined.
"If people have come in large numbers even in a rainy weather that suggest how much people have a belief and resolve toward yoga. The kind of awakening that Prime Minister Modi has spread regarding yoga can be seen here as people have come here for yoga in this adverse weather also. This suggests that there is an awakening for yoga among people," he added in Jammu.
Earlier in the day, Prime Minister Narendra Modi began the day's celebrations while addressing the gathering in Uttar Pradesh's Lucknow, and said that Yoga has become an integral part of every Indian household.
Conveying his greetings to all those who joined the Yoga Day 2017 celebrations across India and the world, Prime Minister Modi said Yoga's immense popularity outside India is high and has connected the world with India.
"I am happy to see so many Yoga institutes being opened over the last three years. Demand for Yoga teachers is increasing. Apart from fitness, wellness is important. Yoga is a medium to achieve wellness," Prime Minister Modi said.
The international day for yoga is celebrated annually since its inception in 2015.
-ANI