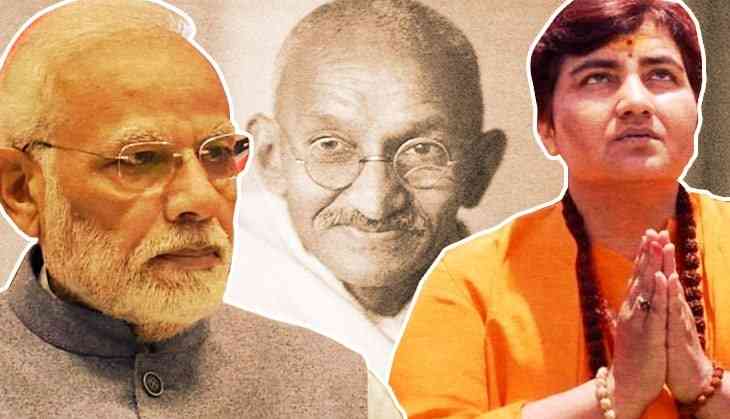 BJP candidate from Bhopal constituency, Sadhvi Pragya Thakur has become a trouble for the party. Earlier she made several controversial comments on martyrs and political people. However, now she made a comment on Nathuram Godse that has become a big trouble for the party that now even party has withdrawn support of her.
Sadhvi Pragya in one of her roadshow said that Nathuram Godse who killed Mahatma Gandhi was a patriot. It all started after MMA chief and actor Kamal Haasan in one of his rallies said that Godse was the first Hindu extremist and after that, he became a target.
गांधी जी या गोडसे के बारे में जो बयान दिए गए हैं वो बहुत ख़राब है और समाज के लिए बहुत गलत हैं।

ये अलग बात है की उन्होंने माफ़ी मांग ली, लेकिन मैं उन्हें मन से कभी माफ़ नहीं कर पाऊंगा: पीएम मोदी #DeshKaGauravModi

— BJP (@BJP4India) May 17, 2019
Now PM Narendra Modi and the BJP supremo, has clearly said that whatever Sadhvi Pragya said was insulting to Mahatma Gandhi. PM Modi in an interview to News 18 said He would never be able to forgive Sadhvi Pragya for her comments on Nathuram Godse that is actually an insult for Mahatma Gandhi.
Although, earlier BJP president, Amit Shah already has clear the air that BJP is not in favour of what these leaders Sadhvi Pragya, Amit Kumar Hegde, and Nalini have said in support of Nathuram Godse. While on the other hand, today is the last day for campaigning to the last phase of polling that will be held on 19th May.
Also Read - Priyanka's jibe at PM Modi: Amitabh Bachchan would've been better pick for PM