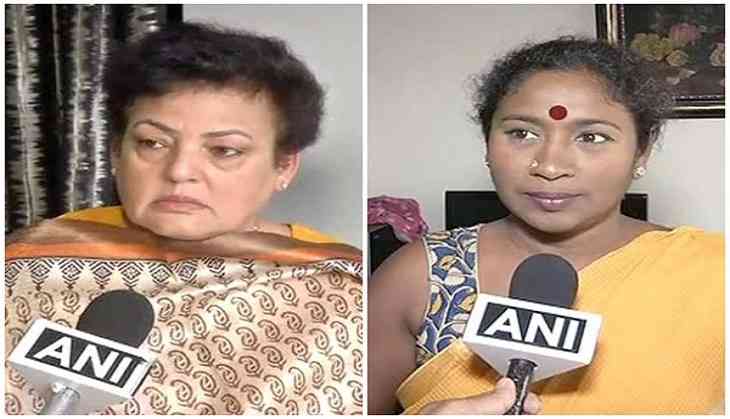 The National Commission for Women (NCW) on Monday condemned Congress leader Shashi Tharoor's tweet about Miss World Manushi Chhillar and said as a politician he should think about public's interest instead of mocking at them.
Speaking to ANI, NCW chairman Rekha Sharma said, "I was thinking of summoning him but he apologised in between. But his apologies are not genuine as he is telling people to chill after making such remarks. He is a politician and he should talk in the interest of people instead of making fun of them".
She added that Chhillar's replies in the pageant were appreciated across the world.
"I would request and suggest him to apologise properly to the nation because he has not hit below the belt only to the girl but the entire nation because she has brought fame and name to the nation. By summoning, I did not mean to book him or go to police but we just want him to realize what he has said was wrong," Sharma said.
She added that many a times Tharoor has put himself in a soup by his tweets.
"Earlier also he had termed the Aam Aadmi Party (AAP) as 'Mango People'. Many people tweeted against him but he is too much into a 'chill' mode and he needs to come out of it," Sharma further said.
Another women activist, Brinda Adige said that Chillar's win in the Miss World's contest is a moment of pride and she has performed admirably.
"The tweet by Tharoor is absolutely humiliating and I am appalled that a politician of this stature and with such academic background, can make such a cheap statement. It shows his sexist and misogynistic mindset. He has humiliated Indian women and whole of India," she added.
Following Chhillar's victory at the Miss World 2017 pageant on Saturday, Tharoor had tweeted, "What a mistake to demonetise our currency! BJP should have realised that Indian cash dominates the globe: look, even our Chhillar has become Miss World!"
However, the tweet backfired on Tharoor, when Twitteratis slammed him for comparing Manushi's surname to 'loose change'.
In another tweet, Tharoor issued an apology, saying, "Guess the pun IS the lowest form of humour, & the bilingual pun lower still! Apologies to the many who seem to have been righteously offended by a light-hearted tweet today. Certainly no offence was meant to a bright young girl whose answer i've separately praised. Please: Chill!."
-ANI