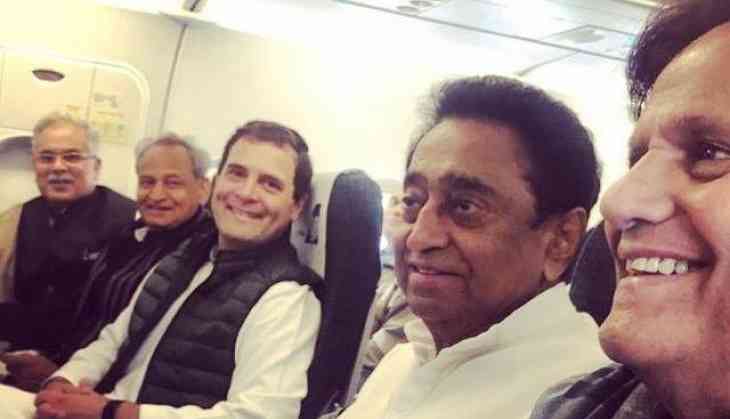 Congress team at rally in Bihar
In the much awaited 'Mahagathbandhan' rally in Bihar, Congress president Rahul Gandhi has today made it all clear that he, along with Lalu Prasad Yadav and Tejaswi, would play at the front foot in the Lok Sabha elections and defeat the BJP.
Bihar holds 40 Lok Sabha seats and the parties of Grand Alliance will now sit down to chart out a plan and divide the number of seats accordingly.
They were joined by Rashtriya Lok Samta Party's chief Upendra Kushwaha, who walked away from the NDA after being unhappy over seat sharing and an upper hand given to LJP's Ram Vilas Paswan.
#WATCH: Congress President Rahul Gandhi speaks on #Budget2019 at #JanAakanshaRally in Patna, Bihar. pic.twitter.com/l1OjEBnx1b

— ANI (@ANI) February 3, 2019
Rahul Gandhi, while targeting the BJP's interim budget and mentioning the recent Rs 6,000 aid being given to small farmers annually, said, "Modi ji, you said you'll provide 2 Crore jobs every yr. Did anyone receive jobs? No.I had promised farm loan will be waived off within 10 days in MP, Chhattisgarh&Rajasthan. If Congress comes to power at centre, Patna University will be given status of central university."
Talking about the alliance with RJD and the leadership of Lalu Prasad Yadav and Tejaswi, Rahul said that now Congress would play at the front foot in the polls. He said, "I have said in Uttar Pradesh that Congress party will not play at the back foot but at the front foot. Together with Tejashwi ji & Lalu ji, Congress party will play at the front foot and we will hit a six."
Now, while many parties still have reservations in projecting Rahul Gandhi as the Prime Ministerial candidate of the Opposition and Congress being at the fulcrum of anti-Modi narrative, it would be interesting how the RJD responds over it.
Also read: Who is Rishi Kumar Shukla, the new CBI director, whose appointment was challenged by Congress
#WATCH: Congress President Rahul Gandhi speaks on #RafaleDeal at #JanAakanshaRally in Patna, Bihar. pic.twitter.com/AETBwi5zXi

— ANI (@ANI) February 3, 2019