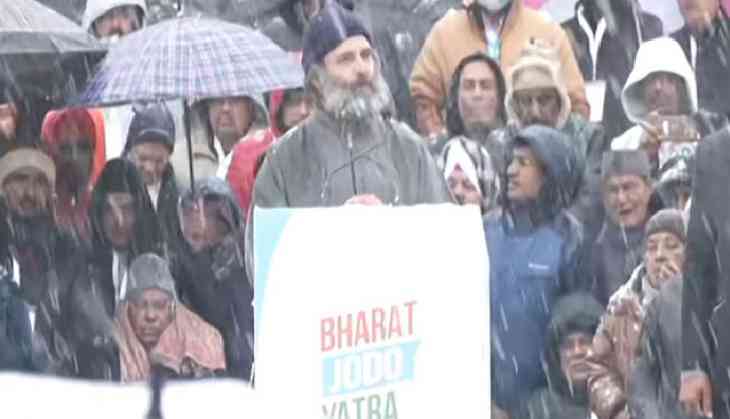 Congress leader Rahul Gandhi on Monday narrated a story of four children whom he met during the Bharat Jodo Yatra, and said that they were beggers who did not wear sweaters, shivering in winters, which inspired him not to do the same during the yatra.
Gandhi's remarks came while addressing the concluding function of the Bharat Jodo Yatra in Jammu and Kashmir's Srinagar, marking the end of the yatra.
"...Four children came to me. They were beggars and had no clothes on...I hugged them...They were cold and shivering. Maybe they didn't have food. I thought that if they're not wearing jackets or sweaters, I too shouldn't wear the same...," Gandhi said.
The Congress leader further narrated a story of a young girl whom he met during the yatra and said that she gave him a note to read which talked about his "hurting" kees.
"I learned a lot. One day, I was in a lot of pain. I thought I've to walk for 6-7 hrs more & it'll be difficult. But a young girl came running to me and said that she has written something for me. She hugged me and ran away. I started reading it," Gandhi said.
"She wrote, "I can see your knee is hurting because when you put pressure on that leg, it shows on your face. I can't walk with you but I'm walking beside you from my heart because I know you're walking for me and my future. Right at that moment, my pain vanished," he added.
Earlier today, Congress president Mallikarjun Kharge hoisted the National flag in Srinagar at the party office in Srinagar.
The Tricolour was hoisted in the presence of party MP Rahul Gandhi and Priyanka Gandhi. Srinagar had received heavy rain and snowfall on Sunday night and photographs from this morning showed the Gandhi siblings playing with snow at the Congress party headquarters.
Also Read: Pakistan: Major explosion reported in Peshawar's mosque; 50 injured
Previously Rahul Gandhi had also unfurled the national flag at Lal Chowk in Srinagar as the Bharat Jodo Yatra entered its last leg in the union territory on Sunday.