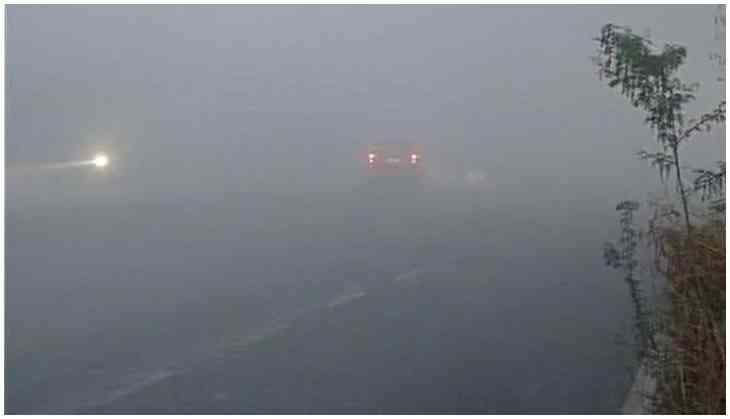 Delhi wakes up to dense fog and chilly morning on Monday affecting flight and trains operation as visibility dropped drastically, with some observatories recording it at zero meters. As per IMD (India Meteorological Department), the minimum temperature recorded 2.6 degree Celsius and maximum temperature settled at 16 degree Celsius.
Sixteen flights were diverted and four cancelled from the Delhi airport on Monday due to heavy fog, an official said. "Owing to dense fog in north India our flights have been impacted across India. We will continue to review the situation and provide real time updates on our social platforms," said Indigo airlines in a statement.
Thirty trains were delayed and the delay ranged from two to seven and a half hours, according to a Railways official. The Delhi-Bhubaneshwar Rajdhani was delayed by seven and a half hours.
Update issued at 1130 hours. For live weather updates on the fog situation, visit https://t.co/Y9uMZDIrYM#FogAlert #DelhiAirport pic.twitter.com/xXNQR4X045

— Delhi Airport (@DelhiAirport) December 30, 2019
Cold day to severe cold day conditions very likely in many pockets over Punjab, Haryana, Chandigarh & Delhi, Uttar Pradesh and Bihar and cold day in isolated pockets over Rajasthan, Uttarakhand and West Madhya Pradesh.
Also Read: Greater Noida: 6 dead as car plunges into canal
Temperatures at 0530 hrs IST on 30th Dec 2019 and change in temperature in last 24 hours for major stations of north India:
Statement shows that 24 hours tendency at 0530 hrs today is negative in North India. pic.twitter.com/SRvp2svKcA

— India Met. Dept. (@Indiametdept) December 30, 2019
Visibility recorded at 0530 hours: Jammu-; Ambala,Churu, Agra, Gwalior, Delhi (Palam),Varanasi-0-25 each; Amritsar, Ganganagar, Patiala, Chandigarh, Bareilly, Jhansi, Purnea, Gaya, Bhagalpur,Satna-50 each; Bikaner,
Delhi (Safdarjung), Sultanpur, Malda, Kailashahar-200 each. pic.twitter.com/e5bJ84JErp

— India Met. Dept. (@Indiametdept) December 30, 2019
The visibility recorded by the Safdarjung and Palam observatories stood at zero metres at 8.30 am. Meanwhile, in Greater Noida, a car plunged into a canal at 11:30 pm on Sunday due to the dense fog killing 6 out of 11 passengers, as per reports.
As per IMD, the foggy conditions will continue to prevail on Tuesday with minimum temperature likely to settle at 3 degree Celsius approx.
Also Read: Weather Update: Flights diverted due to fog at Delhi airport