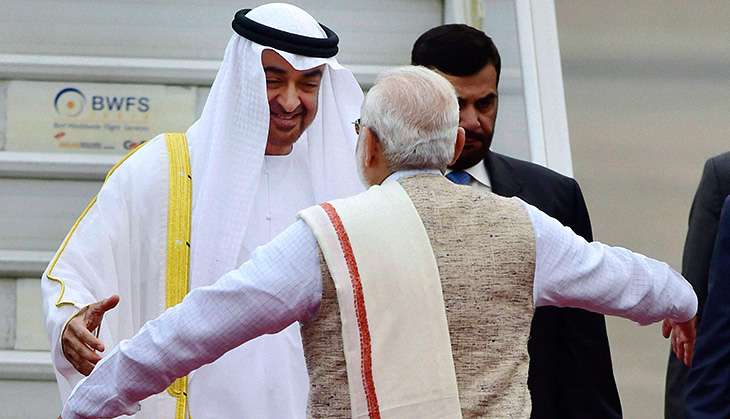 Asserting that India regards UAE as an important partner in its growth story, Prime Minister Narendra Modi on Wednesday said the closer ties between the two countries are of importance not just for both sides, but for the entire neighbourhood.
Prime Minister Modi welcomed UAE's interest in investing in India's infrastructure sector.
"We are working to connect the institutional investors in UAE with our National Investment and Infrastructure Fund. I also shared with His Highness the interest of Indian companies to be a partner in infrastructure projects for the World EXPO 2020 in Dubai. UAE can benefit by linking with our growth in manufacturing and services," said Prime Minister Modi.
"We can jointly tap abundant opportunities in our initiatives aimed at building digital economy, human capital and smart urbanization in India. We are also encouraging and facilitating business and industry of both countries to increase the quality and quantum bilateral trade," he added in his press statement.
Prime Minister Modi said the agreement on trade remedies signed on 25 January would strengthen the trade partnership between both nations further.
"Our energy partnership is an important bridge in our linkages. It contributes to our energy security. His Highness and I discussed ways to transform our energy ties in a strategic direction through specific projects and proposals. In this regard, long-term supply contracts and establishment of joint ventures in the energy sector can be beneficial avenues," he added.
Prime Minister Modi said UAE is one of India's most valued partners and a close friend in an important region of the world.
"I have just concluded very fruitful and productive discussions with His Highness. We particularly focused on implementation of various decisions taken during our last two meetings. We agreed to sustain the momentum of our relations in key areas, including energy and investments," he added.
Prime Minister Modi further said UAE is home to around 2.6 million Indians, adding their contributions are deeply valued in both countries.
"I expressed gratitude to His Highness for looking after the welfare of Indian nationals in UAE. I also thanked His Highness for allotting land for a temple for the Indian diaspora in Abu Dhabi," he said.
India and the UAE, on 25 January signed 14 agreements in various areas including defence, maritime transport, comprehensive strategic partnership, shipping, agriculture and allied sector, trade, oil storage and management, energy efficiency, road transport and highways and prevention and combating human trafficking.
The agreements were signed after delegation-level talks between Prime Minister Modi and visiting Crown Prince of Abu Dhabi Sheikh Mohammed Bin Zayed Al Nahyan at the Hyderabad House.
-ANI