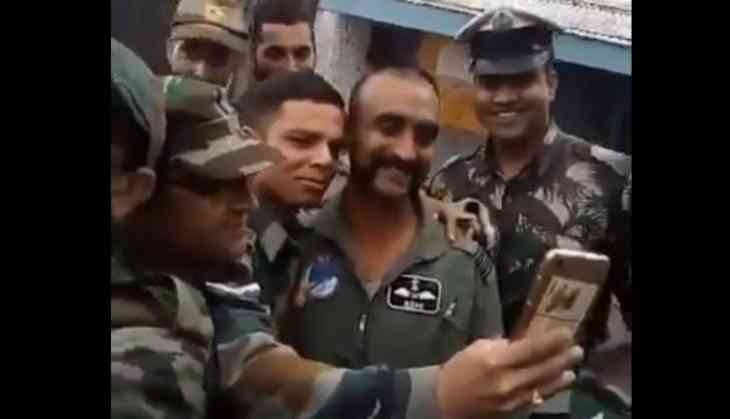 Indian Air Force (IAF) pilot Wing Commander Abhinandan Varthaman is back and this time with lots of cheers and selfies. Abhinandan met his colleagues on Saturday in Jammu and Kashmir. A video of him is getting viral on social media in which he can be seen interacting with his colleagues and posing for selfies.
This is the first video of Wing Commander after his re-joining active duty, months after Balakot airstrike. Abhinandan addressed other Air Force members during the meeting and said that these photographs (their selfies) were not for them but for their family members who prayed for his health.
"All these photographs are not for you but for your families I could not meet. All of you and your families prayed for my health," Abhinandan Varthaman said. The video was reportedly shot in April. The jawans also raise cries of 'Bharat Mata Ki Jai' 'DSC Ki Jai' in the short video clip before Abhinandan walks away.
First video since he was discharged from hospital, here's Wing Commander Abhinandan Varthaman taking pictures with men. This is likely sometime last month. Video from some Air Force groups. He looks well! 👊🏽 pic.twitter.com/Os5Pu6aJI1

— Shiv Aroor (@ShivAroor) May 4, 2019
Abhinandan's MIG-21 aircraft was shot down in a duel with a Pakistan Air Force F-16 on Feb 27. According to reports, Abhinandan shot down Pakistan's F-16 with his MIG-21, before going down himself.
He was recently transferred by IAF following the life threats from Jaish-e-Mohammed (JeM) which had carried out the Pulwama terror attack on February 26.
Also read: Watch: BJP leader threatens TMC workers; says, 'will call 1000 men to thrash them like dogs'